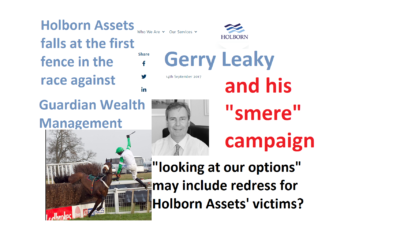 Oh dear, Holborn Assets has fallen at the first fence – even before I've started the race!  You couldn't make it up.  And typical of scammers, Holborn Assets is very concerned about the interests of their company and their profits, but couldn't care less about the victims it has ruined.
This Leahy guy can't even spell "smear".  But then he can't spell "leaky" either – so what do you expect?
Leaky claims to have "over 17 years extensive knowledge of Operations, Technology, Space Management, Strategic Planning, Implementation of Facilities Management Applications, Project Management and Web Design".  I guess all that multi-tasking didn't leave a lot of spare time for learning the English language.  (And remind me never to use him to design my website).
Anyway, apart from the fact that this is a big advantage for Guardian Wealth Management (the equivalent of getting a much lighter jockey and a few oats before the race), this will sort the men from the boys at Holborn Assets.  Those who have no conscience, ethics, spine, guts or balls will "un-friend" me as instructed.  But those with strength of character will question whether they really want to be associated with a firm that routinely destroys clients' life savings.  The smart ones will realise that having "Holborn Assets" anywhere on their CV will be the kiss of death to their career.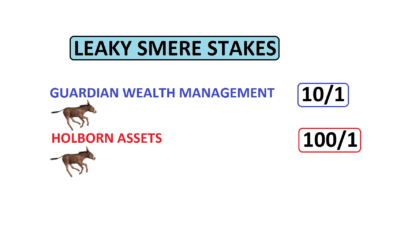 Interestingly, I had an email from a chap this weekend who explained that he and a number of his colleagues had left the firm last year.  He was very discreet about the reasons, but it was clear he was smart enough to see the writing on the wall and get out before his personal reputation was damaged.  Who knows – maybe he even works for Guardian Wealth Management now?
I know which horse my money's on!
From: Gerry Leahy <gerry.leahy@holbornassets.com>
Date: 22 April 2018 at 14:22:44 GMT+8
To: holborn_all@holbornassets.com
Subject: [Holborn All] LinkedIn request from Angela Brooks
Dear All,Many of you may have received an invitation to connect with someone called Angela Brooks.Please ignore this request and if you have already connected please disconnect immediately.This person is spearheading a smere campaign against the company and we are looking at our options including legal.

Regards

Gerry J Leahy B Sc (Eng) C Eng

Chief Information Officer| Holborn Assets

Level 15 | Al Shafar Tower 1

Barsha Heights | Dubai, UAE

P.O. Box 333851

Tel: +971 4 457 3800

Fax: +971 4 457 3999