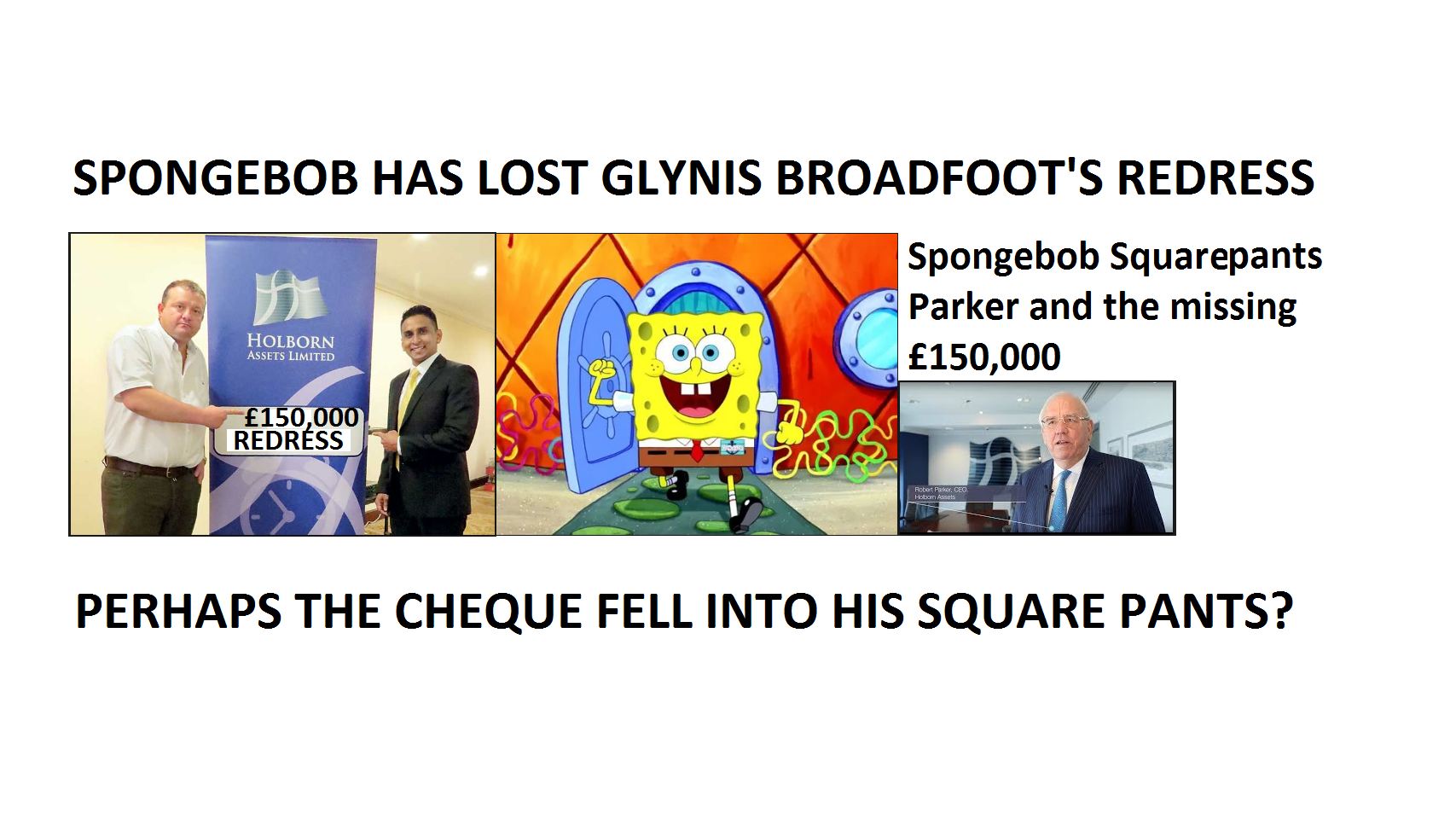 Spongebob Parker Squarepants of Holborn Assets has apparently been telling his salesmen that he has paid Glynis Broadfoot £150,000 in compensation for the destruction of her pension by Holborn Assets.
Not only is this a big porky pie (she hasn't had a penny) but it is a cynical and dishonest tactic used to placate and dupe the Holborn Assets salesmen into wrongly believing that Spongebob has ethics. He doesn't. If he had any morals, ethics or principles, he would come to the table and sort this appalling mess out.
Spongebob effectively stole Glynis' life savings – a final salary scheme. Then invested her pension into an expensive and unnecessary insurance bond and purchased toxic, high-risk, professional-investor-only structured notes. He did all this to earn the maximum amount of commission – in the full knowledge that this would put her pension fund at risk. In fact, tactics identical to the Continental Wealth Management scam.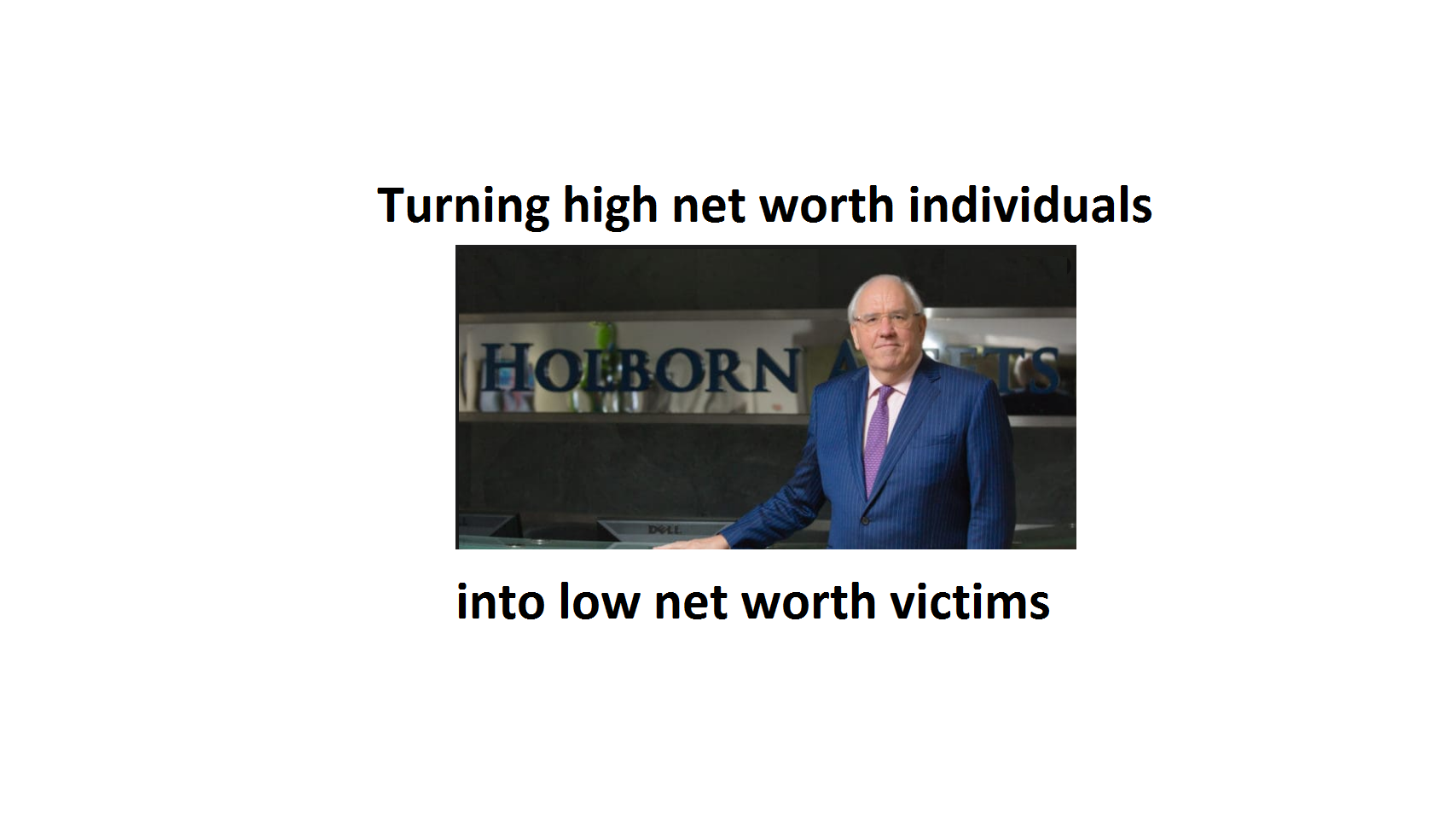 Glynis has now gone through more than five years of hell as she watched the systematic destruction of her pension. And now you can imagine how she feels reading reports of Holborn Assets' vulgar and disgusting "jolly" in Tanzania which cost half a million quid. Despite making a series of totally inadequate offers, Spongebob has still to pay her a penny.
I hear on the grapevine that Spongebob is paranoid about any of his staff talking to me. He has even sacked one adviser – Claudia Shaw – on suspicion of communicating with me. It is true that quite a few Holborn Assets people have indeed communicated with me. These include – inter alia – Jerry Leahy, Joe Capaldi, Benjamin Thompson, Matthew Newman, James McMullen, Michael Cunningham, Ben Buckley, Marlon Bruges, Keren Bobker, Michele Carby and Syeda Al Iqtadar. Also, I've met Paul Reynolds and Chimaa Mefta at Holborn Assets' Dubai offices. Also, Darin Brownlee-Jones tried to befriend me on Linkedin. Why hasn't Spongebob sacked all of these people? He harbours a convicted killer and someone who was struck off and fined by the FCA. I've also been approached by various people claiming to work for Holborn Assets and offered a bribe to stop blogging about the company's nefarious practices.
So, Uncle Spongebob – here's my invitation. Stop sponging off Holborn Assets' victims, come to the table and talk to me. Negotiate a decent redress package for Glynis and the others. Then, undertake to do business in an ethical, professional and compliant manner moving forward. Stop hosting binge-drinking, drug-snorting binges, and put in a place a proper compliance department.
Seriously, I don't bite. I came to your office a couple of years back. You have ignored me since. So maybe now it is time for you to come to my office?
Simples! And then I can write nice blogs about you and the other Parkers saying what heroes you have been and what a good firm Holborn Assets is.
Your choice Mr. Squarepants 🙂