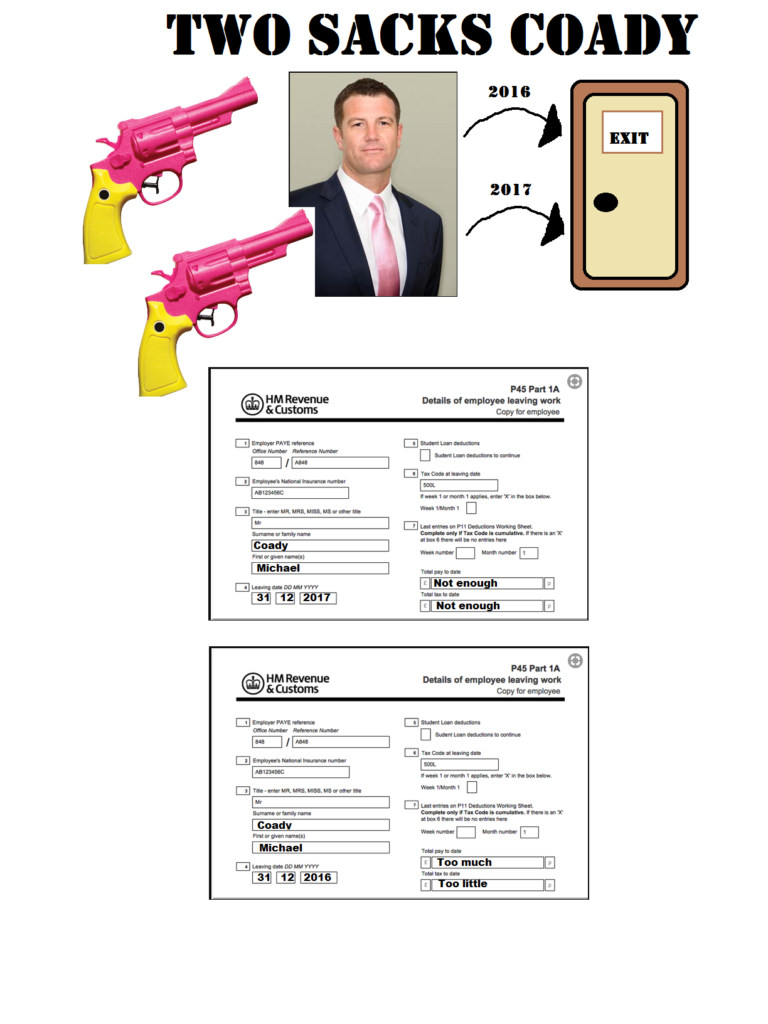 MIKE COADY'S NEW JOB CLEANING UP FINANCIAL SERVICES is hopefully what he will be concentrating on now he has been sacked twice in one year.
All fired up to tackle a new challenge, Coady must be contemplating his various job options.  It won't be easy – with a track record like his, he is likely to be rejected by most respectable advisory firms.
Alternatively, he might be thinking about setting up his own firm.  But the problem is going to be what to call it: "Unemployment Poverty Management"?  "Jobless Joe's Last Resort"?  "Get Rich With Coady"?
Personally, I think the management at Guardian Wealth Management were pretty harsh sacking poor old Michaelnomates just before xmas.  How is he supposed to pay his personal lifeguard a festive bonus?
I've heard various versions of why Two Sacks Coady was given the heave-ho.  But the version I like best is the one that Coady kept insisting that Guardian Wealth Management should repay the £850k they pinched from the Welsh government (and which they then used to bribe a competitor's advisers to join them and bring all their clients with them).  Eventually, poor old Coady gave them an ultimatum: "pay back the Welsh government or I walk" and Guardian said "there's door!".
I think Guardian Wealth Management was actually rather unkind sacking Mike Coady so suddenly – especially as they have published advice specifically for him on their website to rub salt in the wound.
But I guess Mike Coady is a survivor and he'll find something.  It won't be easy, though, as there are lots of ex Continental Wealth Management unemployed "advisers" looking for work.  But no decent firm will touch them with a barge pole.
Having been somewhat troubled by poor Mike Coady's predicament, I have decided to offer him a job with Pension Life.  This will be a new position called "Head of Cleaning Up Financial Services – Especially in Dubai".  I will start by giving him an induction course in what the likes of Holborn Assets do so wrong and so badly, then move on to outlining the lessons to be learned from the Continental Wealth debacle.  His job will be to warn the public about rogue advisers – such as Continental Wealth Management and Holborn – which result in victims losing part or all of their pensions.
Mike Coady will probably do the job quite well – especially after all he has learned at Guardian Wealth Management this past year.  He'll need the right tools to do the job – so I've invested in the necessary items and ensured he has a car to match his image (I know he likes to think of himself as rather stylish!).  The only slight stumbling block might be the wages – as he is probably used to something a bit juicier than £10 an hour.  But I'll probably throw in free egg and chips at the cafe next door for when he gets a bit peckish, so that ought to clinch it.