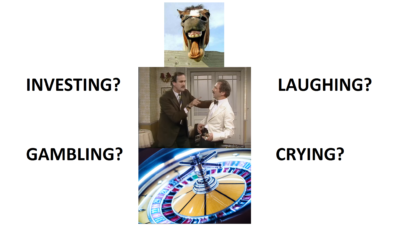 Nitwit or Dragonfly?  Gambling or Investing?  Are investment losses as a result of a bad adviser or a bad investment?  Or both?  The real question is: how does the consumer tell the difference?  A favourite episode of Fawlty Towers involved Basil's ill-fated bet on a racehorse called Dragonfly.  Confusion sets in – fuelled by the easily-confused Manuel – and "Dragonfly" gets muddled up with "Nitwit".  And that is how clients get confused just as easily: by advisers who spout the usual rubbish: capital protected; guaranteed returns; blue-chip investments; solid providers etc.  They just leave out the three most important things: the fat commissions paid to the adviser; the high-risk nature of the "investment" and the fact that structured notes are FOR PROFESSIONAL INVESTORS ONLY (and not for retail investors).
Equally befuddled – but much less funny – this past few days, has been a bunch of nitwits posing as financial experts on Linkedin.  Almost as barmy as Basil and Manuel, these comedians don't know the difference between investing and gambling.  Graham Bentley of a firm called gbi2 has been suggesting that structured notes should be revisited as viable "investments" for valued clients.
Bentley has suggested that structured products are an option that advisers could consider including in their portfolio of investment solutions.  If he is talking about outright scammers, then – of course – he is right.  Structured products pay juicy commissions of up to 8%, so naturally they are a favoured product for these criminals to sell.  Plus, if the clients themselves have so much money they are desperate to get rid of as much of it as possible, as quickly as possible, then structured products are ideal.
But Bentley is missing the point entirely.  Structured products have, for years, been sold enthusiastically and aggressively by the usual suspects: Leonteq, Nomura, Commerzbank, Royal Bank of Canada and BNP Paribas; bought by scammers such as Continental Wealth Management for the juicy commissions; harboured by crooked life offices such as Old Mutual International.  And the result has been huge losses for hundreds of victims.  In some cases, total destruction of a victim's life savings.
Most advisers who sell these toxic products are too thick to understand how they work – and indeed anything beyond the amount of commission they earn out of flogging them is way too tricky to get their simple minds around.  And why should they even bother?  They just sell them, collect their 8% and then move on to the next victim.  What's to understand?  They know that life offices love them – and indeed Old Mutual International bought £94 million worth of the fraudulent Leonteq ones alone.  It is a delightful circle for all concerned: the scammers get rich, the bent life offices get fat and the structured product providers do very nicely thank you.  And not a single one of them gives a second thought for the victims.
One cheerful idiot on the Linkedin thread has enthusiastically supported Bentley's idiotic view:
"Continue to use structured products (as part of portfolios) both personally and for clients with great success.  Most of the negative comments I read about them are born out of ignorance and sheer laziness of some advisers who cannot be bothered to either learn the topic matter or undertake the relevant due diligence." 

And this guy is chartered!  As a member of the CISI he should know better than to spout such rubbish – and I feel deeply sorry for any clients of Plutus Wealth Management as they are clearly in danger of being sold these toxic products.  In fact, I would go further and suggest the public should be warned about the dangers of using this firm, as Coomber clearly has every intention of flogging his victims these high-risk products.  If he is stupid enough to use them for his own gambling fun, good luck to him.  But he has no right to inflict them on retail clients.
One of the fraudulent structured notes sold by Leonteq (for 8% commissions to the scammers) was:
Capital Protection on WTI Crude Oil with a Reference Bond (PDVSA)
100.00% Contingent Capital Protection | Credit Risk of Reference Bond Issuer | 5.00% p.a. Guaranteed
Coupon | 6.00% p.a. Conditional Coupon
ISIN CH0234862669 | Swiss Security Number 23486266
Final Fixing Date 20/03/2019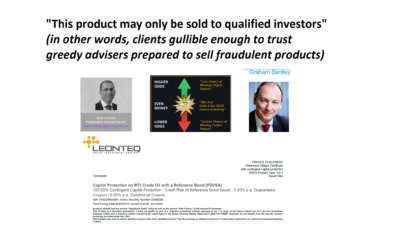 The term sheet did, to be fair, give a clear warning:
"Given the complexity of the terms and conditions of this Product an investment is suitable only for experienced Investors who understand and are in a position to evaluate the risks associated with it."
Sadly, we have to wait until March 2019 to find out how many victims have lost their shirts on this particular lame horse.
And this is the problem: most advisers don't understand structured products themselves – all they understand (and care about) is the fat commission.  They certainly don't care that the products are fraudulent.  But, more importantly, none of these rogue advisers' clients are experienced investors.  If they were, they wouldn't be paying a greedy and irresponsible financial adviser to risk their hard-earned life savings for them.
STRUCTURED NOTES ARE GAMBLING – NOT INVESTING!
So my message to Coomber and Bentley is this: read Leonteq's term sheet:
"Products involve a high degree of risk, including the
potential risk of expiring worthless

. Potential Investors should be prepared in certain circumstances to sustain a total loss of the capital invested to purchase this Product."  And then try to decide which horse is going to win: Dragonfly or Nitwit.