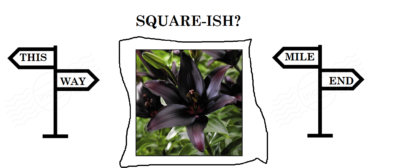 John (Gus) Ferguson's firm, Square Mile International, is clearly not exactly square – and Lillywhite is a grubby shade of black.
For once, I don't have to write a blog myself – as Mr. Ferguson of Square Mile has written it for me.  I did, however, have to resist the temptation to correct Fatty's appalling grammar and spelling.
Fatty's partner in crime is, of course, "adviser" David Vilka – who put retail, UK-domiciled victims into QROPS and then invested most or all of their pensions in Nunn and McCreesh's toxic, illiquid, high-risk Blackmore Global fund.
So, if you have ever wondered how to promote unregulated toxic crap to pension savers, read on…..
*********************************************************************************************************
From: John Ferguson [mailto:jf@lillywhiteint.com]
Sent: Wednesday, 5 August, 2015 8:36 PM
Cc: Charlie Goldsmith <C.Goldsmith@curzoncapital.com>
Subject: Re: follow on……………….
Hi – yes good to meet you too, and glad you had a safe trip back.
As you said it would have perhaps been nice to have longer with you and we both felt there was areas in which we could work together and once we are all back from our various holidays no doubt we will be looking at ideas that we could explore together.
We intend to be in Dubai at end of November and have a busy schedule (already) so wouldn't be able (this time) to build in a HK detour but if you are able to be in Dubai that time then perhaps it could be a good opportunity to spend longer discussing opportunities.
The relationships with our Introducers as we explained is relatively straight forward but to recap – Lillywhite International acts as a 'hub' co-ordinating the flow of business between 'introducers' (unregulated and unauthorised entities such as Manish's operation) who are often looking to fund their own product (again such as Manish and Christianson) and the regulated IFA firms, and the Pension Trustees.
I think confusion probably lies in that historically GFS could take direct business or business from unregulated firms.  In the UK for some years now, it has not been possible for a firm such as Manish's or Aspinal Chase etc to give advice, get information from a ceding scheme, submit business to a QROPS or to earn fees from anything that could constitute 'a regulated activity' under the FSMA.
Lillywhites controls a number of regulated IFA firms, and has string links with Life Offices (providing bond wrappers) and Trustees (providing QROPS).
We offer a service to the Manish's / Aspinal Chase's of the world and our IFA's will sign off the business, provide the advice, deal with the pension and invest a proportion of the fund into the investments these introducers are trying to raise subscriptions on.  We have bespoke Bond arrangements at NIL commission to comply with RDR in the UK, and the funds don't pay the IFA any commissions – again to comply with RDR.
In terms of fees etc, I'm sure in the same way your agreements are private we have various agreements with our introducers and they are confidential.
So as i said relatively open and simple relationship – nothing can be submitted to our panel of QROPS without being signed off by our IFAs and so EVERY piece of business you receive from these guys is actually via a Lillywhites Adviser – The majority will be via either Aktiva Wealth Management or Square Mile International.
Where i do think we could have a very serious chat is using your distribution in Asia for a couple of funds that we can split the distribution fees with you on, and thats definitely where id like to have a further discussion.   our two main brands are www.atsgfunds.com and www.lillywhiteint.com
Speak soon
Gus
*****************************
As always, Pension Life would like to remind you that if you are planning to transfer any pension funds, make sure that you are transferring into a legitimate scheme. To find out how to avoid being scammed, please see our blog: