Helen Burggraf, a fine journalist, reports that Old Mutual International is taking legal action against Leonteq.  She reports that this action is being taken on the basis that Leonteq lied about commissions paid to advisers for using structured products.
This news is, of course, very welcome – especially if it succeeds in redress for the "significant financial losses" for the Continental Wealth Management victims.  Apparently, OMI has stated:
"Had the true level of commission been disclosed, the products would not have passed Old Mutual International's criteria, and no investments would have been made".
But this raises several important questions:
Why has it taken OMI so long to sue Leonteq?  It has known about this scam for years and done nothing.
Why did OMI allow any structured products to be used for low-risk investors?
Why did OMI allow dealing instructions from an unlicensed firm?
Why did OMI do nothing about the losses for years?
Why aren't SEB and Generali suing Leonteq?
Leonteq's high-risk structured notes had been failing and causing crippling losses for years.  Just as RBC's, Commerzbank's and Nomura's had done the same.  One victim saw his £38,000 pension pot dwindle down to £800 since 2015.  Did OMI not notice?  Did OMI not care?
OMI has mentioned the "true level of commission" – what it is referring to is the fact that for some particularly toxic notes, put together by rogue Leonteq employee Alex Robinson, the commission paid to the scammers was 8% instead of 6%.  The victims ultimately pay this commission – which is always hidden from them – but in reality the difference between 8% and 6% pales into insignificance when compared to the actual losses themselves.
OMI also mentions its "criteria".  What criteria?  None of the victims should have had any of their retirement savings invested in high-risk structured notes which clearly state on the term sheets:

OMI seems to be suggesting that structured notes are OK if the commission paid to the scammers is only 6%.  They are not OK.  For years OMI has sat back and watched hundreds of victims' retirement savings get repeatedly invested in these toxic products and done nothing.  No alarm bells.  No refusal to accept more of the same risky crap which was being churned again and again.
As OMI stood idly by, raking in the profits from ruining victims' lives, it continued allowing Continental Wealth Management – an unlicensed firm of scammers – to buy more and more structured notes.  CWM was not licensed.  Not even to sell pet insurance for the horse clattering up the hill after somebody at OMI (who wasn't either asleep or drunk) slammed the stable door shut.
Talking of being asleep or drunk – where are SEB and Generali?  Their victims suffered very similar crippling losses to OMI's.  What are they doing about this fiasco?  What would their "criteria" have done to intervene had they realised Leonteq was paying the scammers 8% instead of 6%?
I think we have an elephant in the room.  OMI, SEB and Generali all paid the scammers 8% commission.  So their criteria say it is OK to pay unlicensed scammers 8% to flog pointless insurance bonds, but it is not OK to pay the same unlicensed scammers 8% to flog toxic structured notes.
Glad that is settled then.  One rule for the life offices and another (smaller) rule for the peddlers of toxic crap.  But the bottom line seems to be that OMI thinks it is fine for the victims to be paying 14% for the privilege of being robbed of their life savings by unlicensed scammers – but they draw the line at 16%.
Apparently, Leonteq is now disclosing commissions on the termsheets for their products.  Great.  Problem is that the victims never get to see the term sheets – or at least not until it is way too late and they have lost half of their life savings.  If they did see the term sheets and see the words "FOR PROFESSIONAL INVESTORS ONLY" the victims might realise they were being conned.
But even if they had seen this warning and the fact that they were paying 6% or 8% to have their fund systematically  destroyed, what could these people have done about it?  Because, at the end of the day, the client is not the client.  The client is the life office.  OMI is the legal owner of these dodgy structured notes.  And OMI cares not a hoot whether all the money gets frittered away on huge fees and losses – because OMI did not work all its life to save the money up in the first place.  All OMI cares about is making money out of the victims who are getting systematically scammed by the scammers.
Apparently the MD of OMI – chap called Peter Kenny – has said the company is "taking a firm stand against the behaviour which has led to such devastating consequences".  Great!  But why in 2018?  Why didn't it take a "firm stand" in 2017, or 2016, or 2015, or 2014……Has this bloke never heard of prevention?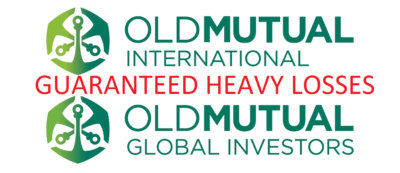 Kenny goes on to claim that OMI "will do all that we can to bring to account those responsible."  Back to the elephant in the room again.  Who is responsible?
I really wish Kenny would take his foot out of his mouth – he definitely needs some lessons in common sense and diplomacy.  OMI has apparently said it is "encouraging all market participants to help rid the industry of inappropriate structured products, which are having a damaging impact on investor confidence and outcomes".  Seriously?  Does OMI really think the hundreds – possibly thousands – of victims will ever have any confidence in life offices again?  The damage has already been done.  A life's worth of savings has already been destroyed.  On OMI's watch (and SEB's and Generali's).
OMI has reported that structured products can be useful for clients wanting a "degree of capital protection".  Really?  I didn't see any "protection".  There was no safety net – not even a drop of due diligence or vigilance on the part of the life office.  OMI repeatedly reported huge losses and did nothing – in the full knowledge that there was no capital protection.
Helen Burggraf ends her article with Kenny's parting comment:
"I would encourage all industry participants to work together to eradicate poor practices once and for all."
Kenny needs to go a lot further than simply restricting the level of fees to scammers selling toxic, unsuitable products to 6%.  He needs to acknowledge that no structured notes are suitable for low-risk retail retirement savers.  They are too risky; illiquid; complex and hard to understand.  He also needs to take his foot out of his mouth, kick the elephant out of the room (gently), go find the poor horse who wants his dinner, and refund all the fees OMI has been charging to sit and watch victims' investments turn to dust.
Finally, OMI – along with SEB and Generali – need to let all the victims get out of these ridiculous and pointless insurance wrappers without penalty so that what little remains of the decimated funds can be allowed to grow.  These life offices decided to pay the 8% commissions to the scammers in the first place.  Hopefully, now they will acknowledge that what they did was wrong and that the victims should not be paying the price for OMI's own failings.
******************************************
As always, Pension Life would like to remind you that if you are planning to transfer any pension funds, make sure that you are transferring into a legitimate scheme. To find out how to avoid being scammed, please see our blog: