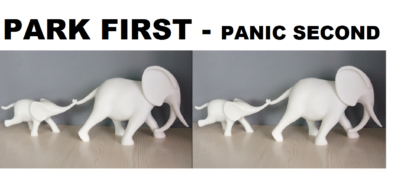 Investors in Park First are panicking.  And with good reason.  Toby Whittaker's Store First "empire" was due to be wound up on 1st August 2017 but Whittaker has moved the companies' accounting dates and now the winding up petition has had to be deferred until further notice.  And Whittaker has also moved the accounting date on Park First as well.
So, how does the Store First position affect Park First?  There are similarities and differences between Store First and Park First and it might be useful for distressed Park First (and Store First) victims to have a look to see what the strengths and weaknesses of both "investments" are (or were).
Store First is a bit of a no-hoper.  The buildings are far from civilisation and people (customers) don't generally want to drive miles and miles to store their boxes and bits and bobs.  They want something convenient to the nearest town or village.  In fact, the Self Storage Association warned that the Store First business model simply did not work back in 2014
Store First (Toby Whittaker) vastly over-valued the land and buildings to start with – partly to make a huge profit and partly to be able to pay hefty investment introduction commissions to the scammers (at least 30%).  Now that around £120 million worth of store pods have been sold to over 1,000 victims, you can't give the damn things away – they don't seem to earn much or any storage rent but they do attract substantial ground rent and service charges. And Store First is still selling them at a discount – so there is no market for second-hand ones.
I suspect that Toby Whittaker's tactic in extending the accounting date is a ruse to make sure he can squeeze every last penny out of Store First before it is wound up and it ceases to be a "cash cow" for the Whittaker trousers. Certainly, from the accounts, the various Store First companies appear to be insolvent according to the December 2015 accounts – except for Store First St. Helens which has assets of £1.259040m and liabilities of £1.259039m – so after all those millions rinsed out of victims' pensions, there is just £1 left!
But is Park First a different story?  The abiding legacy of Store First is the massive fraud committed against over 1,000 victims in 2012/13 by a bunch of 18 or so scammers – all clearly identified in the Insolvency Service's report in 2015. Plus the fact that it would appear the "buy back" clause was always meaningless as it was contingent upon the company having sufficient funds to buy the white elephants back.  But that was never going to happen.
The key may lie in the fact that there is a market for off-airport parking – and people are perfectly happy to drive an extra 15 to 30 minutes away from an airport for long-term parking if it saves them enough in parking fees.  But the question remains: is the market profitable enough for the victims who have invested in Park First ever to get their investments back?  Or will they be stuck with tarmac oblongs forever?
There remains a compelling suspicion that car parking investments are run along Ponzi scheme lines.  There are numerous Police investigations into car park investment schemes – and many investors have failed to recover their initial investments.  This includes the London Quantum pension scam (by Stephen Ward) which was invested in Park First – among other toxic assets.
Distressed investors still tell me they are concerned they will never get their money back.  Most of them were "introduced" to Park First by cowboys and "chiringuitos" who earned hefty commissions from the investment introductions.  Few – if any (except Gerard Associates) – were regulated for investment advice, so there is no come-back if it turns out the investment is worthless – and the promised returns do not materialise.
Of course, Park First is not the only airport car parking – er – "investment scheme".  There is Best Invest's Dubai Car Parks – another one of Stephen Ward's dodgy investments in London Quantum.  But that may be no better either. So what is the answer?  Well, there already is an answer: Store First and Park First (all part of the Group First empire including Business First, Hotel First, Apartment First, Residential First, Cemetery First, Equestrian First, Toilet First) are all UCIS (unregulated, collective investment schemes).  And it is illegal to promote them to retail investors.
The Serious Fraud Office is already investigating the Capita Oak, Henley, SIPPs pension scams all invested in Store First.  So how long will it be before there are criminal investigations into the promotion of Park First as an investment for retail investors?
The question the investors need answering is whether they will ever see any more of the promised "guaranteed" returns and whether they will ever get their money back.  Of course, the price of each tarmac oblong was loaded by at least 30% (if not considerably more) at the start, so it is unlikely the investors will get all of their investment back. But not necessarily impossible.
Most difficult of all, in terms of the future outlook for Park First, is Toby Whittaker's own history of consorting with a gang of scammers who cheated over a thousand victims who are now financially ruined.  This legacy will be hard for Whittaker to shrug off – especially as he has lifted not a finger to help the many Capita Oak, Henley and SIPP Store First victims.  Also, the fact that Park First is sold by herds of unregulated, unqualified individuals and firms posing as "financial advisers" – when in fact they are nothing more than grubby spivs – does not help the overall image of Park First.
I just wonder when Toby Whittaker will introduce "White Elephant First" – or compensate the victims of the many thousands of pension and investment frauds which have been committed in the name of his various companies.  It would be nice to think that Whittaker could have an epiphany, turn over a new leaf, change his spots, and run Park First in an ethical, conscientious manner.