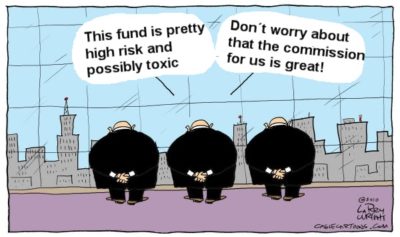 Investors are likely to have lost all their money in Premier New Earth Recycling fund – now in liquidation.  The liquidator is Deloittes and they can't say much, if anything, about what is happening as they are looking into the possibility of claims against third parties and don't want to prejudice any possible action.
Advisers Holborn Assets Dubai are also very quiet on the subject.  Rather than getting into the nitty gritty of the liquidation of this fund – and the appalling possibility that the investors may very well have lost everything – let us take a good look at the fund itself.
It is a UCIS.  Nothing more to say – except:
"Specialist, qualifying, and qualifying-type experienced investor funds are unregulated collective investment schemes which are neither approved nor reviewed by IOMFSA.  Once launched, the funds must be registered with the authority within 14 days. These types of funds cannot be sold to the retail public. Access to such funds is only available where investors confirm that they meet the fund type's minimum entry criteria. This includes a statutory certification that they have read the scheme's offering document and understand and accept the specific risks associated with that type of fund."
So, instead of writing lots of fascinating stuff about the wonderful topic of generating energy from rubbish (which I am sure is really interesting and good for the planet), why don't we stick with the unchallengeable fact that the fund was a UCIS and should not have been promoted to retail investors.  End of.  No argument.  Non-negotiable.  Talk to the hand.  Stick your UCIS where the sun doesn't shine.
In fact, the same was true (should have been true) of the Connaught bridging loan fund; EEA Life Settlements; LM; Store First, Park First, Trafalgar Multi-Asset Fund and Blackmore Global.  So why did so many advisers promote them and invest their clients' money in them?  £$£$£$£$£!!!  Commissions.  Backhanders.  Sandwiches.  And the distressed investors are now paying the appalling price for rogue advisers' greed and negligence.
And what does this look like from the investor's point of view?
This horrible investment – which wiped out two-thirds of one victim's portfolio – was courtesy of our old friend Holborn Assets Dubai.
On the Holborn Assets website, one adviser of Holborn Assets claims that they:
"help clients to create a holistic financial plan – taking all factors into account – with the aim of the client meeting life goals through the proper management of resources. Life goals can include buying a home, saving for your child's education, planning for retirement, or leaving a legacy."
Perhaps they were having a one-off bad day when they invested a huge chunk of one victim's life savings in a UCIS in USD, then EUR, then USD again, then GBP, then USD yet again.  Or perhaps they had hiccups? Question is: were they mad or bad?  Or just greedy and callous.
I have no doubt that Holborn Assets Dubai was not the only advisory firm flogging this toxic crap to their victims. Also, in the wake of the Champagne Killer blog I published in July 2017, many Holborn Assets Dubai advisers contacted me and asked me to remove their names from the blog as they were entirely innocent of the negligence and fraud committed by the company and Bob Parker.
In the words of Edmund Burk: "The only thing necessary for the triumph of evil is for good men to do nothing."  So I am now asking all those at Holborn Assets Dubai to contact Bob Parker and demand they compensate their victim for the loss of victims' life savings due to their greed and negligence.
While I accept that there are some good, ethical advisers at Holborn Assets Dubai, there is also an awful lot of dross who should be nowhere near financial services.  As long as the "good guys" stay at Holborn Assets Dubai, they are facilitating the bad guys and allowing Bob Parker to line his pockets from ruining innocent victims.
So now I am asking all the people at Holborn Assets Dubai to do the decent thing.  Please.  Call me by all means and I will remove your name – as soon as you send me a copy of an email to Bob Parker and Adrian Luscombe-Whyte demanding that victims should be compensated for their losses on Premier New Earth Recycling (and any other negligent, fraudulent investments).
The evil men (and women) at Holborn Assets Dubai – including Adrian Luscombe-Whyte who was also flogging Premier New Earth Recycling to his victims – should be removed from financial services.  The good men and women should go and work for/with an ethical firm.
**************************************************************
As always, Pension Life would like to remind you that if you are planning to transfer any pension funds, make sure that you are transferring into a legitimate scheme. To find out how to avoid being scammed, please see our blog: