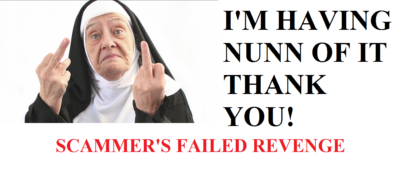 For the first time ever, I get to write about me – Angie Brooks.  How is this relevant you may ask?  Over the years, I've upset a lot of scammers – I disrupt their business and encourage the Serious Fraud Office to arrest them and investigate them for fraud.  I expose their evil trade and name and shame them publicly.  The power of the internet is a wonderful thing, and the more I get scammers to the top of Google, the more I hope that future victims can be avoided.
So a couple of days ago, an anonymous person posted this page on Facebook.  The page accuses me of having been married twice, having had three surnames, and having lived at various addresses.  (I confess!!)  It goes on to claim I earn £600k a year (I wish!) and have been a director of a number of companies.
The Facebook page goes on to claim I am a scammer who takes advantage of victims of scams.  However, the author of the Facebook page does not cite any pension scams where hundreds or thousands of victims have been ruined, or any £million bogus investment funds for which I have been responsible.
Clearly, the author of this Facebook page is a scammer whom I have upset.  Normally, they get their bent lawyers to write me long tedious (and expensive!) letters complaining of defamation and disruption of the scammer's evil trade.  But this time it got personal.
I am grateful for the fact that the author of the page has used the one and only flattering photograph there is of me.  Normally I look fat, ugly or like a moose.  Or sometimes like a fat, ugly moose.
He would have been better using something that made me look like a hideous, mad old hag.  Clearly, he has a lot to learn about social media – especially since a Facebook page is the wrong platform for such a publication – a WordPress blog would have been much better as you can add general keywords, a powerful main keyword, a slug and featured image.
Here is an example of how effectively a WordPress blog could have worked – let's take Phillip Nunn as an example: you would write a blog about how he – along with his accomplice Patrick McCreesh – were running the lead generation and cold calling operation for the Capita Oak and Henley pension scams.  And then when they had exhausted that and scammed as many victims as they could, they set up the Blackmore Global investment scam.  I've already written blogs about them and about the Entrepreneur of the Year Award that Phillip Nunn received and promptly had to hand back when he was outed during a Twitter storm.
So, you'd write the blog and then put the keyword "Phillip Nunn" in the Tags field and set up a photo of him as a featured image.
Then you would splash the blog about on Twitter, Linkedin and Facebook and share it with thousands of your followers, the press, regulators, police, the financial services industry.
Then you sit back and see where Phillip Nunn – along with Blackmore Global – comes on the Google rankings.
So if you are doing the social media and blogging right, you might be lucky enough to achieve 1 and 2 on the mighty Google rankings – like the above.
It is a shame that whoever spent hours researching me didn't just pick up the phone and ask me.  I would have told him all about the mistakes I've made in my life, the companies I have been and am a director of, and how Pension Life operates.  But, instead, the poor chap clearly didn't have the courage to pick up the phone – or perhaps he didn't know how to use a phone other than to do cold calling?
Anyway, the offer is still there – I will gladly give him some tips on how to blog effectively.  But meanwhile, let us ponder on which of the many scammers might have spent all those precious hours researching me and putting together a pretty lame Facebook page.  I am sure this time and effort will have seriously interfered with the guy's scamming time – so it probably cost him a pretty penny too.
I sent the scammer an email on his "Fraudster" email account:
"Morning Fraudster
Ask me anything you want and I will tell you openly and in as much detail as you like.  This should avoid you having to put unnecessary effort into wasting your precious time and efforts trying to dig up dirt and accidentally jabbing yourself in the foot.  I would hate to think of a poor soul like you losing your toes – on top of having no balls and a white streak down your back."
However, the question is, which of the fraudsters set up the Facebook page?  Well, it could have been Phillip Nunn and Patrick McCreesh, of Nunn McCreesh, Its Your Pension and Blackmore Global.  It also could have been John Ferguson and David Vilka of unregulated Square Mile and Aspinall Chase – who were flogging Phillip Nunn's Blackmore Global UCIS investment scam to UK investors (which is illegal).
It might have been Stephen Ward, his bent lawyer Alan Fowler, or his moronic sidekick Anthony Salih.  Another strong contender would be James Hadley and his lawyer Mark Manley, or perhaps Hadley's accomplice Stuart Chapman-Clarke.
Other contenders could be Bill Perkins, pretty much everybody at Holborn Assets, Mike Coady at Guardian Wealth Management, Gary Barlow at Gerard Associates, George Frost of Frost Financial, Peter Moat and Sara Moat of Fast Pensions, Darren Kirby of Continental Wealth Management, Toby Whittaker of Group First and Store Forst, Simon Swallow of Evergreen QROPS and disgraced barrister turned porn star Paul Baxendale-Walker.
Interestingly, it might have been Alan Kentish and David Easton of STM Fidecs, but I doubt they could have done it as wearing handcuffs tends to make doing Facebook posts a bit fiddly.
I actually have a possible conspiracy theory about this – I think it might have been Iain Duncan Smith – disgraced Work and Pensions Secretary who I believe may have his beady eye on Number 10.  I caught him stealing evidence of pension fraud from a victim and he might pay me £600k to keep quiet in his bid for the top job.
Whatever the answer is, let me make it clear that nobody is going to shut me up.  Certainly not somebody with no spine, no guts and no balls.