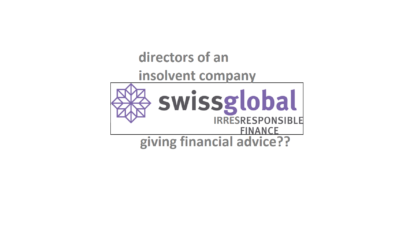 SWISS GLOBAL
Irresponsible Finance at its worst
Switzerland is, sadly, a favourite destination for scams and scammers.  In recent years, it has been the host to financial crime, tax evasion, commercial irresponsibility and dishonesty.
That is why, when I spot a company that looks like it is planning on rapid expansion and an aggressive sales campaign, but without matching ethics and code of conduct, I like to take a look and warn the public if I think there might be a risk to the potential victims.
There are two reasons why I am concerned about Swiss Global:
They have just hired Mike Coady to help the company expand rapidly.

Swiss Global Consulting has gone bust – owing dozens of people a great deal of money.
Let's examine these two reasons for my concern.  Firstly, Mike Coady has been sacked twice in the space of one year.  Not exactly a great thing to have on your CV.  He is well-known as being an aggressive and ambitious salesman with expensive tastes.  Nothing wrong with that, of course, but in financial services advice should be much more about measured quality than huge quantity.
Swiss Global's ambitions include "significant expansion plans across a number of continents, on the back of unprecedented growth in 2017".  In addition to their existing offices in Switzerland, they plan to open more across Europe, the Middle East and the Far East.  With 33 advisers so far, they plan to increase this to 60 by the end of 2018.
For a company that launched only three years ago, that is a huge amount of growth already – and they are planning on doubling the business by the end of the year.  Such rapid growth is bound to be risky – especially as they are aiming to expand into international financial advice, asset management and trust businesses.
The track record of this company is already very troubling and shows a complete lack of prudence when it comes to running a business.  To be able to give financial advice, a firm needs to be able to demonstrate that it can keep its own house in order, manage its own assets, pay its debts and inspire trust by clients and partners alike.
Swiss Global Consulting was declared insolvent by the Geneva Court in April 2018.  The directors of the company will inevitably be pursued personally as the company owes the state pension system £83,122.
The remaining 72 creditors include:
Caisse Cantonal Genevoise de Compensation owed £39,244
Le Palace Geneve (gaming and hotels) owed £79,788
Parenti Design owed £72,104
The total creditors' figure is a staggering £688,817.
Two of the directors of Swiss Global Consulting, Stuart Hamon and Jonathan Berrar, are also directors of Swiss Global Investments.
Another linked company is Swiss Global Management Limited Charlestown succursale Genève.  The directors include Paul Hogarty, Paul Vincent Kavanagh and Stuart Hamon – the latter also being a director of both Swiss Global Consulting and Swiss Global Investments.
Yet another associated company is Swiss Global Trustees Sarl.  The directors are Stuart Hamon and Jonathan Berrar (who are also directors of Swiss Global Investments).
Both Swiss Global Trustees and Swiss Global Investments are registered with ARIF – the Geneva self-regulatory body which has a strong code of conduct and good reputation.  Swiss Global Investments is compulsorily registered with FINMA (registration number 32394) as an independent insurance intermediary.  FINMA also has a serious code of conduct which is expected to be complied with.
Concerned members of the industry with interests in Switzerland should warn both ARIF and FINMA about what is being planned on their patch – as well as regulators in all jurisdictions into which Peter Balchin – CEO of Swiss Global – and Mike Coady – Global Sales Director of Swiss Global – are intending to "expand".
I really can't make up my mind whether it is Mike Coady who has failed to do his due diligence on Swiss Global, or Swiss Global which has failed to do its due diligence on Mike Coady.