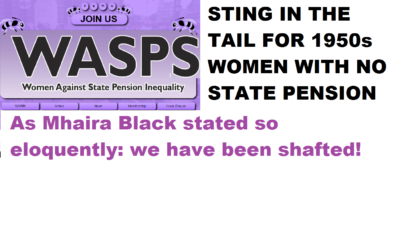 I got into an interesting debate with Frances Coppola on Twitter last night (a very auspicious date: 17.7.17).  Frances is a very knowledgeable and capable pension person – with whom I don't always agree – but she always conducts herself with me in a dignified and respectful fashion and I much admire her expertise.
She said "You were never told you were entitled to a pension at 60. You may have believed that, but that's not the same as being told."
If that is true, then this was one of the greatest magic tricks of the last century – all women born in the 50's thinking/imagining/dreaming they had been told the same thing; at the same time; in the same way; entirely independently.  And then all thinking/imagining/dreaming they hadn't received the letters the DWP alleged they had sent advising the cohort – of which I am one – that the imaginary dream we had all had about receiving our State Pension at 60 was going to be changed to 65, 66, 67 or 68.
This does, of course, beg the question: if we had never been told we were paying our NI contributions so we could receive our State Pension at age 60, why did the DWP subsequently claim they had moved the goalposts to age 66? Surely, if they had never told us in the first place, they wouldn't have needed to tell us otherwise?  And who can provide any evidence that from an early age we Cohorts had paid our NI contributions so we could receive our State Pension at some undetermined age from middle to late sixties – or beyond?  Wouldn't one or two of us have queried this state of affairs?
But the point of this blog is not to scratch the scab of the whole WASPI debate, but to look at the thorny question of "equality".  WASPI opponents bang the drum that we don't want equality – but are seeking "preferential treatment" over men.  I can't speak for WASPI members, but here is my take on this equality/inequality issue:
As little girls, we were generally segregated from little boys in many different ways – and treated differently because it was accepted that our lives would be different when we grew up.  At school we did needlework, domestic science (including ironing, cooking, cleaning the silver) and in general our whole academic and sporting education and development were geared towards our femininity.  The boys were steered towards metal work, carpentry, football, rough and tumble and engineering.
As we got older, our education, families and society in general taught us that we needed an "interim" career to prepare us for being wives and mothers.  In many different social classes, large numbers of young women prepared to be nurses, secretaries, shop workers so we could have a job we could return to once we had married and brought up our children.  We were taught that it was a man's job to go out to work and bring home a wage for the family, and the woman's job to keep a good home, put a decent meal on the table, and bring up the children.
I remember being a first-time mother in Edinburgh in 1980 and going back to work a few weeks after my baby was born.  And I was treated like a pariah.  Many mothers were so treated in Scotland, England and Wales (and undoubtedly Northern Ireland).  In fact, I had been unceremoniously sacked by my employer when I announced my pregnancy as they didn't think I was capable of continuing to work either throughout my pregnancy or after my baby was born.  I do not believe this was entirely untypical back then.
We women earned considerably less than our male counterparts and were not entitled to occupational pensions.  So we never had the opportunity to build up pensions of our own – and for those of us who were widowed or divorced, we were left hung out to dry in later years.  In fact, many of us also had the additional responsibility of looking after and supporting our elderly parents or parents in law.
Does anyone remember the term "housewife" being replaced by "domestic engineer"?  I do, and I remember the challenges of looking after and juggling the multiple responsibilities of young children, a home, a husband who was often tired and grumpy, and my own health/well-being/emotional stability.  It wasn't easy.  And when my father died and my mother developed dementia it got harder still.
This isn't about me – but this will be a situation with which many WASPI members will be entirely familiar.  And here's where we come to the "equality" bit.  How many men gave birth to a number of children?  How many men never had the opportunity of occupational pensions?  How many men never had their own income but relied on the dregs left over after the bills were paid and the children supported?  Yes, I know many men worked their backsides off in a wide variety of different jobs and professions.  But there was a clear distinction between the situations and opportunities afforded to men and women in the 60's and 70's.
We women gave our lives to supporting our husbands, families, children, homes – and working as much as would could depending on our domestic circumstances.  And now we've been shafted, are being told to "get over it" and accused of not wanting equality.  We weren't equal back in the 60's, and we can't backdate equality now.
So whether we were told, or we believed, or we imagined, or we hoped we would receive our State Pension at age 60, we didn't.  We haven't.  We won't.  And this gimpy government with which we are unfortunately saddled can make all the excuses in the World, but it won't change the fact that a major part of the backbone of British society – 1950's women – were told we would receive our State Pension at age 60.
Many of us gave up career and pension opportunities to look after our families.  None of us entered into marriages and families assuming we would become widowed or divorced.  None of us imagined that in addition to looking after our children we would also have to look after our parents.
But perhaps the most sinister and incomprehensible part of the whole WASPI matter is the number of MPs and ministers who have refused to acknowledge the WASPI problem on the basis that the State could not afford to introduce transitional arrangements.  WASPI women are not asking for an unfair advantage over men – they are asking for something which approaches and addresses (albeit inadequately) the inequitable position of women who were not given the opportunity to make revisions to their retirement arrangements.
Our only crime is that we are living too long.  We refuse to die on time.  Despite the demands on our bodies of child birth and domestic industry, we have failed to pop off on time.  My posturing will make not a blind bit of difference, of course.
Frances Coppola can keep on saying we were told that our SPA would be increased and that we were never told we could expect to receive our SP at age 60 all day long.  But that does not change the fact that there is very considerable hardship for many 1950's-born women who did believe they could expect to receive their SP at age 60 and who are now unable to get jobs to support themselves.  Many of these women are in desperate need of transitional arrangements.    These women paid their NI contributions all their working lives, brought up their children, supported their husbands and lived an unequal life.  But now the State wants to backdate equality.