If you have been following Pension Life´s blogs, you will know that we have been conducting a series of investigations into qualified and registered financial advisers in various firms. Today is Woodbrook Group – are their advisers qualified and registered?  See question 5 on our blog about the ten essential questions to ask any advisory firm you are considering using:
IFAs and their clients are invited to add to it, correct it, improve it. Here's a link to the three registers if you want to double check:
http://www.cii.co.uk/web/app/membersearch/MemberSearch.aspx
https://www.cisi.org/cisiweb2/cisi-website/join-us/cisi-member-directory
https://www.libf.ac.uk/members-and-alumni/sps-and-cpd-register – Claim to a DipFA
Here's what Woodbrook Group say about themselves:
"Woodbrook Group is an international firm of financial advisors. We are proud to be independent as we are not owned by any financial institution or life insurance company. This makes us different from the majority of financial advisory companies which means we offer you unbiased and impartial advice.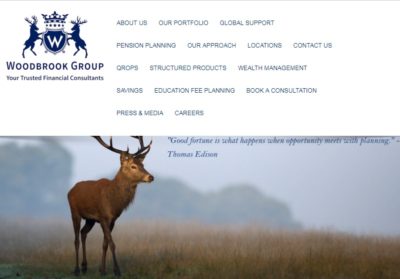 Every individual has unique dynamics, goals and attitude to risk. Our team of highly experienced financial consultants can help you to identify your personal needs and devise professional solutions and services that are customized to your unique situation, objectives and goals.
Woodbrook Group is licensed to provide the investment services of investment advice."
Woodbrook Group advisers – qualified and registered?
Despite stating the company operates in 30 different countries, I was unable to find any list detailing the members of their advisory team. They do, however, state that Woodbrook Group is authorised and regulated by the Cyprus Securities and Exchange Commission (No: 297/16) and subject to the requirements of the EU's Markets in Financial Instruments Directive (MiFID).
I found three names connected to this company via their website media page: Michael Doherty, who states he is the CEO; Andrew Heath, who is listed as office manager in Spain; Mark Slevin, listed for Cyprus office.
Michael Doherty – CEO – no financial qualifications listed – two people called Michael Doherty appear on the CII register with DipPFS so there´s a possibility he could be one of them – although I doubt it as one is based in Manchester and the other in Chester:
http://www.cii.co.uk/web/app/membersearch/MemberSearch.aspx?endstem=1&q=n&n=michael+doherty&c=&ch=0&p=0
Andrew Heath – Office Manager Spain – not listed on any of the three registers
Mark Slevin – Regional Manager – Cyprus office – not listed on any of the three registers
However, through Linkedin, I have found a further 39 employees who are listed as purportedly working for Woodbrook Group.
I will, therefore, use this list for Woodbrook Group "advisers" – qualified and registered.  However, the biggest concern about Woodbrook is that it is promoting structured products.  Victims of the Continental Wealth Management scam will undoubtedly join in the warning about any adviser that uses structured notes as these are for professional investors only and are very risky.  Of course, structured note providers do pay handsome introduction commissions of up to 8% (for the fraudulent Leonteq ones) – and that is one compelling reason to avoid any advisory firms which use these products.
https://www.linkedin.com/search/results/people/?facetCurrentCompany=%5B%226237866%22%5D
Watch this space!