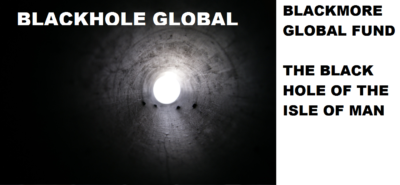 BLACKMORE GLOBAL FUND – BLACK HOLE?
A fund like Blackmore Global really ought to be audited as soon as possible – to make sure it isn't simply a "black hole" into which victims' hard-earned pensions have sunk.  Numerous worried pension savers are stuck in the Blackmore Global Fund and finding it difficult – if not impossible – to get out.  They are seemingly "locked in" for ten years.
I WOULD LIKE TO EXPRESS MY SINCERE THANKS TO THOSE – INCLUDING IFAs, PENSION TRUSTEE FIRMS AND BLACKMORE GLOBAL VICTIMS – WHO HAVE CONTACTED ME AND SUGGESTED IMPROVEMENTS, CORRECTIONS AND ADDITIONS.
Allegedly, Grant Thornton is working on an audit – and has been doing so since September 2016.  They could probably have audited Microsoft in that time – and squeezed in Amazon on the side during the lunch breaks. Just how difficult can it be to audit a fund which only has a handful of assets in it?
Originally, the directors of Blackmore Global were Brian Weal, Patrick McCreesh, and Phillip Nunn.  
Brian Weal – sanctioned by the FSC in 2014 – was also a director of Swan Holdings – the only investment that the Advalorem Value Asset Fund made. Brian Weal was also a director of Advalorem. Advalorem lost most of its money because the investments in Swan Holdings were overvalued. The valuations were supplied by Stuart Black who also provided valuations for a Hedge Fund called Heather Capital which lost $300 million because of overvaluations. Swan Holdings had invested a chunk of cash in Etaireia Investments. Stuart Black was a director of Etaireia Investments. Brian Weal owns a controlling number of shares in Etaireia Investments.  So, make up your own mind as to whether having Weal as a director of Blackmore Global is a good thing or a bad thing – or a "black hole" thing.
As for Nunn and McCreesh, I will let Leonard Fenton of the Insolvency Service do the talking:
Documents and information received from members of CAPITA OAK indicated they were initially contacted by Craig Mason or Patrick McCreesh of Nunn McCreesh of Its Your Pension Ltd and offered pension review services prior to them being referred to JACKSON FRANCIS or Sycamore for the transfer of their pension to CAPITA OAK.

On 3.3.15 I received an undated letter in which it was stated that Its Your Pension had not traded and was a dormant company and that Nunn McCreesh had traded as an insurance brokerage between 2009 and 2012 when they entered into a verbal arrangement with TRANSEURO where in return for providing pension leads to JACKSON FRANCIS they received a commission from TRANSEURO.

Nunn McCreesh provided JACKSON FRANCIS with 100-200 leads per month which were provided by email and/or telephone for which they received £899,829.86 from TRANSEURO during the period 26.3.12 to 14.5.14.
So, again, draw your own conclusions about those connected with Blackmore Global.  Nunn and McCreesh generated up to 200 leads a month to pension scammers in relation to a series of pension/investment scams which are now under investigation by the Serious Fraud Office.  This entailed £120 million worth of pensions being invested in Store First store pods which are now the subject of a winding up petition – and arguably worthless.
When I first started investigating the Blackmore Global fund in 2016, I started with the brochure which makes all sorts of grand claims: "medium to long-term investment vehicle with a diversified investment portfolio
under one structure. The Company allocates investment between four distinct protected cells, giving a true
diversification of assets between property, sustainable, private equity and lifestyle".  Yeah, right.  But what are the underlying assets?  Where is the audit?
The Fact Sheet goes on to claim the fund's NAV is £17.65 million and was launched on 1st May 2014.  So why no audit?  It also claims that the Investment Manager is a firm in Barcelona called Meriden Capital Partners.  I thought it a bit strange that a fund based in the Isle of Man would appoint an investment manager in Spain – especially one without a website.  So I called Meriden Capital Partners and asked them to confirm that they were the investment manager.  They claimed they had never heard of Blackmore Global.  Then one of the partners called me back and told me that some man who didn't give his name had come to their office and asked them whether they would be interested in being the investment manager for Blackmore Global.
The partner at Meriden Capital explained that they had declined because they were not licensed to provide investment management advice to a fund – only to private individuals.
But then I discovered that that hadn't been entirely true either. Meriden Capital had actually completed an application form to apply to become the investment manager to the fund on 4th April 2014.  So either Meriden Capital was lying or Blackmore Global was lying – or both.
The Blackmore Global NAV Factsheet also states that there is a ten-year lock-in to the fund.  So why would anyone invest a pension in such a fund?  A pension saver has a statutory right to a transfer and might want to take his PCLS – 25% tax free withdrawal at age 55 – or retire, or even die.  What on earth is the point in using Blackmore Global for a pension at all?  Ever.
As Grant Thorton is clearly having a little trouble with the audit of a five-cell investment fund, I will lay a wee trail of bread crumbs for them to look at.  Clearly they can't even find the underlying assets – let alone value them:
Swan Holdings PCC (controlled by Brian Weal)
Kingston Capital Partners (Belize private equity vehicle controlled by Nunn & McCreesh)
GRRE Invest – fund manager for aptly-named GRREIF fund (Green Renewable Redeemable Energy Investment Fund –
GRRE Investment Fund – suspended by Anguilla FSC. (Brian Weal recently resigned as a director but still holds a controlling interest in the Fund – https://beta.companieshouse.gov.uk/company/09132685/persons-with-significant-control)
Spinaris 90 – UK sports spread betting (invisible – and what happened to Aria Invest?)
Most of the victims of the Blackmore Global fund were initially cold-called by a firm called Aspinal Chase.  And all the victims were advised by unregulated investment advisers Square Mile Financial Services (an insurance license does not cover regulated investment advice).  But more worryingly, all of them were put into a QROPS in Malta or the Isle of Man.  So why were UK residents transferred to an offshore pension at all, and why were most or all of their pension funds invested in a UCIS which is illegal to be promoted to UK residents?
The list of questions goes on and on.  And here, we get back to whether the unscrambling of these pension and investment scams is more about who you know rather than what you know.  One victim had his pension invested 75% in Blackmore Global and 25% in Symphony.  Symphony was a fund invested in derivatives and highly leveraged.  It was also a sub fund of the Nascent Fund run by Richard Reinert.  Under the Nascent "umbrella" (a structure for wannabe fund managers) was also the Trafalgar Multi Asset fund which was run by XXXX XXXX who was one of the main distributors behind Capita Oak, Henley and Westminster – all of which are being investigated by the Serious Fraud Office.
Now we have gone round in a complete circle.  A catalogue of lies, deception, fraud, mis-selling, negligence and incompetence.
I don't envy Grant Thornton (if indeed they are the auditors) because they have got to unscramble this unholy mess. And I strongly suspect that, behind the scenes, there are certain parties who are busting a gut to ensure the audit is never published.  Two of these may well be John Ferguson and David Vilka of Square Mile in the Czech Republic who seem to have a strong vested interest in promoting this black hole of a fund.
Meanwhile, the longer the victims are held back from transferring out of this toxic swamp of a fund, the more serious the complaints against the various parties involved will be.  These will include the cold-calling scammers; introducers; advisers; pension trustees and insurance companies such as Investors Trust who allowed this investment and the pensions transfers from unlicensed advisers.
Finally, on the subject of Investors Trust, they showed not a shred of interest in the fact that they had facilitated financial crime in allowing UK residents to have their pensions invested in this UCIS, but when I published a photo of John Ferguson and David Vilka posing as a couple of gaudily-dressed spivs in Las Vegas, Investors Trust objected on the grounds the photograph was their property.
pension-life.com/top-10-deadliest-pension-scammers-hmrc/