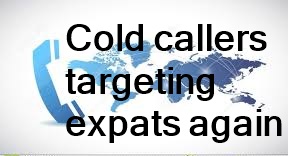 Every year we are seeing an increase in the number of victims falling for pension and investment scams. Despite warnings in the public domain and a huge array of information about how to avoid falling victim to a scam, it seems the scammers are so skilled at their sales techniques, that even the cleverest of people can fall for their slick pitches. Often the scammers use cold-calling techniques to initiate these pitches: using emails, texts, mail shots and the good ol' phone.
We finally saw the introduction of the cold calling ban come into place in January 2019, with huge fines being threatened to firms using these techniques to promote pension sales. We have already written about the firms who have changed their scripts to escape the fines: Cadde Wealth Management is one of these firms.  On top of this, we now find that the cold-calling ban has just encouraged the scammers to divert their efforts to British expats.
BBC4 You and Yours recently discussed how the cold-calling ban in the UK has seen a change in the scammers' behaviour. Unfortunately, this is not a change for the better. As the ban only applies to the UK, scammers are targeting expats instead. This means UK pension holders are still the main target for pension scammers and are at greater risk than ever.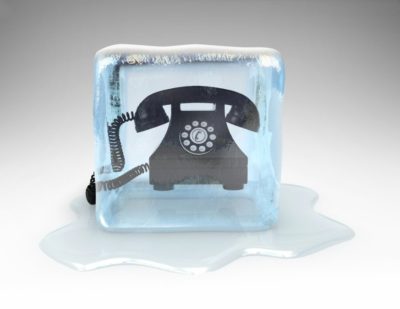 Listen to the show here:
https://www.bbc.co.uk/sounds/play/m000241
Interviewed in the programme, Jamie Jenkins says he has noticed this change.  He is Head of Global Saving Policy at Standard Life. He states in the report,  "In recent months we have known that the cold-calling ban is coming in and criminals know that too. So we have seen a switch from cold calls originating in the UK to UK customers, to overseas calls to expat customers living abroad."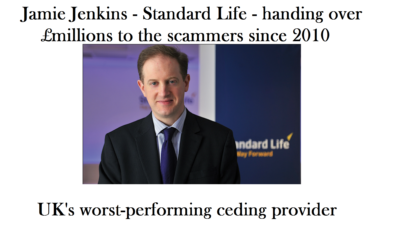 Ironically, Standard Life has been one of the worst performers in terms of ceding pension providers who have recklessly and negligently handed over millions of pounds' worth of pensions to the scammers.  Completely ignoring the Pensions Regulator's warnings in 2010, they shoveled £millions across to pension scams such as Ark, Capita Oak, Westminster, Continental Wealth Management, Global Fiduciary Services and many other QROPS scams.
Here at Pension Life, we know that expats are not just a new target of cold callers – many expats have already fallen victim to horrific pension scams, like those who lost large chunks of their pension funds to CWM. Continental Wealth Management fraudsters like Darren Kirby, cold-called victims, then followed through with repeat house calls and persuaded around 1,000 UK pension holders to transfer out of safe DB pensions into QROPS and illegally-sold life insurance bonds (such as OMI, Generali, SEB, RL360). With promises of high returns, a lump sum in cash and greater freedoms, many professional and well-educated people fell for the scam.
Many victims are now trapped in bogus life "bonds" that are falling in value yearly, while the life offices continue to take their quarterly charges – further damaging the impaired funds. Fortunately, the Spanish regulator – the DGS – has outlawed the selling of bogus life assurance policies this week, ensuring there should be fewer victims of this type of scam.
Here is our cartoon video reconstruction of how the Continental Wealth Management scam worked:
The BBC programme also talks to a Continental Wealth Management victim, Rebecca Cooke, who lost £75,000 after transferring out of an NHS pension and other secure investments.
"We were approached in 2012/13 by a company based in Spain (Continental Wealth Management) who were offering us advice about moving our private pension from the UK into another investment scheme based in the EU.  We went with them, but it became blatantly obvious that we had suffered catastrophic losses in our pension and chased them up about what was happening. They had actually invested our funds badly and put them in high-risk rather in low to medium risk funds.  Consequently, we had lost that amount of money (£75,000)."
She said she feels stupid for falling for the scam, but she is not alone in believing the shiny sales pitch of these scamming criminals.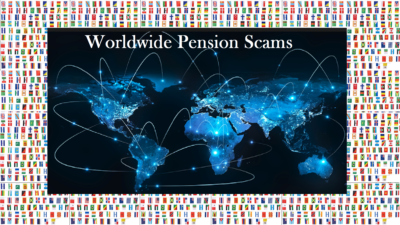 It seems the only way to escape the scammers – anywhere in the world – is not to fall for their lies.  But the challenge is to know what is true and what is false.  And that isn't easy – the scammers are very clever and can adapt quickly to invalidate public warnings and even use them to their advantage.  In addition to the scammers, there are now offshore claims management companies circling like vultures and conning people into believing that complaints against offshore firms can be upheld by UK-based ombudsmen – and that claims can be made against the FSCS (Financial Services Compensation Scheme) in respect of Maltese trustees.
Know what questions to ask your IFA, click here to watch our cartoon