The protagonists behind collapsed Spanish advisory firm CWM – Continental Wealth Management – will be on trial week commencing 24th February in the Denia Criminal Court of First Instruction.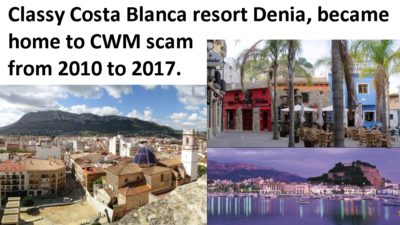 This criminal matter will have enormous ramifications for similarly-affected victims, and for any advisory firms which have engaged in any of the same practices used by CWM. These illegal practices include the gratuitous selling of insurance bonds from bond providers such as OMI, SEB, RL360, Friends Provident and Generali; putting low-risk investors into commission-laden, high-risk investments; churning and concealment of backhanders; forged or copied client signatures on investment dealing instructions.
The routine "sale" of insurance bonds (whether the clients need them or not – which 99% of the time they don't) is illegal in Spain. Undoubtedly this will be similar or identical in other jurisdictions. The Spanish Supreme Court has ruled that insurance bonds are invalid for the purpose of holding investments. But still the scammers continue to flog them indiscriminately – purely for the fat commissions.
Insurance bond salesmanship has become one of the biggest, most widespread and toxic crimes across all expat territories – and now it must be outlawed by the ethical sector of the financial services market. And there is an ethical sector which abhors the toxic and dishonest practices which will be the subject of the CWM trial. There is also a "semi-ethical" sector which is genuinely ashamed that it too has carried out such practices, but which is determined to clean up it's act and "go straight" from now on.
Make no mistake – the Denia Criminal Court is determined to clean up this stretch of the Costa Blanca in particular and Spain in general – as well as make an example out of the CWM scammers. Some of the CWM victims, as well as Ark and Capita Oak victims – and those financially ruined by both Stephen Ward and Paul Clarke – will be at the court hearings the week of 24th February. There will be local and international press coverage to highlight the importance of this significant event.
The defendants in the CWM case were served in early January. They are now compelled to come to court to be cross-examined by our lawyer. Each defendant will have his or her own legal representative and also a court-appointed translator. The cross examinations will take place privately in front of the judge, but a transcript of each one will be published subsequently. I will translate these transcripts and make them publicly available on the Pension Life website as soon as they are made available by the court.
The dates of the now compulsory court hearings are:
Monday 24th February from 10 a.m.: Darren Kirby; Patrick Kirby and Anthony Downs
Tuesday 25th February from 10 a.m.: Jody Smart, Neil Hathaway and Dean Stogsdill
Friday 28th February from 10 a.m.: Stephen Ward and Paul Clarke
Darren Kirby did not show up for the last criminal trial – when he was accused of defrauding three victims out of their life savings in order to give him money to prop up the rapidly failing CWM and to pay money to his partner – Jody Smart – to invest in her fashion business: Jody Bell. One of the complainants in this previous case has since died.
Stephen Ward of Premier Pension Solutions has fled to Florida where he owns a portfolio of at least ten mortgage-free properties near Disneyland. However, he will not succeed in avoiding prosecution.
Sole director and shareholder of CWM, Jody Smart did turn up for the last criminal trial, so it is expected that she will probably attend this one. Smart will be keen to deflect blame from herself and claim that she was only a "nominee" director. However, in the last two years of operation, she paid herself 991,035.86 Eur (on top of her already more than generous director's salary) – 670,035 Eur into her property company Mercurio Conpro and 321,000 Eur into her Jody Bell fashion business.
The remaining CWM defendants: Anthony Downs, Neil Hathaway, Dean Stogsdill and Paul Clarke are likely to turn up since they are all based in Spain and have families, property and businesses here.
CWM earned 3,391,876 Eur in commissions on sales of insurance bonds and structured notes in the last two years of operation. Scammers like CWM generally made at least 16% commission out of victims' pensions and investments. This would mean that in this period, CWM scammed victims out of approximately 17,000,000 Eur. On top of his, the firm earned many hundreds of thousands from victims they cleaned out promising them shares in the company (which Darren Kirby had claimed was worth 10 million), properties and cars. But when the firm closed, the CWM bank account was virtually empty. This video will illustrate some of the appalling misery the CWM victims endured – and the extent to which Jody Smart benefited from the money stolen from the victims: https://www.youtube.com/watch?v=lYlxu8YOaAM&t=3s
The following related entities have been asked to provide documentary evidence to support the complainants cases:
Inter Alliance, Globalnet, Trafalgar, Old Mutual International, SEB and Generali
This evidence will include copies of risk profiles and investment dealing instructions – bearing the forged investor signatures.
This criminal case has been brought by using 17 "lead" cases – victims of the CWM scam who have all lost considerable amounts of their life savings. These victims are now the lead complainants who also represent the interests of the further hundreds of victims who have suffered similar fates. The lead complainants have put an enormous amount of time, work and self-sacrifice towards this matter. Each complainant has had to re-live the horror of their suffering at the hands of CWM – telling their painful stories to our lawyer Antonio Bertomeu. Most of the lead complainants are based in the vicinity of Denia – where CWM committed the majority of the crimes. However, one complainant came all the way from Portugal.
I will be with Antonio Bertomeu the week before the trial as we prepare for the cross examination of the defendants in court during the week of 24th February. This is a crucial point in the proceedings as there has been a substantial amount of further evidence which has emerged since this complaint was originally filed in court in June 2019. There are also further defendants who will now need to be included in the proceedings.
The Denia court has stressed that this is an issue which is of great importance as it involves three serious criminal offences which are likely to involve substantial financial penalties and custodial sentences:
Falsification of commercial documents
Disloyal administration
Continuous fraud
The outcome of this case will inevitably have far-reaching consequences for the industry globally – especially since the practices which are the subject of these criminal proceedings have been widely practised for a number of years. These crimes have not been exclusive to Continental Wealth Management and their associates. There are many victims beyond the clients of CWM who have suffered similar crippling investment losses. The scope of these criminal proceedings will now inevitably reach into other firms and jurisdictions.