While Dalriada Trustees and Pinsent Masons count their handsome earnings, HMRC prepare to ruin the victims with unauthorised tax charges from the Ark pension liberation scam.
Dalriada Trustees were appointed by the Pensions Regulator on 31st May 2011 to take over the six Ark schemes: Cranbourne; Grosvenor, Tallton Place, Lancaster, Portman and Woodcroft.
Designed, set up, promoted and operated by Andrews Isles of Isles and Storer Accountants, Stephen Ward of Premier Pension Solutions and Craig Tweedley of Castlerock Consulting, the Ark schemes were operating pension liberation through a scheme called:
MAXIMISING PENSION VALUE ARRANGEMENTS (a reciprocal version of straightforward pension busting).
Since their appointment, Dalriada Trustees have paid themselves a total of £1,637,795 in trustees' fees from the Ark members' cash. This is broken down as follows:
£293,976 Cranbourne
£209,620 Grosvenor
£292,469 Tallton
£246,177 Lancaster
£402,677 Portman
£192,876 Woodcroft
In addition to the £1,637,795 paid to Dalriada, £4,041,579 was paid to their solicitors, Pinsent Masons. This figure will have included fees paid to their QC Fenner Moeran.
This means that 20.85% of the original transfer value of £27,237,257 has now been spent on trustees' and solicitors' fees.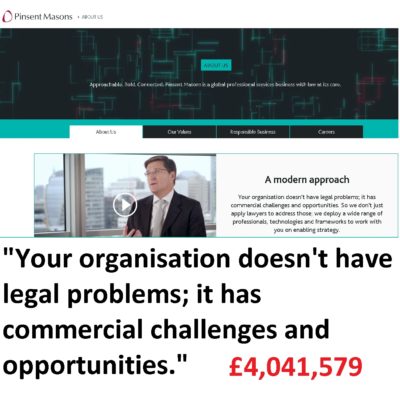 During the past eight years, none of the liquid funds have been invested by Dalriada. Every year, the value of the funds shrinks naturally as there is nothing to protect them from inflation and the impact of charges on the cash and investments.
After Dalriada's appointment on 31.5.2011, they allowed a further £1,730,626 worth of transfers which should have been rejected. Ark victims who were given MPVA "loans" are now being taxed at 55% by HMRC. Ark victims who weren't given MPVA "loans" are also now being taxed at 55% by HMRC. Dalriada and Pinsent Masons are forcing victims to repay the "loans" – even though they will still be taxed by HMRC.
Despite the fact that nearly 500 Ark victims have paid Dalriada Trustees and Pinsent Masons £5,679,374 in fees, what have they actually delivered?
What financial help has been given to the members for challenging HMRC? Answer: NONE
How many victims have been allowed to transfer out of the Ark scheme? Answer: NONE
How many victims have been allowed to take their PCLS? Answer: NONE
Is there any idea how many more years Dalriada will keep the Ark pensions suspended? Answer: NONE
Is there any limit on how much more Dalriada and Pinsent Masons can keep paying themselves in fees? Answer: NONE
How many of the scammers behind Ark have been prosecuted? Answer: NONE
How much of the Ark members' funds have been invested? Answer: NONE
How many more pension schemes have Dalriada been appointed to since 2014? Answer: 31
Based on an average of £1,000,000 a year paid to Dalriada and Pinsent Masons out of the members funds since 2011, the total to May 2019 will be at least £6.5 million (although the accounts won't be available until at least January 2020).
And based on all of the above – IS THERE A BETTER WAY?