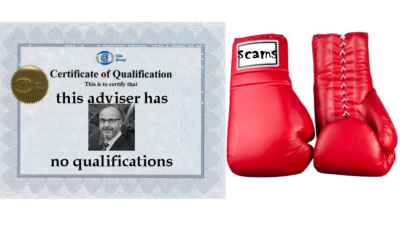 Fighting pension scams needs to be done logically and methodically.  Decent advisers need to use high standards to help fight scams.  If these standards become the norm, the scammers won't survive and flourish so easily.
Fighting pension scams – Qualifications
Most qualified advisers want nothing to do with pension scams.  Many offshore firms employ advisers who have not passed the required exams.  Even if an adviser has qualified, he or she must still be registered.  We recently surveyed a number of offshore advisory firms: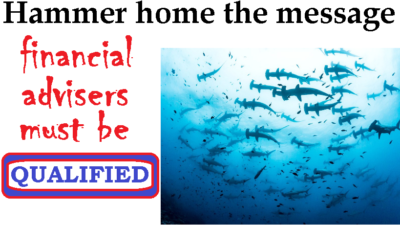 Lots of offshore advisers consider they don't need to be qualified.  Let's have a look at an example:
The Chartered Institute for Securities & Investment (CISI) is the largest and most widely respected professional body for those who work in the securities. The Chartered Insurance Institute (CII) is a professional body dedicated to building trust in the insurance and financial planning profession.
All financial advisory firms should list their advisers, provide clear details of each adviser's qualifications and a link to the institute's register showing evidence of the qualifications.
Here is a useful guide to qualifications: Qualified Adviser for QROPS
 "Qualifications are not the be all/end all.  A certificate does not prove professional competence in the field , ethics or experience. But the public have to start their due diligence somewhere."
Sadly, there are a few well qualified advisers who are the exception to the rule.  Stephen Ward of Premier Pension Solutions ran numerous scams:
Ark     Evergreen     Capita Oak     Westminster     Southlands     Headforte
Randwick Estates     Bollington Wood     Hammerley     Halkin     Feldspar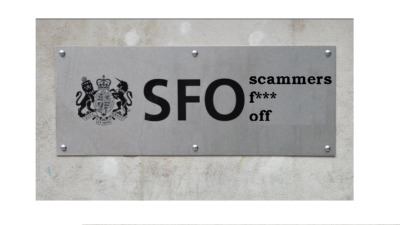 and many others such as Westminster and London Quantum – ruining thousands of lives.  Several of his schemes are under investigation by the Serious Fraud Office.  He also provided the transfer advice in the Continental Wealth scam.
Any decent adviser will want to be fully qualified.  And registered.  The rest should go back to selling snake oil.  But consumers must remember there are exceptions.  Some regulated firms get it wrong.  Qualified advisers can get it wrong.
The trick is to know all the questions to ask.  Here's where the ten standards come in handy:
Firm must be fully regulated – with licenses for insurance and investment advice
Advisers must be qualified to the right standard pension-life.com/ten-essential-standards-for-pension-advice
Firm must have Professional Indemnity Insurance
Clients must have comprehensive fact finds and risk profiles
Firm must operate adequate compliance procedures
Advisers must not abuse insurance bonds
Clients must understand the investment policy
All fees, charges and commissions must be disclosed
Investors must know how their investments are performing
Firm must keep a log of all customer complaints
Fighting pension scams – why qualifications are so essential
If clients used only firms that tick all ten Standards boxes, it would be harder for the scammers to get business.  Decent firms who care about their reputation should make sure there are clear links to all advisers' qualifications.  Make it easy for the consumer to understand how to check that the stated qualifications are genuine.  And help educate people to understand what qualifications are required.
All too often, advisers claim to have qualifications that don't exist – or that aren't appropriate for investment advice.  For example, some advisers who are assuring clients they can advise on pensions and investments, only have qualifications suitable for mortgages.  Or worse still, no qualifications at all.  Whatever the adviser says his qualifications are, the client must be able to double check.
You wouldn't go to an unqualified solicitor would you?  So don't use an unqualified financial adviser.  Being qualified goes hand in hand with being regulated.