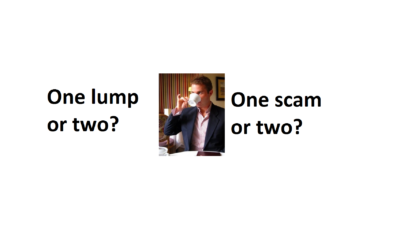 I'D RATHER HAVE A CUP OF TEA THAN SEX – Boy George
BG had a point.  A cuppa can be enjoyed without taking your clothes off or getting your hair messed up.  Plus you can easily do it with people you haven't quite made up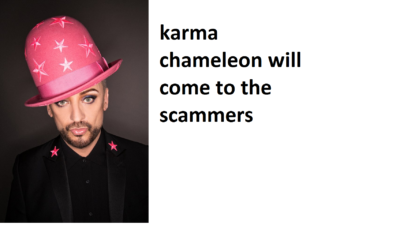 your mind about.
This is my dilemma.  I am enormously popular with solicitors and I have two potential new best friends: Carter Ruck and DWF Solicitors.  They both want to be my friends but I have to chose both of them, half of them or neither of them.
So I've decided to invite them both to my kitchen for a cup of tea and a few fruity tarts.  Firstly, I will make it clear that it is my kitchen – my rules.  And I shall expect good manners and elegant waggling of their pinkies.
Secondly, I will impress upon both of them that while I can friend them, I can just as easily unfriend them.  The rules of my kitchen include: no smoking; no belching and no farting.
I have had many friends among the legal community over the past few years.  You can see why they enjoy writing to me – scammers pay them huge amounts to engage with me.  (Rather than the fact that they enjoy being my pal).
Assisting me in my quest to decide whether to accept either of these guys as my "new bestie" will be my Toy Poodle Tigga, who will hump the leg of the one he likes best.  It is not so much what Tigga does, but how the lawyers react – and whether they deal with such a situation with elegance and class.
It must be declared that, actually, DWF does start out with a huge disadvantage.  In 2015 they were acting for the Insolvency Service in the winding up of Imperial Trustees in the matter of the Capita Oak scam.  But they were also acting for Stephen Ward of Premier Pension Solutions – the transfer administrator for the Capita Oak scam.  I did point out that this was a bit of a conflict of interests (to various parties).  Shortly after, DWF was dropped as legal representative to the Insolvency Service.
Another thing against DWF is that a couple of years back, a group of 20 lawyers left the firm for Trowers and Hamlins.  Not exactly a confidence-inspiring event in the reputation of the (DWF) firm.
As we are an all-girls' team at Pension Life (except for Tigga) we only have one loo.  And that has framed letters from a number of my other favourite lawyer chums on the walls.  It remains to be seen which of these two new candidates will end up on the toilet wall and which will be told to "Ruck" off.
One lump or two?  (Or perhaps three?)