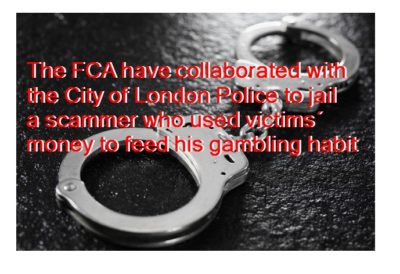 49-year-old Freddy David of Elstree, Borehamwood, of North London, faces six years in jail for conning millions of pounds out of people in his community through an investment scam.
David, once a well-respected member of his community and former financial adviser, obtained money by deception to fund his gambling habit. Figures of his scam are said to be a staggering £15.6m ($20.5m, €17.5m). Many of his victims are elderly and unable to recover the money they have lost. Some investments were as much as £750,000.
David told his 55 clients their funds were being held in a high-interest bank account in his company HBFS Financial Services. The reality of it was, that he used the funds to feed his gambling addiction, including £240,000 in one day!
Fortunately, the FCA became suspicious and were able to collaborate with the City of London Police. This resulted in David admitting to his crime and receiving a six-year jail sentence as well as a ten-year ban from holding a directorship.
Police staff investigator Katie Watkins said: "David was a well-respected member of his community who exploited this in his position as a managing director of a recommended financial advisory firm to gain trust from unsuspecting investors.
"This fraud has caused significant emotional distress and financial harm to the victims involved, many of whom invested their life savings in HBFS. Some victims are retired and are not in a position to recover the money lost."
This goes to show that investment scammers lurk everywhere and are very good at disguising themselves. Even respected, qualified and registered advisers can turn crooked when they need a bit of extra cash (or even a lot of extra cash).
When choosing to make any financial transfer, ensure that the transaction is your own decision and that the adviser is working in your best interests. Make sure you ask all the relevant questions.
Make sure you receive all the investment information in writing – DO NOT just trust the words of the adviser.
Once you have all the relevant paperwork – DO make sure that you have read over the proposal several times and that you understand it fully.
If in doubt,  just walk away. If the offer sounds too good to be true, then it probably is!