Meghan and Harry – the Duke and Duchess of Sussex – are having a tough time (and are running away from home). Their sadness and confusion is because they have no purpose or passion in life. So I am offering them an interesting and satisfying challenge: taking on and championing the cause of pension scam victims. Harry's Mum knew a thing or too about adopting worthy causes and had no problem jumping on a plane to far away, war-torn places full of the most appalling human suffering and landmines. Meghan and Harry don't even have to travel as far as the airport to find victims whose cause desperately needs championing.
Poor Duke and Duchess of Sussex – what an awful time they're having: posh clothes; flash cars; sumptuous "cottage" in Windsor Park. They needn't be bored and aimless any longer. They can become patrons of the plight of the thousands of British citizens who have lost £ billions to pension and investment scams.
Just as the Late Princess Diana confronted the horrific dangers of land mines, Meghan and Harry can confront the huge tide of appalling human misery caused by scammers Stephen Ward of Premier Pension Solutions; Paul Clarke of Roebuck Wealth; Dennis Radford of Spectrum IFA Group; Darren Kirby of CWM; Gus Ferguson and David Vilka of Square Mile; James Hadley of Nationwide Benefit Consultants; Phill Pennick of Pennick Blackwell; Peter and Sara Moat of Fast Pensions; Paul Baxendale-Walker; Patrick McCreesh and Phillip Nunn of Blackmore Group; Paul Careless of Surge Group.
This is now becoming a very high-profile topic – especially in the light of the multiple, dismal failings of the FCA and a recent series of hard-hitting articles published by Tom Kelly of the Daily Mail. Kelly, an engaging and open-minded young man (who I am sure the Sussexes will like) has written about a wide array of pension and investment disasters which have befallen thousands of victims since 2010. I would urge Meghan and Harry to contact him: Tom's email address is: Tom.Kelly@dailymail.co.uk and his editor's address is: Geordie.greg@dailymail.co.uk
As the disillusioned Royals are bound to ask whether pension scam victims have anything to do with them (or whether they should even care about people who have lost their life savings or pensions), they might like to consider the following:
If Frogmore Cottage catches fire, Meghan and Harry will have to call the Fire Brigade. The sumptuous property cost £2.4 million to refurbish to the highest possible standard, but even the best sparks do sometimes make the odd mistake. The Royals' home – and even their lives – will be in the hands of the firemen. These brave firefighters will risk their own lives running into the burning building; then will rescue the people and (hopefully) save the building.
If Meghan and Harry's baby son Archie is unwell after inhaling smoke, they will rush him to hospital – where he will be tended to by nurses and doctors.
If a therapeutic trip to Canada is required (to get over the upset of their home being damaged by fire), the plane will be flown by two pilots.
Pension and investment scammers target people from all works of life – including firemen, doctors, nurses and airline pilots. Next time the Sussexes place their hands into the lives of any of these professionals, they might like to consider whether these people are victims of scams and are worried sick about their financial losses.
Scammers don't care what their victims do for a living: sparks, chippies, builders, gardeners, taxi and bus drivers, soldiers, care workers, architects, scientists, accountants, artists, police officers…the list is endless – and includes airline pilots.
Meghan and Harry need not think that going to Canada will get them far away from the world of pension and investment scams. These criminals have long arms and can easily reach as far as North America – and well beyond. The long list of highly-organised scams includes schemes in the UK and all expat jurisdictions across the globe – including Canada.
Coming from a privileged background where Harry's Mum gets paid more than £8 million a year (and Meghan and Harry are reportedly worth around £30 million), it is going to be hard to get their heads round the poverty thousands of victims are facing. Perhaps cutting the purse and apron strings will teach Meghan and Harry just how hard it is to earn a crust – and save for a retirement that isn't handed to them on a plate.
While the Duke and Duchess of Sussex fly backwards and forwards between the UK and Canada, perhaps they might like to ponder a few things:
How to keep the plight of pension and investment scam victims in the headlines
How to encourage the government to make financial regulation effective
How to provide a law-enforcement system that ensures all scammers are jailed
How to get the law changed to ensure HMRC pursues the perps rather than the victims
Whether the pilot of their plane has lost his pension and hasn't got his mind entirely on the job
If Meghan and Harry do accept this challenge, they will have to accept that it won't be easy. The scammers are determined, hard-nosed and hard-hearted criminals; the regulators are lazy and mostly asleep at the wheel; the police are over-stretched and under-resourced; the government hasn't got a Scooby – and anyway can't think beyond Brexit. This is evidenced by the fact that the moronic Chancellor Sajid Javid appointed arch FCA failure Andrew Bailey to govern the Bank of England. Boris Johnson was just as bonkers to endorse this ridiculous decision. When he told the Queen of the appointment, she should have given him a good slap round the earhole. (Mind you – she was probably a bit preoccupied about the company Uncle Andrew was keeping at the time, and she probably thought "oh well, at least Bailey isn't a paedophile").
The biggest challenge in fighting pension and investment scams is how to help prevent further victims. The best way to do this is to keep the topic firmly in the public eye – and that means encouraging the press to keep the subject in the headlines (and not let it get shoved out of sight by trivia). The other important role that Meghan and Harry could play would be to ensure that politicians keep their promises. A couple of years ago Boris Johnson promised a group of his constituents that he would tackle pension scams. But nothing happened and now he is ignoring them. We all know he's been a little busy recently, but leaving his own constituents hanging after promising he would help them is not acceptable.

https://www.thisismoney.co.uk/money/pensions/article-7862039/Time-pensions-promise-Boris-PM-pledged-help-victims.html?ito=amp_twitter_share-related
I remember being with two Ark victims at least five years ago and begging journalists at The Sunday Times and The Sun to run an article on the Ark scam. They all said it wasn't "sexy enough". Mark Atherton of The Times wrote a very good piece in The Times in 2014, but he was severely threatened and never wrote about pension scams again.
https://www.thetimes.co.uk/article/pension-scam-leaves-victims-in-debt-k33rlcs25wc
Just think how many victims could have been prevented had the media done their duty and fully exposed the parties who caused and facilitated these scams since 2010. Then think how many suicides and stress-related deaths could have been prevented. Consider how much money could have been saved from destruction – and how many people could have been looking forward to a well-earned and comfortable retirement rather than abject poverty and misery.
In October 2019, The Mail's Tom Kelly came to my office in Spain and spent several days with me. I went through the whole history of Stephen Ward and Ark (followed by Capita Oak and more than a dozen others), as well as James Lau and Salmon Enterprises, Paul Baxendale-Walker, James Hadley, Peter Moat and Darren Kirby's Continental Wealth Management. I explained to Tom in detail how the flow of money works from the ceding pension providers: Aviva, Standard Life, Prudential, NHS, Police and Local Authorities etc., to the receiving schemes; what the difference between personal and DB pensions is and how the whole bogus occupational scheme fraud worked. Most important, we went through how hidden commissions and high-risk, toxic investments often destroy victims' funds – as well as the life bonds such as OMI, SEB, Generali, Friends Provident, RL360 which lock investors in to entirely unnecessary, inflexible and expensive offshore bonds – AND PAY FAT COMMISSIONS TO THE UNQUALIFIED, UNREGULATED SCAMMERS.
In case Meghan and Harry are still unsure whether patronage of an initiative to outlaw pension and investment scams is their cup of tea, I will share, yet again, the video which features the death of CWM victim Mark Davison: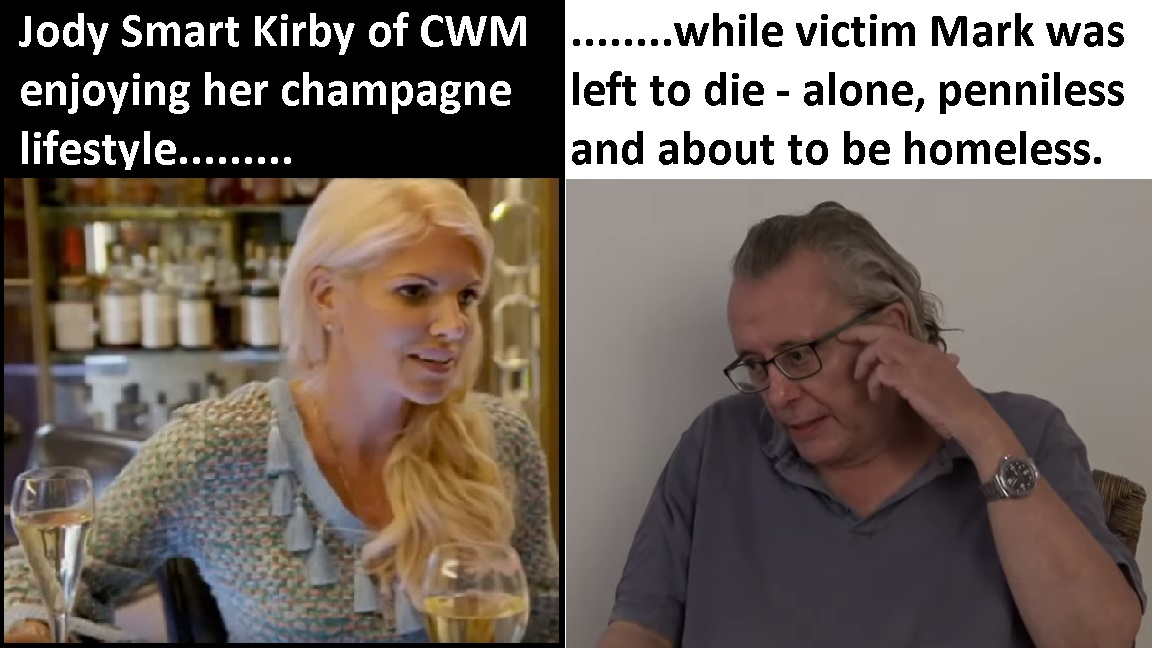 Laura Shannon of The Mail On Sunday attended Mark's memorial service and interviewed dozens of further CWM victims in September 2019. While five months pregnant, Laura made the journey to Denia, Alicante, in fierce heat – putting all other so-called investigative journalists who write about financial services (or not, as the case may be) to shame. Not even stopping to recover from an arduous bus journey from the airport, she got stuck straight in and wrote an excellent piece: https://pension-life.com/continental-wealth-management-plunder-in-paradise/

Responsibility for reforming financial services and bringing culpable parties to justice may lie with governments, regulators, police and HMRC. But Royals could do their part too. Meghan and Harry: get stuck in to a worthy cause. Find out what the real world is really like for ordinary, decent, hard-working victims of pension and investment scams.

Finally, I am enormously grateful to Shadow Chancellor John McDonnell for calling out our idiot Chancellor Sajid Javid over the appalling appointment of Andrew Bailey as Governor of the Bank of England. Anyone who fancies dropping him a line can reach him here: mcdonnellj@parliament.uk or here: lowderh@parliament.uk