Utmost Wealth and Generali PanEurope are set to merge with the help of Life Company Consolidation Group (LCCG). The plan is to re-brand as Utmost PanEurope. I wonder if this merger will do its utmost to ensure they manage and mitigate their future victims´ – sorry clients´ – risks, and protect their investments – as they certainly didn´t do so for their victims who suffered at the hands of CWM.
GPE chief executive Paul Gillett added: "We are proud of our performance over the last 20 years and have grown into one of the largest international companies in Ireland, with assets under management of over €10bn.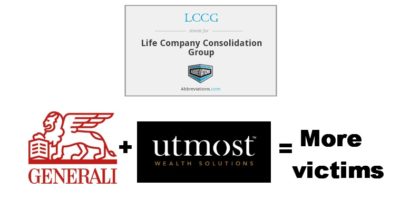 What a disgrace that Gillett can announce that he is "proud" of their performance over the last 20 years – proud of the misery and stress caused to the victims of the CWM pension scam? Proud of the fact that Generali have refused to take ANY responsibility for their victims´ losses.
Gillett goes on to say:
"The sale of the business to LCCG marks a very important step in our future development. Together, we represent one of the leading European providers of cross border wealth and corporate risk solutions with the potential to grow further across both current and new markets."
With the responsibility of Generali being passed over to LCCG, here at Pension Life, we wonder if LCCG will be taking responsibility for Generali´s past victims as well. Will LCCG apply their corporate risk solutions to those who have already been put at risk? Generali on their own certainly didn´t apply a high standard of risk solutions when they placed CWM victims´ funds into high-risk, toxic, professional-investor-only structured notes.
Lets hope Utmost Wealth will do their utmost to sort out this utter disgrace caused by Generali´s negligence.