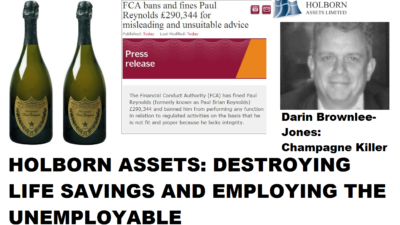 HOLBORN ASSETS "CHAMPAGNE KILLER" APPROACH TO FINANCIAL ADVICE IS DESTROYING VICTIMS' LIFE SAVINGS
Holborn Assets "Champagne Killer" approach to financial advice is ruining victims. Holborn Assets is routinely destroying people's pensions and life savings, and refusing to compensate the distraught victims facing poverty in retirement. The so-called "advisers" at Holborn Assets give investment advice (often unregulated) which entails investing victims' funds in whatever toxic, illiquid, high-risk rubbish pays the highest commissions, and then leave the devastated investors hung out to dry. Neither the firm nor the "advisers" responsible for this outrage show any compassion or contrition. This is no different to the callous actions of a common drunk, hit-and-run driver.
As if this wasn't bad enough, Holborn Assets also employs Darin Brownlee-Jones: the "Champagne Killer". A drunk hit-and-run driver who killed an innocent man then walked away to drink champagne. He didn't stop to try to help the victim he left dying in the road – or show any remorse for the horrible, painful death the poor man suffered.
Holborn Assets seems to make a habit out of employing the unemployable. First, there was Paul Reynolds who was banned by the FCA and fined nearly £300,000 for giving unsuitable and misleading financial advice. The FCA declared Reynolds was not a fit and proper person to give financial advice. But Uncle Bob Parker of Holborn Assets Dubai welcomed him with open arms – and Reynolds has since changed his name to try to conceal his unsavoury past. But I bumped into Reynolds when I was at the Holborn Assets office at the end of 2015 – so I know it is him despite trying to change his appearance as well as his name.
And now there is Darin Brownlee-Jones who is commissioning pension reports for more poor unfortunate victims. These people are transferring their defined benefit pension schemes to offshore QROPS in dodgy jurisdictions where negligent trustees peddle their toxic wares. In one case, Brownlee-Jones has employed a Spanish firm to sign off a DB transfer for a resident of France. The advice is covered (allegedly) by the Spanish insurance regulator (which doesn't cover pension or investment advice) and not the French regulator or the FCA.
So why would Brownlee-Jones in Dubai get a Spanish firm to provide unregulated advice to an investor in France? In 2003, the FSA had refused an application from Brownlee Jones to perform investment and pension-transfer functions. The reason was that the FSA did not consider him to be a fit and proper person as he had indecently assaulted a woman, caused criminal damage and death by dangerous driving.
I think any reasonable person would agree that Brownlee-Jones was the last person you would want handling investment and pension advice. But Bob Parker at Holborn Assets clearly likes having misfits, FCA rejects, sex offenders, drunks and killers on his team.
Brownlee-Jones: after a belly full of beer in 1999, got into his car and hit a motor cyclist head on. He left the poor man dying in a pool of blood and went to celebrate at his favourite wine bar. He ordered two bottles of Dom Perignon champagne at £95 apiece. When he was arrested, he was quaffing his favourite bubbly – although he probably wasn't smiling quite so broadly when he was jailed for four years.
The distraught father of the victim said that Brownlee-Jones had treated his dying son "like an animal". And yet Bob Parker employs this callous killer and encourages him to provide unregulated pension advice to victims in France and Spain.
This routine callousness is shown by Bob Parker and many other Holborn Assets salesmen. Where their victims' pensions and investments have been decimated by high-risk structured notes and unregulated, toxic, illiquid funds -such as Premier New Earth Recycling – Holborn Assets just shrugs and leaves the victims to face poverty in retirement. Once they have earned their fat commissions from the victims' pension funds, Holborn Assets doesn't want to know any more. Bob Parker and his merry men simply walk away without a backward glance.
Holborn Assets has been aggressively targeting new victims with a cold-calling campaign using a well-known boiler-room scam operation in Manchester. The cold calls to Spanish residents are followed up by salesmen such as Jason Ryder who claims that Holborn Assets have offices in Barcelona and Marbella. Of course, Holborn Assets is not licensed to operate in Spain – and once conned into letting these cowboys plunder their pensions for fat commissions and fees, there is no regulator to complain to.
Apart from Bob Parker, Paul Reynolds, Darin Brownlee-Jones and a bunch of other "snake oil salesmen", there are some people at Holborn Assets who do have some ethics and a conscience. Surely, if these people had any sense they would distance themselves from this cesspit of financial disservice? Why stay with a firm with such an appalling track record?
Below is a list of all the people who work for Holborn Assets (excluding admin and finance). I wonder if a single one of them will feel some sense of disgrace at being a part of this "champagne killer" approach to financial services?
Robert Parker, Phillip Parker, Simon Parker, Gerard Frew, Gerard J Leahy, Adrian Bliss, Alexander Herbert, Andrew Jarvis, Daniel Quinn, Joanne Phillips, Michele Carby, Nicholas Thompson, Rubina Khan, Ryan Quinn, Vince Truong, Paul Barrass, Kapil Mathur, Mark Powsney, Payal Trehan, Richard Hanna, Samuel Ebbs, Simon Burrass, Steve Lawton, Steven Downey, Usman Ahmed, Conor O'Shaughnessy, Anthony Murray, Colin Estlick, Creigh Classey, Jamie Arthur, Gavin Webster, Guillermo Martorell, Adrian Luscombe-Whyte, Tim Sant, Stuart Bichard, Richard Colburn, Kevin Curtis, Alison Sant, Ian Leigh, Darin Brownlee-Jones, Colin Kneale, Bryan Wawman, Vivian Van Eeden.
If not a single one of the above group of people is prepared to put ethics and principles at the top of their agenda and ensure their professional reputations are not sullied by the "champagne killer" approach to financial advice, then there truly is no hope for Holborn Assets.
**************************************************************
As always, Pension Life would like to remind you that if you are planning to transfer any pension funds, make sure that you are transferring into a legitimate scheme. To find out how to avoid being scammed, please see our blog: