International Adviser and the Old Mutual International/Quilter Scams.  Today's jolly:
"Future Advisory Forum Europe 2018"
at the Courthouse Hotel, Shoreditch, will see a number of players in the financial services industry discussing – presumably – financial services in 2018.  I've looked at the agenda, however, and I can't see anything about pension scams or investment scams and how to prevent them.  Neither can I see anything about bringing negligent, lazy, dishonest, callous, greedy life offices such as Old Mutual International/Quilter to justice for facilitating financial crime.
I can't see any evidence of any of the victims of scams either attending or speaking at this do.  Surely to goodness, these people – the first-hand witnesses and experts on the mass destruction of life savings by the likes of Old Mutual/Quilter – should be the stars of the show.  How can anyone discuss the future of financial advice in Europe without examining how the perpetrators operate, and planning how to stop them from doing so in the future?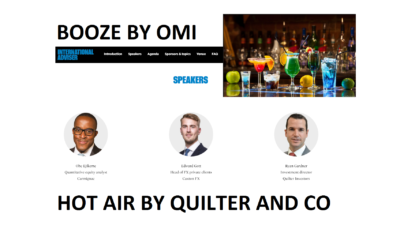 International Adviser should hang its head in shame for failing to make sure that the perpetrators – especially Old Mutual International/Quilter – are brought to justice publicly for the destruction of hundreds of millions of pounds' worth of life savings.  And yet IA's Old Mother Hubbard is consorting with them and giving Quilter's Ryan Gardner a speaking slot on the "return of volatility".  How absolutely disgusting and sickening!  The victims of Old Mutual International or Quilter – or whatever the hell they are calling themselves this week to try to obliterate their grubby past – know far more than this idiot will ever know about "volatility".  One calm and composed victim could sum the subject up in one simple sentence:
"I started with a lifetime's worth of savings and now I've got nothing – although I'm still paying the OMI quarterly charges".
That is pretty bloody volatile I would say.  And all because OMI accepts business from any old filthy, unqualified, unregulated scammers – and pays them handsomely to invest in disgusting, toxic crap like professional-investor-only Leonteq structured notes.
Apart from IA's Richard Hubbard and Quilter's Ryan Gardner, the other speakers should know better and hang their heads in shame for consorting with the scum of financial services and leading perpetrators of financial crime.
Michelle Hoskin of Standards International intends to speak about a "global movement of change".  I hope that "change" includes campaigning for all scammers to be brought to justice, and all regulators encouraged to get off their lazy backsides and outlaw scams in their backyards.  Michelle doesn't say whether she wants the change to be good or bad.  Hopefully, she means "good" – and that should include boycotting any rogue firms such as Old Mutual International which facilitate financial crime.  If this woman wants to know why, she should perhaps ask Ryan Gardner why OMI bought £94 million worth of fraudulent, high risk, toxic crap from Leonteq between 2012 and 2016.
Then she should ask him why OMI just sat there for six years and watched thousands of victims' life savings dwindle away to nothing.  While OMI did nothing.  And their victims considered suicide.  Putting that lot right would be a pretty good global movement of change.
Other speakers at this CONference include Andy Cowin of Sterling – who wants to talk about taking advice on residency and domicile status.  Hopefully, his talk will include advice for OMI's victims who are in the process of losing their homes and will have nowhere to live thanks to OMI's negligence.  Residency/domicile is a pretty hot topic for these people.  If Cowin doesn't address this particular aspect of the subject, he should hang his head in shame.
And another one is Edward GOTT. Head of FX private clients. Caxton FX.  He's going to talk about "strategies to help high net-worth customers understand the risks relating to Brexit".  Hopefully, he is not going to ignore the plight of OMI's victims – the low to zero net worth people whose only risk right now is starving or freezing to death – and for whom Brexit is irrelevant since OMI have destroyed all their money and they are staring at the prospect of homelessness in any country (whether part of Europe or not).  Hopefully, he's GOTT the balls to publicly shame OMI for facilitating such large-scale financial crime and hanging their victims out to dry.
Also on the roster of shame at this disgraceful event is Philip Robotham from Schroders.  He is going to talk about "conversations advisers have with their clients and the investment selection process".  What he really needs to do is row his bottom to the murky end of the pond and examine why so many scammers were allowed by the likes of OMI to invest clients' funds in toxic, risky, fraudulent investments.  And why OMI accepted so many investment instructions (in toxic structured notes) from pond life such as unregulated Continental Wealth Management.
This event is being hosted by Richard Hubbard, Group Editor of Last Word, and Karen Blatchford, Head of International Proposition & Marketing, Old Mutual Wealth.  Hopefully, during the "networking lunch", their consciences will trouble them enough to give a thought to OMI's victims.  While Hubbard and Blatchford sip their bloody marys, maybe they will ask OMI what the bloody hell they are going to do about compensating their victims.
The victims are bound to ask why OMI are spending a huge amount of money sponsoring this event when, in fact, they have paid zero redress to those whose life savings they are responsible for destroying.  Perhaps there are some real investigative journalists out there who would see the disgraceful irony in this and write a proper article on this sickening event.