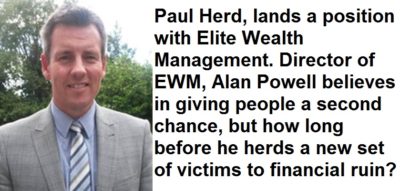 HAVE YOU HEARD OF PAUL HERD? HE'S AT ELITE WEALTH MANAGEMENT.

Before joining Elite Wealth Management, Paul Herd was with a firm called MFS Partnership – which went belly up.  Now, I have never run a financial advisory firm.  If I had a fanciful idea of starting one, I probably wouldn't know where to start – but one thing is for sure: I would not employ anybody who had caused clients to lose £290k of their retirement savings.
It has been widely reported in the media during January and February 2018 that Paul Herd invested his clients' pension funds in the New Earth Recycling fund – which is now worthless.  Herd's victims, David and Sheila Solomon, were awarded £500k in compensation by the court, but the firm – MFS – also went belly up.  So the Solomon´s had to fall back on the FSCS and only got £50k each.  Better than a poke in the eye with a sharp stick, but still nowhere near their £290 original pot which they had entrusted to their adviser, Paul Herd.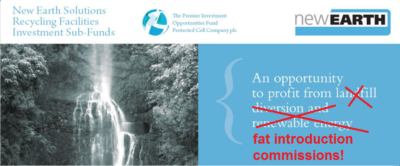 This begs the question, why Paul Herd invested his clients' fund in the New Earth Recycling fund.  As in, all of it.  The answer lies, of course, in the fact that Mr. Herd had heard that New Earth was paying big fat introduction commissions.  And he had probably also herd (sorry, heard) that lots of scammers at leading scamming factory in Dubai, Holborn Assets, had got rich conning their victims into toxic crap like New Earth.
Why on earth would any adviser put his clients into a fund which was clearly described in the fund's offering document as being high risk?  "Substantial recovery of value from those investments may be unlikely".  The Premier New Earth Recycling fund was set up by Premier Group in 2012 (originally to invest in bamboo plantations) and was also described in its offering documents as being high risk.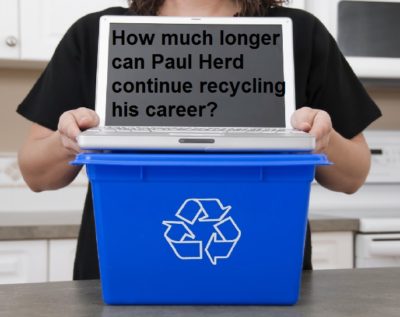 Paul Herd, ex MFS Partnership, has since started working at Elite Wealth Management.  Director Alan Powell describes Herd as having "extensive knowledge of retirement and pensions".  I think Mr. Powell has probably missed out the most important bit – which is that Paul Herd obviously has extensive knowledge of how to flush a pension fund down the toilet.
Alan Powell has been reported as saying that he believes in giving people a second chance.  He was, apparently, actually referring to "financial adviser" Paul Herd.  He has also said that he is leaving it to the FCA to decide whether Paul Herd is fit and proper to work in a financial advisory firm.  So I am going to give Mr. Powell some friendly advice:
GET SHOT OF PAUL HERD!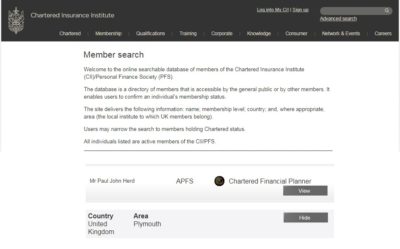 David and Sheila Solomon – Herd's victims – have gone through years of hell due to Herd's greed and negligence.  They are astonished that Herd can carry on – business as usual.  Does Powell have no conscience?  No sense of the damage he is inevitably doing to his own firm?  Who, in their right mind, would want to use a firm which employs an adviser who negligently invested his clients' funds in a high-risk asset?
When I first read this story, it made me want to cry.  If Alan Powell really believed in giving people a "second chance", wouldn't he would be paying Paul Herd's salary to the Solomons who are facing poverty in retirement?  Powell is employing a man who invested his clients' pension funds into a high-risk and entirely unsuitable investment and caused the victims to lose £290k.
I don't know if Mr. Powell is doing anything to help the Solomons.  But I do know that he is helping Paul Herd to carry on – business as usual.