Coronavirus is a terrifying epidemic – just as the scamming and taxing of pension savers is an epidemic of equally-devastating proportions. Governments across the globe are putting in place extraordinary measures to stop the spread of Covid 19. Yet the British government, regulators and law enforcers have achieved nothing in terms of rescuing existing and preventing future pension scam victims.
Boris Johnson's government has proved that laws can be changed overnight when necessary. All it needs is the recognition of the reason for the law change. Yet nothing has been done in ten years to change laws relating to pension scams, unauthorised payment charges and accompanying devasting financial consequences for victims.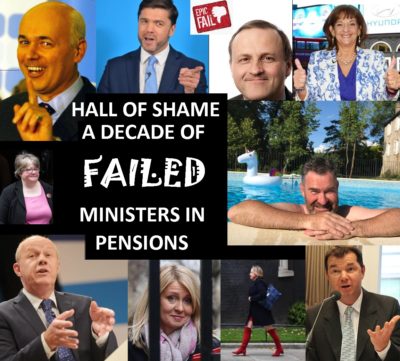 Britain has had a series of no-hoper pensions ministers. "Pensions minister" seems to be a position where peculiar people are stuck in – as square pegs in round holes – so they are out of the way and can't do too much damage (as in challenging the government over its shameful failure to tackle pension scams).
As the Coronavirus crisis escalates, millions of people will face financial hardship. Businesses will fold; jobs will be lost; pensions and investments will collapse. But HMRC will keep scrambling to tax the victims they caused in the first place – heaping more financial misery on victims whose pensions have been stolen.
Causes of pension scams must be thoroughly understood in order to recognise what must be done:
HMRC registers occupational pension schemes – even though there is no sponsoring employer which either employs anybody – or which exists at all
The Pensions Regulator registers occupational schemes – knowing the registrant is a serial scammer
HMRC keeps QROPS on the list even they know they are running outright scams and operating liberation
HMRC and tPR fail to warn ceding providers and the public when they suspect (or have evidence of) fraud
Ceding providers hand over £ millions to obvious pension scams without carrying out any due diligence
Serial scammers are left free to keep on scamming as the police, the SFO and the Insolvency Service do nothing effective to put them behind bars
Pensions and Treasury ministers do nothing to halt the avalanche of scams and the taxing of the victims
Opportunistic scammers in the UK and offshore devise ever-more crafty ways of relieving victims of their pensions
HMRC's negligent role in pension scams is clearly illustrated in both the Ark and Salmon Enterprises cases. In 2010 and 2011, HMRC knew full well what the scammers – Stephen Ward and James Lau were up to. They met with Ark's Stephen Ward and his pensions lawyer associate Alan Fowler in February 2011. HMRC also opened an enquiry into the schemes – but didn't suspend the registration to stop them from attracting still more victims. At the time of their February 2011 meeting with Ward and Fowler, there was £7 million in the Ark schemes. By the time Dalriada was appointed, there was a further £20 million.
Between April and September 2010, HMRC had the administrators of the Salmon Enterprises arrested on suspicion of fraud – yet still they did not suspend the scheme or warn the public or ceding providers. During this period – and right up until well into 2011 – Salmon Enterprises remained a "valid" pension scheme with a PSTR registration number and nothing was done to stop more victims (such as Mr. R below) from being scammed out of their pensions.
There's been well-meaning talk of an "amnesty" for fraud victims. But the problem is that won't work unless fraud can be proven. And the British authorities have proved themselves to be inept and disinterested when it comes to convicting known fraudsters. It has been left to the Spanish criminal courts to charge Stephen Ward and Paul Clarke with fraud as there's been no movement in the UK.
In Britain, however, the scammers mostly just carry on unchallenged. Even a police officer can't get the police to prosecute; Action Fraud takes no action; Project Bloom is meaningless and does nothing; the FCA is a bad joke and the government couldn't care less.
Below is a summary by a Salmon Enterprises victim of his appalling case. He has asked his MP to refer this to the Parliamentary Ombudsman. Hopefully both the MP and the ombudsman will do their jobs properly and get this sickening epidemic resolved once and for all. All the perpetrators (not just the scammers themselves but also HMRC and tPR – as well as the series of pensions and treasury ministers who have all failed in their duty to address this issue) need to be sanctioned. Most important of all, measures need to be put in place to prevent the same thing from happening again – that is what Mr. R and all his fellow victims want.
SALMON ENTERPRISES/TUDOR CAPITAL MANAGEMENT PENSION SCAM AND TAX PENALTY – by Mr. R:
"I had a National Grid and a CSC final salary pension scheme, after 35 years of service, which together totalled £528,447.25.
I was scammed out of these pensions into the bogus Salmon Enterprises occupational scheme, which was registered by HMRC and tPR, by an FCA-regulated adviser (now under investigation by the Insolvency Service for fraud) in June 2011. I took out less than the 25% legally allowed after my 55th birthday. I've been forced to pay £37,956.79 in unauthorised payment tax by HMRC.
TIMELINE:
28/8/09 – Salmon Enterprises occupational pension scheme registered by HMRC and tPR with Tudor Capital Management – TCML – (run by directors Andrew Meeson and Peter Bradley) as administrators.
07/4/10 – FSA wrote to tPR announcing a criminal investigation into Meeson, Bradley and TCML. HMRC wrote to tPR stating arrest warrants issued for TCML directors
08/4/10 – CPS obtained worldwide asset restraint order against TCML director Peter Spencer Bradley.
08/4/10 – tPR met to decide to suspend TCML as trustees/administrators.
29/4/10 – Peter & Alison Bradley (TCML directors) arrested on suspicion of fraud, money laundering and cheating the public revenue –

although not for cheating the public

.
30/4/10 – HMRC wrote to tPR with evidence of criminal investigation
07/9/10 – Andrew Meeson (TCML director) arrested
28/2/11 – HMRC wrote to tPR with details of ongoing criminal investigation, arrests made, draft report of offences and evidence submitted to Crown Court.
February 2011 – no warnings placed in public domain and HMRC refused to comment when asked by ceding providers to comment on the arrest and criminal investigation of the scheme administrators
May 2011 – I was introduced to IFA James Lau of Wightman Fletcher McCabe – FCA Reg 185570 – by two existing Salmon Enterprises members who had been offered commissions by James Lau for the introduction of new members
May 2011 – James Lau confirmed the scheme was registered by HMRC but did not inform me the administrators were under investigation for fraud
June 2011 – Tudor Capital Management sent transfer documents to national Grid and CSC.
June 2011 – National Grid transferred £454,647.25 and CSC transferred £73,800 to TCML – asking no questions about the provenance of the scheme, or directors/administrators or whether liberation was involved/intended
June 2011 – neither ceding provider checked the receiving scheme was bona fide before transferring £528,447.25
June 2011 – while HMRC and tPR were investigating Tudor Capital Management for fraud, neither did anything to warn ceding providers or the public
June 2011 – HMRC received a query from one suspicious ceding provider relating to Salmon Enterprises. HMRC's Leigh Hands responded by quoting the registration number of the scheme – and gave no further details or warnings
June 2011 – HMRC received a second query from the same suspicious ceding provider seeking further clarification: "My concern is based on the fact that an article appeared in the pensions press on 21 October 2010 stating:

Four people connected with TCML have been arrested on suspicion of fraud, cheating the public revenue and money laundering

".
HMRC responded: "I am unable to disclose any information regarding TCML due to our strict rules on confidentiality". The transfer went ahead. And this was prior to my transfers going ahead on 15th July 2011 and 12th August 2011.
31/01/2012 and 1/03/2012 – £49,072 was released from my pension fund – approximately 9.3% of the fund value – after my 55th birthday (16/12/2011)
February 2013 – Received annual statement from the Salmon Enterprises scheme.
April 2015 – Received a tax assessment from HMRC claiming my £49,072 did not constitute a "valid" PCLS (Pension Commencement Lump Sum).
April 2015 – HMRC assessed me on a further £30,000 which I never received
March 2016 – Engaged Ms A. Brooks of Pension Life as my agent to appeal the tax assessment. The appeal went to the Tax Tribunals and did not succeed.
February 2020 – Paid in full the £37,956.79 tax assessment.
The remainder of my pension built up after a lifetime's work – £479,375 – has been stolen by James Lau. I am not aware of any effort being made by any British authority to recover it."
This personal account of the fraud committed against Mr. R raises a number of serious questions: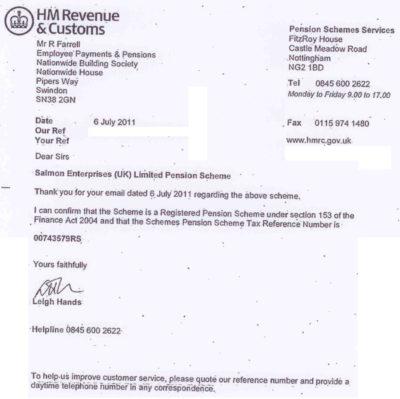 Why did neither HMRC nor tPR suspend the registration of the Salmon Enterprises scheme in April 2010 when the criminal investigation into the trustees was first launched – to prevent victims such as Mr. R from being scammed?
Why did tPR's Determinations Panel not even bother to have a meeting until October 2011 to "consider" whether to use special procedures? They had known about suspected criminal activity in the Salmon Enterprises scheme since early 2010 – 18 months earlier.
Why did the investigation into suspected fraud against the "Public Revenue" not extend to an urgent investigation into the "fraud against the

public

"?
After the State was reasonably prompt with the investigation, prosecution and jailing of Andrew Meeson and Peter Bradley, why was James Lau – the FCA-registered adviser who promoted and operated the Salmon Enterprises scheme – not simultaneously investigated, prosecuted and jailed?
Why didn't the Pensions Regulator place the Salmon Enterprises scheme into the hands of a competent independent trustee immediately the fraud was suspected? Since 2011, there is no evidence that any effort has been made by any party to recover the £ millions stolen by James Lau, Andrew Meeson and Peter Bradley
Why has no pensions minister since 2010 raised any questions on the issues relating to the multiple failures of HMRC and tPR in the case of Tudor Capital Management and Salmon Enterprises? (Or, indeed, in the case of dozens of other pension scams). This shameful and negligent failure falls squarely on the shoulders of them all: Steve Webb; Iain Duncan-Smith; Ros Altman; Stephen Crabb; Damian Green; David Gauke; Esther McVey; Amber Rudd, Therese Coffey and Guy Opperman.
The shame of the above lazy, incompetent bunch of ministerial failures in charge of Britain's pensions must also extend to three prime ministers: David Cameron, Theresa May, Boris Johnson. None of them have done anything about pension fraud – or even shown the slightest interest in intending to tackle it – beyond empty promises.
All the same questions raised about Tudor Capital Management and Salmon Enterprises must also be asked about the Ark scam. HMRC knew that Craig Tweedley and Stephen Ward and Co were operating and promoting what was probably pension liberation in the summer of 2010. Yet nothing was done until nearly 500 people had fallen victim to the scam and faced hefty losses and tax liabilities – as well as an agonising wait of at least ten years to find out their eventual fate and get a sniff of closure on this shameful episode.
In order to get a tax amnesty for fraud, there have to be investigations and convictions for fraud. The new trustees, Dalriada – appointed by tPR in May 2011 – didn't feel it was "in their remit" to report the perps for fraud.
And so Craig Tweedley, Amanda Clarke, Andrew Hields, Andrew Isles, Geoff Mills, Jeremy Dening, Julian Hanson, Mark Ainsworth, Mark Tweedley, Michael Rotherforth, Stephen Ward, Richard Davies, Stephen Tennent, George Frost, Gary Collin, Anthony Salih, Paul Clarke and Alan Fowler remain at large. Not one of them has ever been brought to justice.
It may be that while some of the above players in the Ark scam were more guilty than others, it is a matter of record that Stephen Ward was the most prolific of all those flogging Ark and the "MPVA" reciprocal loan arrangement. Ward sold more than a third of the whole fund at £10,693,332 worth of transfers – followed by Julian Hanson at £5,330,525 and Jeremy Dening at £2,216,720. Dalriada's failure to have any of these players investigated for fraud is shameful. It is also utterly astonishing that Andrew Isles – an accountant – was still flogging Ark even after he knew HMRC was sniffing around and that he was condemning his own clients to an unauthorised payment tax charge.
It is also a matter of record that Craig Tweedley, Stephen Ward, Alan Fowler and Andrew Isles continued operating and promoting Ark months after HMRC expressed their unease and suspicions – making no effort to stop the promotion and operation of the Ark schemes.
There are many questions to be asked about both the Salmon Enterprises and Ark scams. It would be good to think that complaints by the victims to their MPs will result in a bulk complaint to the Parliamentary Ombudsman. It would also be wonderful to think that an amnesty for fraud victims would be possible, but the question remains: who is going to have the fraudsters prosecuted? Dalriada Trustees says it is "watching with the interest" the prosecution of Stephen Ward and Paul Clarke for fraud (on an entirely different case involving an unconnected scam in Spain). But this purported "interest" has yet to become intense enough to provoke a simple phone call to ask how it is all going (or how they could do the same thing themselves).
I still wish that tPR had appointed an independent trustee to the Salmon Enterprises scheme. All the victims – such as Mr. R – would also like to know the answer to that burning question. But they are also painfully aware that tPR-appointed independent trusteeship isn't without its own problems. In the Ark case, Dalriada has taken far more money out of the funds than the scammers ever did, and the members still to this day – after nine years – don't have a sniff of ever getting their pension funds transferred into a proper pension scheme. But at least they know that what little is left is "relatively" safe and the only risk to it is the possibility of another nine years of Dalriada at the helm and another £7 million being spent on trustees' and legal fees.
Mr. R is in contact with some other victims of the Salmon Enterprises scam. They are all planning on submitting summaries and complaints to their MPs and asking them to refer the matter to the Parliamentary Ombudsman. Ark victims have tried contacting their MPs and pensions ministers for many years, but not one single MP or minister has ever engaged with the process of an ombudsman complaint against HMRC and tPR. Perhaps that will now change – as all MPs and ministers are now working from home and will no longer have to spend so much time travelling to and from the House of Commons.
Coronavirus has taught us an important lesson: the law must be about safety and justice – and must be changed quickly when a crisis arises. Pension fraud has been an epidemic for ten years – and now the law must finally be changed QUICKLY so that the perpetrators of pension scams are brought to justice.