Two pension liberation scammers have been sentenced to time behind bars AND a recovery of funds after creating an elaborate pension liberation scam, involving around 23 victims and nearly 1 million pounds of pension funds. Successful Pensions sure was unsuccessful for all involved.
Anthony Locke, 33, from Christchurch in the UK, was sentenced to a five-year jail term, after being found guilty of 23 counts of fraud by false representation and three counts of money laundering.
Ray King, 54, who was employed by Lock, was also found guilty at the trial of 14 counts of fraud by false representation and given a three-year jail sentence.
FT Adviser reported:
"According to investigating officer Paul Sullivan, of Dorset Police, between September 2013 and April 2014 Mr Locke obtained almost £1m from various pension companies, which represented the 'pension pots' of the victims in this case".
A timetable was set out for Proceeds of Crime Act proceedings in relation to the recovery of funds from the defendants.
Successful Pensions, Lock's company, allegedly created an 'elaborate façade' comprising of hundreds of documents to convince genuine companies, including Friends Life and Virgin Money, that they were operating a genuine occupational pension scheme.
Successful Pensions, set up a website to attract people who were interested in pension liberation. The victims were given a 50% cash payout on their funds' total worth, with the other half to be re-invested – reportedly in eco-friendly investment schemes.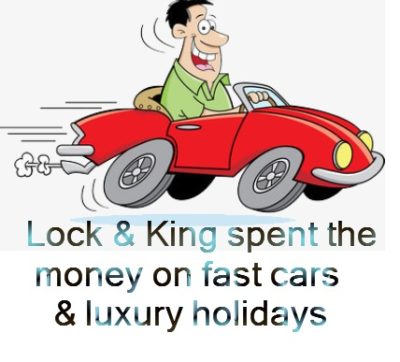 Unfortunately, there were no investments.  Rather than cream large commissions by reinvesting the funds into high-risk toxic assets (which most scammers do), they instead laundered the money into offshore accounts including Lock's Mum's account and his ex-partner's!
The scammers then went on to live the life of Riley with the victims' money.  They treated themselves to an Aston Martin Vantage, Porsche 911 and Mercedes B180, along with lots of other luxury items and nice holidays.
Paul Sullivan also stated:
"Not only have the victims lost half their pensions but now may face financial penalties from HMRC (Her Majesty's Revenue and Customs) who will want to recover the lost tax (on the pension liberation). 
The sentences imposed send out a clear message to fraudsters who perpetrate these types of offences."
This is indeed positive news.  But the message it sends out isn't good enough.  These fraudsters were clearly not very bright and made no attempt at smoke and mirrors.  They scammed 23 people out of nearly £1 million.  What about those in other schemes that scammed hundreds and sometimes even thousands of victims out of many £ millions?  And did so repeatedly.
To my mind, the message sent out is that only the stupid scammers who don't aim high get caught and punished.  The more clever and cunning ones get away unscathed time and time again.  And are left free and unfettered to enjoy their expensive lifestyles at the expense of their victims.
**************************************************************
As always, Pension Life would like to remind you that if you are planning to transfer any pension funds, make sure that you are transferring into a legitimate scheme, get all the information in writing and get a third party to check the details.
If you have been the victim of a scam hear how Pension Life member Jessica M.J. who lost two thirds of her pension to Continental Wealth Management, talks about dealing with stress.