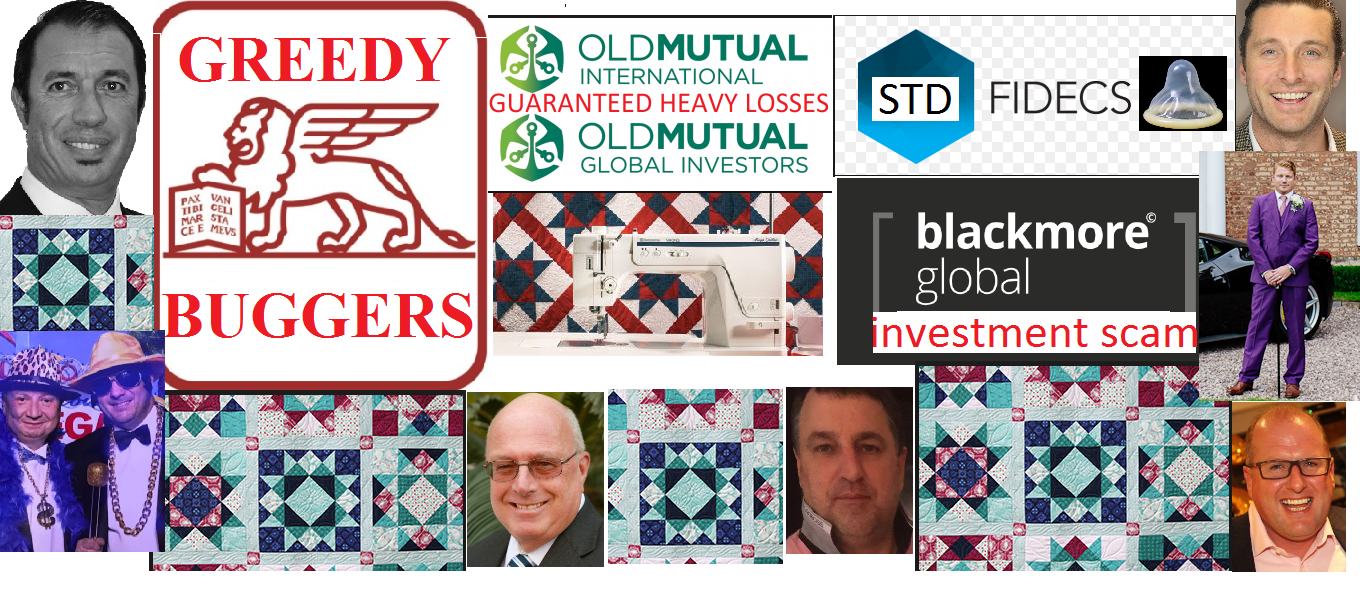 QUILTER – A NEW HOBBY FOR OMI?   OMI – Old Mutual International – needs to compensate thousands of victims of financial crime which they facilitated.  I can't make up my mind whether they are adopting the brand "Quilter" to attempt to shake off their sordid and toxic past, or whether they are actually taking up quilting.
If OMI really is going to become a quilter, it needs to make a quilt depicting all the criminals whose crimes it has facilitated for so many years.  And all the victims who have lost part of or all of their life savings.
What OMI really needs to do is to get firmly behind the prosecution of the criminals – from whom they profited for many years.  OMI must contribute to the cost of denouncing these criminals and ensuring they are given maximum prison sentences.
Also, OMI – Old Mutual – must stop allowing toxic, professional-investor-0nly structured notes in their bonds.  Typically, these were provided by Commerzbank, Nomura, Leonteq and RBC.  If Old Mutual International wants to gamble away its own money on these crap products, then be my guest.  But don't expose retail pension savers to these sordid, high-risk instruments – used by the scammers as mere tiles in a game of Scrabble.
Thanks to IFA Al Rush, there is now a criminal investigation into the hordes of vultures who preyed on the British Steelworkers.  This has been eloquently reported by Henry Tapper in his blog about the police investigation at Port Talbot.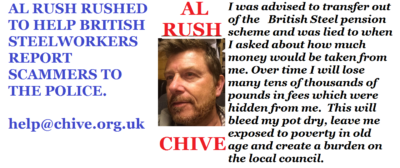 Al Rush has suggested the wording which victims can use to report those who scammed – or attempted to scam – them.  And all of what Al and his colleagues have done has been done at their own expense and out of a sense of decency.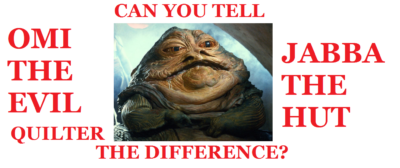 This is in stark and stinky contrast to OMI – Old Mutual International.  Since 2011, OMI has sat and watched – like a cross between Jabba The Hut and a Black Widow Spider – while thousands of victims have seen their life savings dwindle away to very little or even nothing.  And all the while, taking extortionate fees and paying commissions to the very scammers who ruined the victims in the first place.
So does OMI really think that adopting the name "Quilter" will make future victims fail to make the connection – that this is the same firm that took business from dozens of unregulated scammers such as Continental Wealth Management, Abbey Financial Solutions, Holborn Assets, Guardian Wealth Management, and other "chiringuitos"?
Perhaps the worst crime committed by OMI is not that they took business from unlicensed scammers; not that they allowed 100% of victims' pension funds to be invested in professional-investor-only, high-risk structured notes; not that they sat there idly and negligently while the clients' pensions and investments shrank inexorably……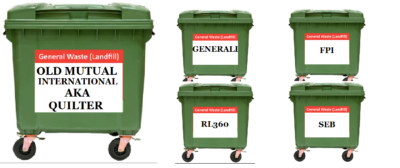 the worst of OMI's crimes has been that when there are only a few crumbs left of a life-time's retirement savings, they will still charge crippling early-exit penalties.  OMI, or Skandia, or Quilter or Jabba The Hut or whatever the hell this toxic, evil shower call themselves, have no place in financial services.  They have facilitated and profited from financial crime for years and benefited from the misery and ruin of thousands of victims.
In an attempt to emulate Al Rush's suggested police report for British Steel victims at the hands of the various scammers who targeted, stalked and scammed them, here is my suggested report for OMI victims to make to the police and the regulators.  Naturally, this will work equally well for victims of Generali, SEB, RL360, Friends Provident, Hansard, Investors Trust etc.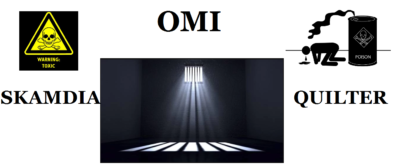 'I was advised to transfer out of my personal/occupational (delete as appropriate) pension scheme and was lied to when I asked about how much money would be taken from me. I think, over time especially, I will lose/have already lost many tens of thousands of pounds (probably, hundreds of thousands of pounds) in fees which were hidden from me.
This will bleed my pot dry, leave me exposed to poverty in old age and create a burden on the local council.
I was specifically told there would be no penalties or lock-in periods.
Can you help me please, I would like to make a formal statement and help you bring charges against those who did this, and those who helped them'.