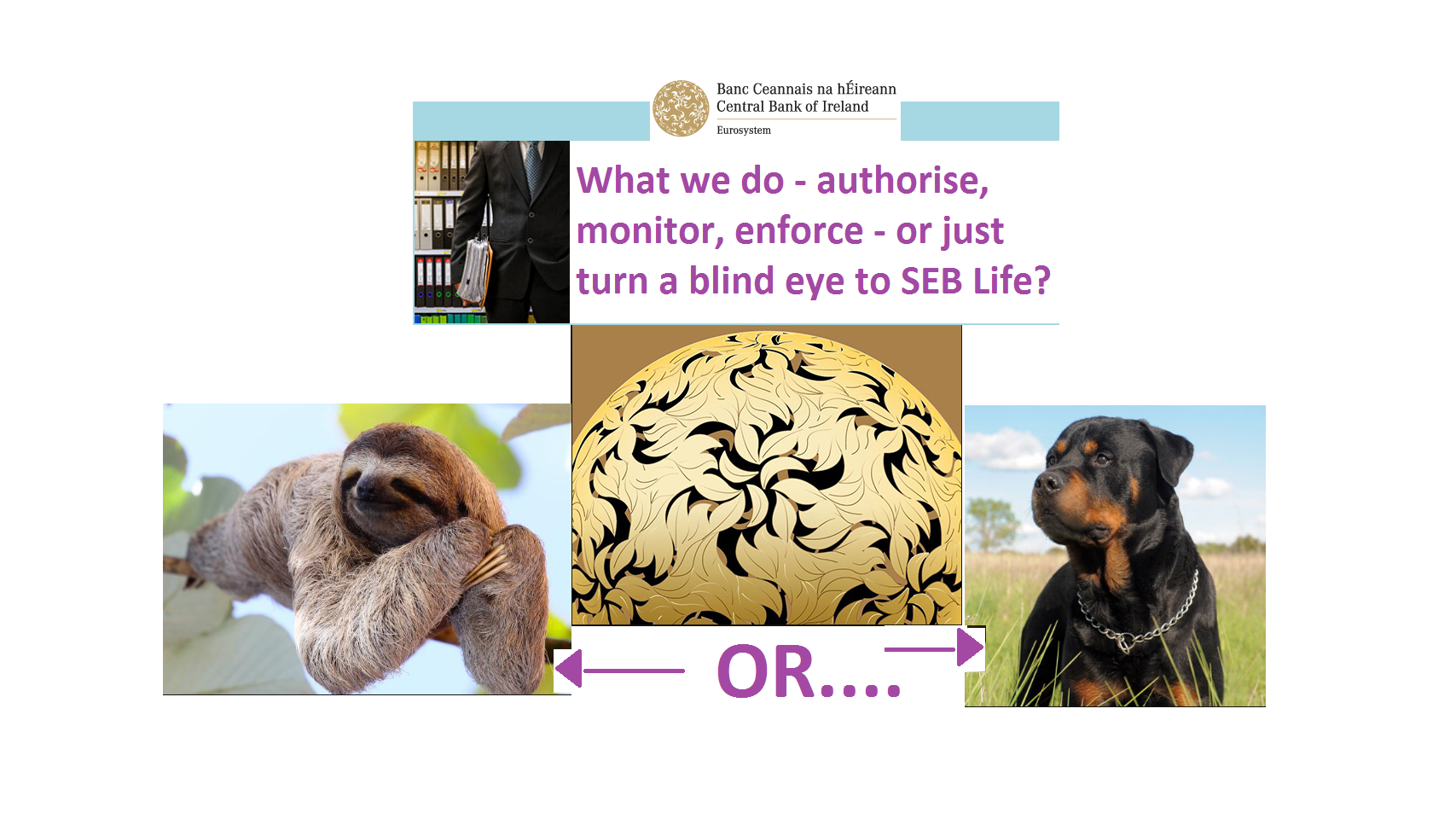 One of the hundreds of Continental Wealth Management victims stuck in a useless and expensive SEB Life International bond, and ruined by crippling investment losses, has made a detailed complaint to SEB.
Some idiot from SEB called Orla Golden has replied – and the response is astonishing.  Below are my answers to this ridiculous rebuttal.  The complaint will now be referred to the Central Bank of Ireland – asking that SEB Life should be suspended.  I will also copy this in to the Financial Services Ombudsman.
Let us see whether the regulator and ombudsman in Ireland will turn out to be as useless as the regulator in Gibraltar, or will actually have some teeth.  If the authorities in Ireland are any good, hopefully they will hold Conor McCarthy and Peder Nateus fully responsible for facilitating this deplorable scam.
LETTER FROM ORLA GOLDEN TO THE CWM/SEB VICTIM IN RESPONSE TO HIS COMPLAINT (WITH MY COMMENTS IN BOLD):
We are writing to you in response to your recently submitted complaint in respect of your insurance policy with SEB Life International Assurance Company DAC that you placed through your appointed independent financial advisor, Inter-Alliance WorldNet Insurance Agents and Advisors Ltd.
The victims did not place any orders or instructions through Inter-Alliance.  SEB is being not only disingenuous but dishonest here.  The advisor in question was Continental Wealth Trust SL, trading as Continental Wealth Management SL (CWM) in Alicante Province, Spain.  CWM was a firm full of unqualified so-called "advisers" with a track record of scamming, cold-calling and flogging dodgy products to unsuspecting victims.  The victims appointed CWM as their advisers, and all the dealing instructions for the toxic structured notes came from CWM and not Inter-Alliance.
SEB Life is a designated activity company which is registered under company number 218391 with the Irish Companies Registration Office and is authorised as a life insurance undertaking by the Central Bank of Ireland under number C771. 
So, let's see just how good a regulator the Central Bank of Ireland really is.  We must all hope it is not as hopeless, limp and corrupt as some of the other regulators.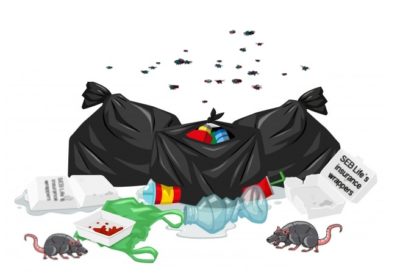 SEB Life is permitted to distribute life insurance policies in Europe (EU) by way of a freedom of services passport issued by the Central Bank of Ireland under the Solvency II Directive 2009/138/EC as adopted into Irish law by the European Communities (Insurance and Reinsurance) Regulations 2015 (the "Solvency II Irish Regulations").  That may be true, but these weren't true life insurance policies: they were bogus policies designed to act as "wrappers" for dodgy, rubbish investments and to facilitate financial crime in multiple European jurisdictions – most notably Spain where such insurance/investment products have been outlawed by the Spanish Supreme Court.
In January 2015, Inter-Alliance novated its business to Trafalgar International GmbH who became your financial advisor.  
Not true.  Trafalgar International did not become the financial adviser.  Few, if any, of the victims had ever heard of Trafalgar until CWM collapsed in September 2017.
Trafalgar is an independent financial advisor located in Germany
No it isn't – it is located in Cyprus.  Orla Golden clearly has never done Geography.
and is authorised and entered into the register of insurance intermediaries maintained by the Chamber of Industry and Commerce (DIHK).  Trafalgar is authorised to mediate insurance policies in various EU territories including UK, Spain, Malta and France.  Yes, Trafalgar was.  But CWM wasn't.
SEB Life has terms of business with Trafalgar, and previously had terms of business with Inter-Alliance which was authorised by the Insurance Companies Control Service in Cyprus to mediate insurance policies in the EU; before it transferred to Trafalgar.  Continental Wealth Management (CWM) was a sub agent of Inter-Alliance
Really?  Sub agents are illegal in Spain
and then continued to be a sub-agent of Trafalgar. 
No it did not.  SEB is lying.  CWM was never a sub agent of Trafalgar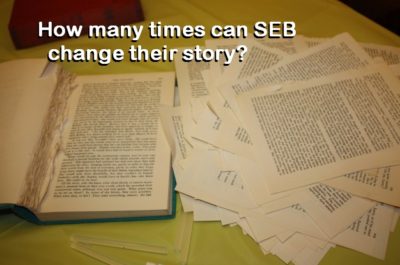 CWM is the responsibility of Trafalgar and SEB Life does not have terms of business with them. 
So why did SEB accept dealing instructions from CWM if they had no terms of business with the firm? 
SEB Life regularly reviews the authorisation of independent financial advisors with whom they have terms of business,
SEB is failing to get its story straight.  CWM was not authorised – ever, for anything.  SEB may have had terms of business with both Inter-Alliance and Trafalgar, but CWM was never an authorised agent of either firm.
however, it is the independent advisor's responsibility to comply with their own regulatory obligations for authorisation
And nothing to do with SEB?  So, why did SEB accept dealing instructions from CWM? 
and their regulatory authorities have oversight responsibilities. 
Like the Central Bank of Ireland has oversight responsibilities over SEB?  Let's see how seriously it takes those responsibilities.
Trafalgar, as the appointed independent financial advisor is your agent. 
No it isn't, and wasn't.  Trafalgar was not an IFA firm, it was a network. 
Any policy related intermediary commission was paid directly to Trafalgar (formerly Inter-Alliance), with whom SEB Life has terms of business.
So why was SEB paying intermediary commission at all to CWM which was not regulated at all for anything – not pet insurance, not bicycle insurance, nothing.  It matters not to whom the commission was paid, the products were sold by an unregulated firm (CWM) and SEB should never have accepted the business – let alone ever paid commission (irrespective of to whom this commission was paid).
As your agent, Trafalgar must handle your complaint in accordance with their agent and regulatory responsibilities. 
Trafalgar was never the victims' agent.
In addition, the pre-sales advising process occurs between you as the policyholder and your appointed agent.
Trafalgar was never the appointed agent.  Trafalgar did not provide the advice; Trafalgar did not place the dealing instructions; Trafalgar did not meet the clients.
This process identifies the customer's needs, based on the information provided by the policyholder(s)
How would SEB know?  Did they ever check the fact finds or make any attempt to ascertain the victims' attitude to risk?  No, of course they didn't
and recommends the insurance product which best suits the customer's objectives and needs. 
This is a ludicrous comment to make.  Not one single victim needed a bogus life assurance product – they were all, 100% mis-sold purely for the fat commissions paid by SEB. 
SEB Life is not party to this pre-sales advising process and the discussions that occur between a policyholder and their appointed independent financial adviser as to their risk profile and the assets that will fulfill the investment needs and objectives.
Correct.  But SEB ought to have noticed, over a period of several consecutive years, the inexorable losses from the toxic structured notes which repeatedly failed – and the dealing instructions for which (submitted by CWM and accepted by SEB) bore forged client signatures.  SEB may not have been party to the pre-scamming advice con, but they should certainly have taken action when the results of this clear fraud started to become obvious.
SEB Life does not offer any investment advice, and this is clearly stated in the declaration section of the application form that we ensure is signed by the customer. 
And damn good job too.  Most victims would probably trust a convicted thief rather than SEB.  The declaration section of the application form may make it clear that SEB does not offer investment advice, but the annual statements also make it clear that SEB can do maths.  And that basic maths demonstrated that hundreds of policyholders' funds were being routinely destroyed.
Our literature states that the amounts invested in the Units of the Fund in the contract are not guaranteed but are subject to fluctuations in value depending, in particular, on the performance of financial markets. 
There is fluctuation, and then there is total destruction.  Fluctuation goes up and down.  Destruction just goes down.  Did not a single half-wit at SEB notice the difference over a period of seven years?
The return on investment is not in SEB Life's control and past performance is not an indicator of the future performance of any asset. 
So, if Bloodstone Building in Dublin caught fire, would the blind, deaf and dumb idiots at SEB just sit there, shrug their shoulders and say "a fire in the building is not within our control – we aren't firefighters.  And we won't even bother using the fire extinguishers or calling the fire brigade.  We'll just sit here and watch the building get destroyed and burn to death ourselves?"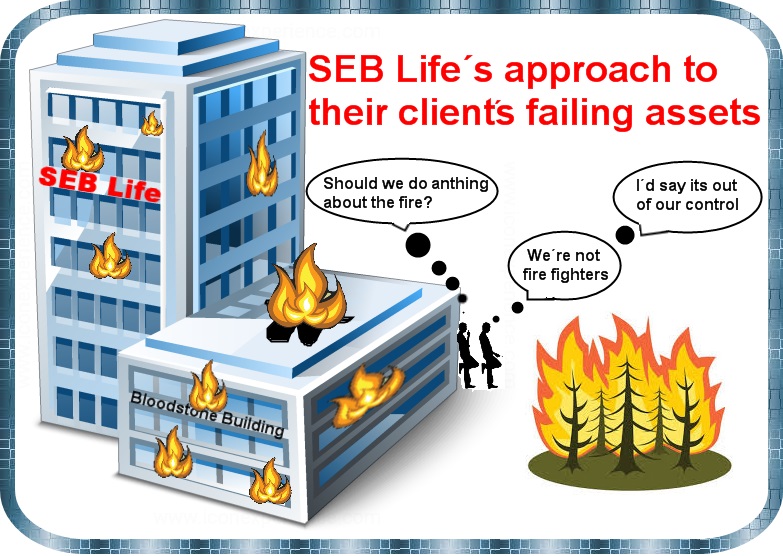 SEB also request that a one-page "Statement of Understanding" is signed by a policyholder where an investment request is received in relation to a non-standard asset.
Really?  Who told Orla Golden that?  The Statement of Understanding Fairy?  This simply is not true.
This is to confirm that the policyholder has read and understood the potential financial, market and liquidity risks associated with the asset before proceeding. 
None of the victims understood the assets which SEB was permitting the scammers at CWM to churn; none of the victims realised or understood what structured notes; none of the victims knew that structured notes were for professional investors only and not for retail investors; none of the victims knew that they stood to lose part or all of their investment (as most did); none of the victims realised that SEB would just sit there and let the repeated losses keep happening as the unlicensed, unqualified scammers at CWM kept scamming away for seven years.
Policyholders are able to request that their policy be linked to assets that are within the company's permissible asset list.  The investments have been executed by SEB Life on the basis of written instructions submitted to SEB Life that were signed by you as the policyholder
No they weren't – the signatures were forged
or your appointed investment advisor. 
Meaning the unqualified, unlicensed scammers at CWM who did not have an investment license – let alone an insurance license.
SEB Life relief upon and implemented those instructions in good faith and in accordance with the terms and conditions of the policy. 
There was nothing good about SEB's "faith".  This particular victim – whose complaint has not been upheld by SEB – suffered the following losses between 2009 and 2015:
12 toxic, professional-investor-only structured notes from Nomura, RBC, Commerzbank, Leonteq and BNP Paribas:
Lost a total of 271,539 EUR
Investment in the Quadris Teak UCIS fund:
Lost 100,000 GBP
TOTAL LOSS IN SIX YEARS: 371,539 EUR
Didn't SEB notice?  Didn't SEB care?  Didn't SEB do anything for seven years? 
The answer, of course, is a resounding no.  The lazy, callous, greedy, negligent did nothing except sit there and watch this victim's life savings be destroyed by the scammers.
With regard to your allegations of regulatory breaches and fraud committed on your policy, SEB Life is unable to comment on such allegations and these must be discussed with your appointed financial advisor Trafalgar directly. 
I have no doubt that SEB's lawyers will have advised them to keep their mouths shut on this one and to try to deflect the blame onto Trafalgar.  This is one of the things I hate about lawyers – even when they know their dirty clients are guilty they will still defend them to the hilt.  As long as they keep billing, the lawyers won't care how many lives their negligent and culpable clients ruin.
In these circumstances, you may wish to seek independent financial advice
I wonder what sort of "adviser" SEB have in mind?  Scammers like CWM?
and/or legal advice regarding your engagements with your appointed financial adviser. 
And I wonder what sort of law firm SEB would recommend?  A dodgy firm like SEB's own lawyers who are happy to make money out of defending the indefensible?