I've decided on a radical career change.  I'm going to study to become a psychiatrist.  My first patient is going to be Prof. Dr. Marc Oliver Rieger who voted Leonteq as best peddler of toxic, high-risk, crappy structured notes at the Swiss Derivatives Awards. Even before I qualify, I already know what treatment this idiot needs: a smart slap on his shiny head and then therapy to help him acknowledge what a waste of time he is.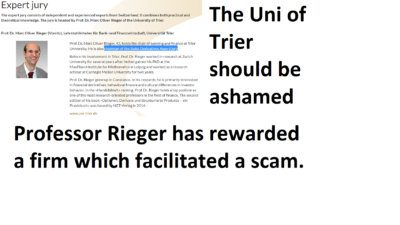 Professor Rieger was chairman of the Swiss Derivatives Awards jury.  And he damn well should have known better than to shame his country, the financial services industry, and those who wasted their time and qualifications educating him in the first place.  This guy has a PhD, so he must have had at least a couple of brain cells at some point.  But something obviously fried them both because he should have known better than to allow Leonteq to be rewarded – as opposed to vilified and sanctioned – for the wholesale damage caused by their toxic products to hundreds of victims.
Professor Rieger will need months – if not years – of intensive psychiatric therapy to cure him of his inability to comprehend that rogue firms such as Leonteq should be banned from financial services altogether – not given awards for helping to scam innocent victims out of their life savings.  Leonteq was selling their rubbish products to an unlicensed firm of "introducers" masquerading as financial advisers: Continental Wealth Management between 2010 and 2017.  Further, Leonteq was paying this firm of scammers commissions of between 6% and 8%.  Many of the victims whose pensions were invested in Leonteq's derivatives products have lost most – or even all – of their retirement savings.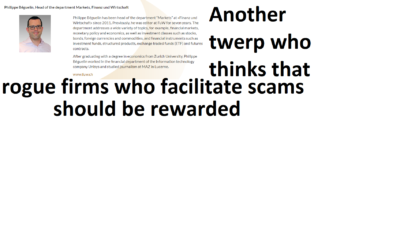 Professor Rieger is not the only one who has caused this award abomination.  On the panel of judges was another academic who should have known better: Philippe Béguelin.  He appears to have a decent pedigree and was editor at FuW for seven years. He is reported as having a background in financial markets, monetary policy, economics, investments, foreign currencies, commodities, and financial instruments such as structured products.
There are numerous obvious things lacking in Phillippe Beguelin's education and career history – including basic decency and common sense.  You just don't give awards to rogue firms which facilitate financial crime.
In my new career as a psychiatrist, I am bound to have my hands full – not just with the various nutters in offshore financial services the world over, but also with other members of the Swiss Derivatives Awards judges panel which include:
Dr. Heinz Kubli, CEO Fundabilis AG
André Buck, Head Sales, SIX Swiss Exchange AG
Stephan Welti, Managing Partner – Geissbühler Weber & Partner AG
Prof. Dr. Martin Wallmeier, Lehrstuhl für Finanzmanagement und Rechnungswesen, Universität Fribourg (Research Award)
Martin Raab, Executive Director, Derivative Partners AG
They are all, obviously, stark-raving bonkers.  There may be no hope for most of them, but I might be able to help one or two of them to lead normal lives one day.
What these sad cases need to understand is that:
Leonteq sold their toxic, crappy products through an unlicensed scammer: Continental Wealth Management
Knowing full well that their rubbish products were only suitable for idiots with more money than sense, Leonteq sold their crap to an unlicensed firm of scammers and paid them between 6% and 8% in commission
Leonteq allowed a rogue employee, Alex Robinson, to put together an ultra-high-risk pile of crap which paid 8% to the scammers and which caused even higher losses to the victims.  Robinson was sacked but has now been re-employeed.  Presumably, this is because he is good at making money for Leonteq by destroying victims' life savings.
One of the partners of this absurd awards ceremony was Geissbuhler Weber & Partner  – who should also hang their heads in shame.  This firm claims to advise providers on the fulfillment of financial market regulatory requirements and the optimisation of compliance and risk processes. Today, Geissbühler Weber & Partner is, allegedly, known in Switzerland as a "reliable partner for banks and asset managers".  As far as I am concerned, they are as bad as Leonteq and the scammers they helped make rich.
Perhaps the hundreds of Continental Wealth Management victims would like to email these morons and let them know what they think of them condoning giving "awards" to a firm which has facilitated and profited from financial crime: