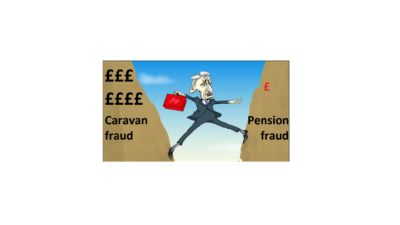 Tackling Caravan Crime – Chancellor Philip Hammond.  Victims of pension fraud in scams such as Ark, Capita Oak, Westminster, London Quantum, Friendly Pensions and Salmon Enterprises – will not be surprised to hear that even the Crown Prosecution Service acknowledges that the fraudsters have defeated the system.  Alison Saunders, head of the CPS, has stated publicly that the British justice system can't cope.  She is stepping down and is clearly disheartened by Britain's failure to tackle crime – especially fraud.  She has vented her frustration in an interview:
While fraud has become the most commonly reported crime in England and Wales, with 1.7 million offenses a year, only one in 200 victims ever sees the perpetrator brought to justice. Saunders admitted that many cases were simply being ignored "because it takes time and a skilled investigator".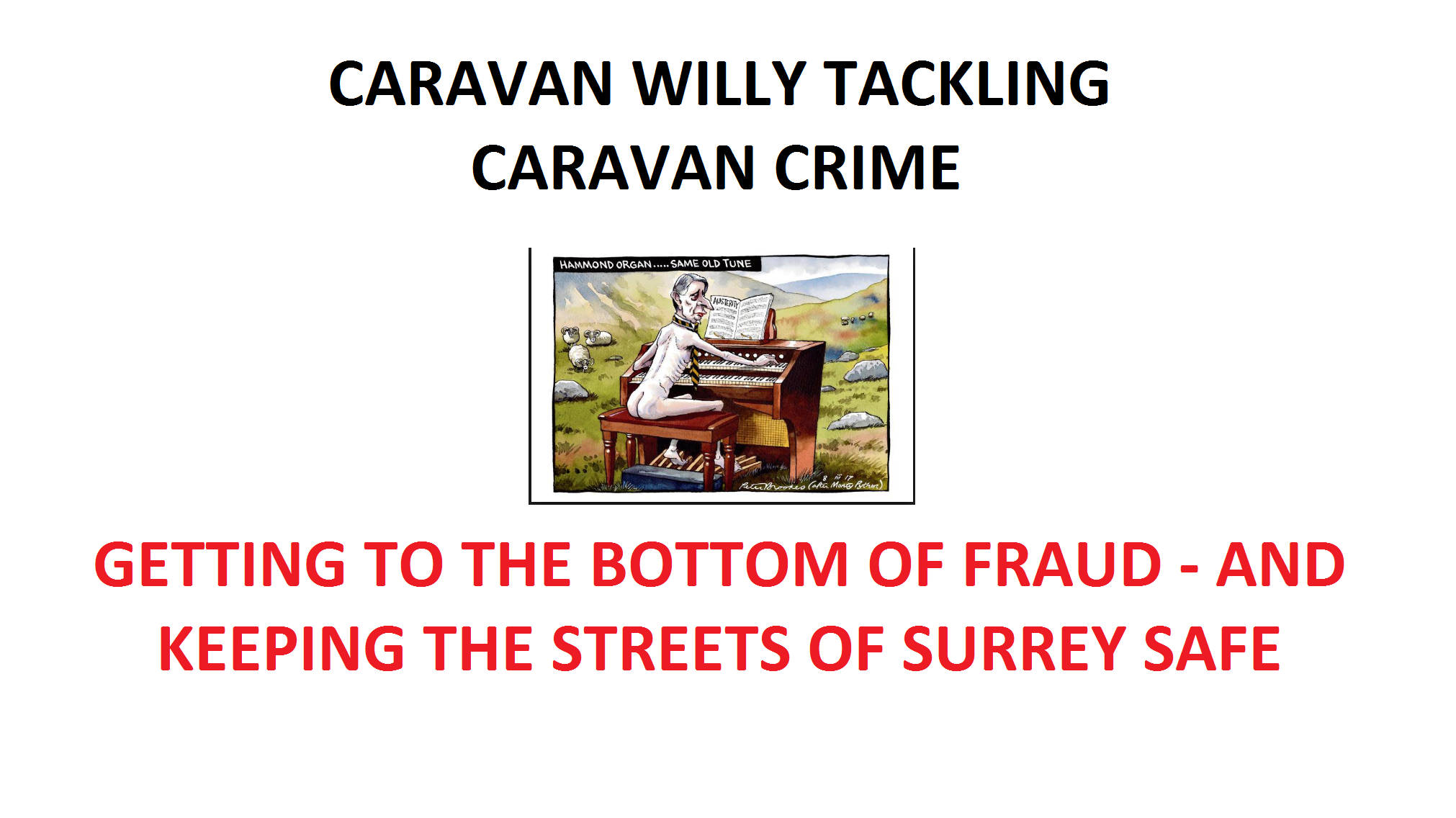 But look hard enough, and you will see how tackling crime can be done successfully.  As someone who constantly writes about the failure of our police and courts to bring criminals to justice, I was surprised to hear of a spectacular success story in leafy Surrey recently.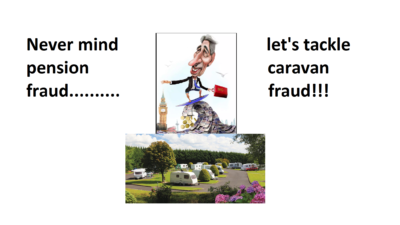 Mr. and Mrs. Shore of Thorpe, in Surrey, were successfully prosecuted and jailed for proceeds of crime.  Residing in Runnymede Borough Council – presided over by Chancellor Phillip Hammond – this dastardly pair (in their sixties) were both sent down for a heinous crime under the Proceeds of Crime Act 2002 ("POCA").
After many years of detailed investigation, the successful prosecution will send out a resounding warning to all such criminals and will no doubt discourage others from profiting from the same hideous crimes.  And the crime was…….?
Housing homeless families in caravans without planning consent. 
Let that sink in for a moment – vulnerable people with young children who had a choice between living on the streets or living in a caravan.  And this crime was committed in Runnymede Borough where there was insufficient housing for the many poor families who could not afford private accommodation and had not been offered council homes.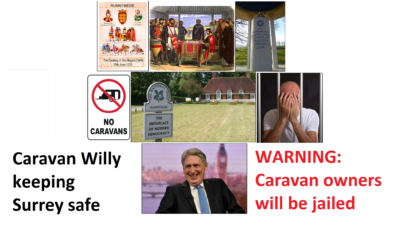 This spectacular success story on the part of Hammond, Runnymede Borough Council and the CPS has left the good citizens of Surrey relieved that these dangerous caravan owners are now behind bars and dozens of homeless families are now living on the streets.  Job done; justice served; well done Cutty Sark!
Hailing from Surrey myself, I am pleased that the county will now be a safer place.  The successful prosecution was in respect of 14 breaches of six enforcement notices issued since 1999 by Runnymede Borough Council, following a seven-day trial at Guildford Crown Court.  The jury heard how the farm owners had not only stationed the caravans on their own land, but had also failed to demolish a shower room.  Unbelievable!
Hammond must be strutting the halls of Westminster bursting with pride and patrolling the fields of Runnymede with a sense of upholding the social and civil justice with which King John would have been delighted.  In the House of Commons bar, Chancellor Hammond is probably boasting that there is a reason why he is named after a large organ.  In fact, after his spectacular success with the Shores' caravans, he will probably go down in history as "Caravan Willy" for presiding over such a coup.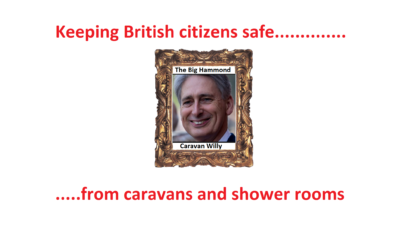 I am sure that the many thousands of people who have lost millions of pounds' worth of life savings to scammers such as Stephen Ward, Julian Hanson, George Frost, XXXX XXXX, Phillip Nunn, Patrick McCreesh, Stuart Chapman-Clarke, David Vilka, David Austin, Darren Kirby, Dean Stogsdill, Anthony Downs and James Lau will now understand why the CPS couldn't dedicate any resources to prosecuting them.  And they will, no doubt, be glad that the priority of the judiciary was removing unauthorised caravans in Surrey.
As in most of my blogs, there is an important postscript: Caravan Willy is a keen property owner and is reported to be worth over £9 million.  The Shores' land has now been confiscated by Runnymede Borough Council.  And it is worth at least £27 million once planning permission for a housing estate is granted.  I wonder who will be lucky enough to scoop that one up?………