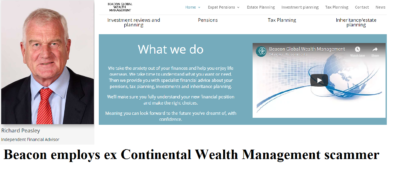 I am very pleased indeed to announce that on 6th December 2017, Beacon Global Wealth Management terminated Richard Peasley's employment.  There was no hesitation, no argument.  Beacon's David Vacani is also responding to numerous Continental Wealth Management victims who have complained about Richard Peasley's employment with Beacon.  I have no doubt David Vacani will correspond with them professionally, courteously and with great empathy – as he has done with me.  Very well done David!  A good day for the financial services profession.
Beacon Global Wealth Management  had been employing former Continental Wealth Management pension scammer Richard Peasley.  I found it hard to believe that any firm would take on such a man when he is well known for being one of the leading advisers at CWM who lied, scammed, defrauded and conned dozens – if not hundreds – of victims out of their pensions.
I am familiar with Beacon, and have spoken to Jennie Poate and know that she is acutely aware of the world of scammers.  However, I now learn that Beacon had not been aware of the extent of Richard Peasley's involvement in the Continental Wealth Management scam.
Richard Peasley, during his time at Continental Wealth Management, put his victims into high-risk, professional investor only structured notes, within hugely expensive insurance bonds.  He also put his name to dealing instructions with forged signatures.  Peasley then lied to victims about their huge losses – claiming they were "only paper losses" and that the pitifully low values were only "secondary market" values and that the notes would recover at maturity.  (They didn't).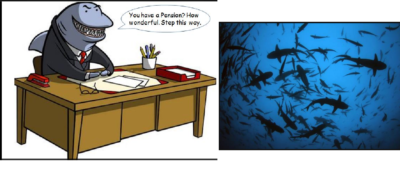 Richard Peasley comes from a stable of scammers which includes:
Anthony Bishop
Antony Downs
Antony Poole
Darren Kirby
Dawn Kirby
Dean Stogsdill
Jody Kirby
John Owens
Louise Kilic
Mark Davison
Neil Hathaway
Patrick Kirby
Paul Clark
Paul Taylor
Phil Kelman
Phil Pennick
Rob Clark
Rory Foster
Sandy Eftekin
Sandy Jones
If I have left anybody out, I apologise unreservedly.
Richard Peasley was responsible for the destruction of £millions and the prospect of many people facing poverty in retirement after working hard all their lives to build up a pension pot.
I have made a mistake by including the below dealing instruction and reporting that it was forged.  In this particular client's case, this instruction did have a genuine signature.  However, all the other dozen or so were forged.  What Richard Peasley and the other scammers at Continental Wealth did was to ask many of the victims to sign one blank dealing instruction, and then they would photocopy it over and over again to buy and sell high-risk, professional investor only structured notes.  In other cases, Peasley and the others just copied and pasted signatures from another signed document and used that instead.
Richard Peasley is not someone who can be trusted with innocent people's pensions – as many of his victims will be happy to testify publicly.  I hope he will never work in financial services again, as there is no place in the profession for people who so deliberately and callously destroy victims' life savings.
As always, Pension Life would like to remind you that if you are planning to transfer any pension funds, make sure that you are transferring into a legitimate scheme. To find out how to avoid being scammed, please see our blog: