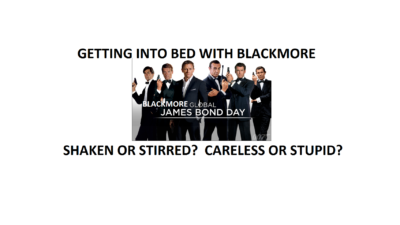 In the wake of hundreds of victims fearing heavy pension losses in the Blackmore Global fund, we now have another disaster waiting to happen: Blackmore Bond.
This new threat to unwary investors has been analysed by Bond Review.  Just to be clear, many people were duped into investing their pensions in the Blackmore Global UCIS fund – which has never published an independent audit.  We now have a second threat offered by Phillip Nunn and Patrick McCreesh.  Blackmore Bond PLC is promoting these unregulated, capital-at-risk bonds which purport to pay up to 8.5% per annum – but with potential for total loss.  How many more people will this high-risk bond ruin financially?
BLACKMORE BOND – SHAKEN OR STIRRED – CARELESS OR STUPID?
Bond Review raises an intriguing question: how come Paul Careless and Surge Group have got involved with Nunn and McCreesh?  Unless he has been careless (pun intended), Careless looks to have an unblemished past and Surge (in Brighton) looks to be a bona fide company.
In 2017, Careless' company Surge Group offered £3,000 in sponsorship to the Kent Police rugby team.  This was accepted, but then he tried to change the sponsor from Surge Group to Blackmore Bond.  And Blackmore Global started claiming on their website to be "Proud supporters of Kent Police Rugby Team".  So why would Careless – himself an ex-police officer – try to con the police and also get into bed with Nunn and McCreesh?
Let us just remind ourselves that Messrs Nunn and McCreesh were the cold callers/lead generators in the Capita Oak and Henley Retirement Benefits scams which are now under investigation by the Serious Fraud Office.  Nunn and McCreesh scammed/attempted to scam up to 300 victims a month for more than two years.  Unsurprisingly, Kent Police declined the toxic offer to have any association between a law-enforcement agency and known scammers.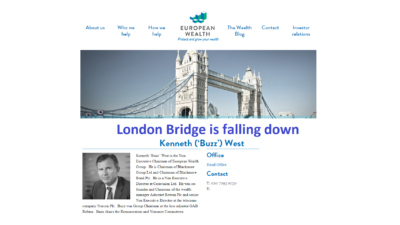 But here's another puzzle: a geezer called Kenneth "Buzz" West also appears at first glance to be relatively harmless.  He is a director of numerous companies – including European Wealth.  The only stain on his reputation that I can find is that his former company, Ashcourt Rowan, was fined £412k by the FSA in 2012 for dodgy investments in his other company: Savoy Group.  But Ashcourt Rowan held its hands up and paid the fine.
So why on earth would "Buzz" risk getting tangled up with Nunn and McCreesh?  Buzz is now Chairman of two of their companies: Blackmore Group and Blackmore Bond.  Unless his brains are shaken as well as stirred, he is committing professional suicide – knowingly and deliberately.
Or perhaps I am being too harsh.  Maybe he has taken on the role of Chairman so that he can ensure that Blackmore Bond does not sell any toxic, high-risk products to low-risk victims; and also so that he can get the long-overdue Blackmore Global fund audit done.  Maybe he also has plans to get the Blackmore Global victims compensated for their losses and distress suffered in the past couple of years.
We need to be very clear about Blackmore Global: it is a UCIS fund that was illegally promoted to retail investors in the UK and which unregulated David Vilka of Square Mile International was flogging to UK victims in the Hong Kong QROPS scam.  This accounted for 64 victims with a combined transfer value of £1.6 million – all introduced by cold-calling firm Aspinall Chase – run by Nunn and McCreesh.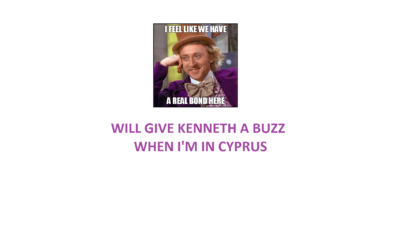 According to Companies House, Kenneth Buzz West is a Cypriot and resides in Cyprus.
It just so happens that I am going to Cyprus in a couple of weeks – so hopefully he will invite me for a wee drop of Zivania and Halloumi on toast.  And once our whistles are whetted, we can discuss the Blackmore Global audit and compensation.