Blackmore is two scams for the price of one: Blackmore Bond and Blackmore Global Fund. Both run by Phillip Nunn and Patrick McCreesh of Blackmore Group. Blackmore Bond is a "loan" scheme (bond) which has conned £25 million out of hundreds of victims and is now in default. Blackmore Global is an "investment" scam which has never provided any evidence as to where the money has gone and what it is invested in. It is thought that more than £40 million is invested in the fund. Both scams have left hundreds of investors worried sick that they may never see their money again.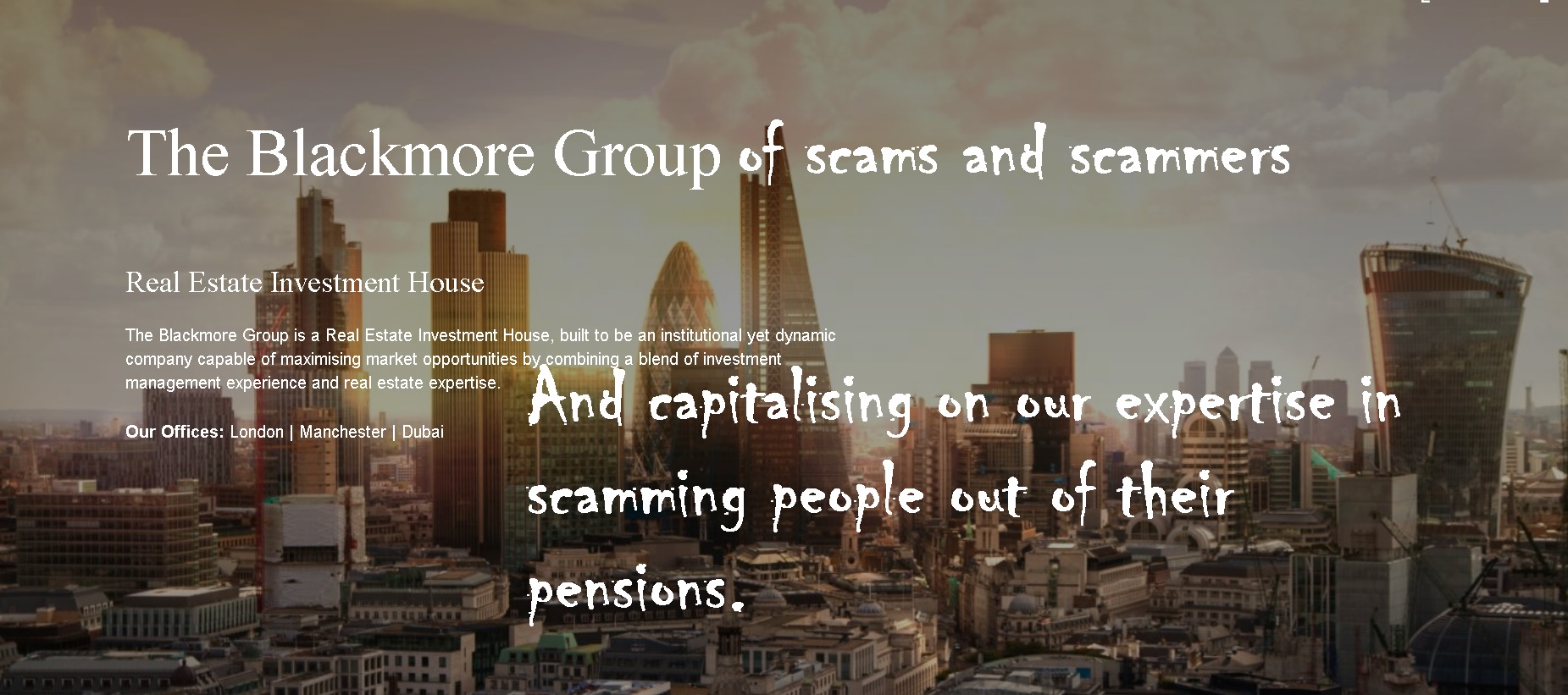 Blackmore Scam by Nunn & McCreesh
Much has been written about both scams – by interested observers, bloggers, journalists, distressed investors/lenders and by me.
Bond Review; This is Money; Evening Standard; Money Marketing; The Daily Telegraph; The Times; Pension Life
Also, two Facebook groups have been set up to support worried victims:
Investors of Blackmore is a closed Facebook group run by Mat Noakes. Mat created the group for Blackmore Bond victims, and makes sure that those who apply to join are genuine investors. He has strict rules about conduct on the group (as he is entitled to). Mat is raising funds to take legal action against Blackmore and has provided a substantial amount of information and evidence on this scam. Most revealing of all is that the so-called property development projects which victims have funded are incomplete and bound to be difficult (or impossible) to sell. Blackmore has run out of cash and is in default. Nunn and McCreesh are using a series of lame delaying tactics to try to assuage the victims' fears. As with most Ponzi-style scams, once new money dries up, existing lenders/investors don't get their promised returns and can't get their money out.
Blackmore Bond and Global Fund is an open group run by me. I created it for both Blackmore Bond and Blackmore Global victims. Anyone can join – even the scammers if they want to (although I doubt they'd have the balls – scammers are almost always spineless cowards). There are no rules – anyone can say whatever they want. Especially me. I say openly and publicly that both Blackmore Bond and Blackmore Global are scams run by Phillip Nunn and Patrick McCreesh who have used a series of other known scammers to promote and distribute these two scams.
Blackmore Bond was promoted by Surge Group run by Paul Careless. He has been arrested and is under investigation by the Serious Fraud Office. Surge earned £6 million out of promoting this high-risk, illiquid, unregulated bond to low-risk investors. Surge also earned £60 million out of promoting the London Capital & Finance bond scam which is now being wound up by Finbarr O'Connell of Smith & Williamson.
Blackmore Global was promoted by two spivs: David Vilka and John (Gus) Ferguson of Square Mile Financial Services. Another spiv – Charlie Goldsmith – lurks in the background and appears to make even more money out of promoting Blackmore than Vilka and Ferguson.
Behind the lies, deception and undoubted fraud perpetrated by Nunn and McCreesh, let's look at their history in some depth. In 2012/13, they were running a firm called Nunn McCreesh which was an appointed agent of Sage Financial Services. Their legal permission was to sell (mediate) insurance. But clearly they didn't earn enough out of doing legitimate business, so they turned to financial crime.
Joining the string of scammers behind the Capita Oak, Henley, SIPPS scam led by XXXX XXXX, Nunn McCreesh set out to help scam hundreds of victims into bogus occupational pension schemes and have their life savings invested in store pods (out of which the scammers earned 46% in commission).
The scam was investigated by the Insolvency Service in 2014 (and later by the Serious Fraud Office). Here's what the Insolvency Service's witness had to say about Nunn McCreesh on 27.5.2015:
Documents received from members of CAPITA OAK indicated they were initially contacted by Patrick McCreesh of Nunn McCreesh and

Its Your Pension Ltd

and offered pension review services.

Its Your Pension

had not traded and was a dormant company.
Nunn McCreesh had traded as an insurance brokerage between 2009 and 2012 when they entered into a verbal arrangement where in return for providing pension leads they received a commission.
Nunn McCreesh provided 100-200 leads per month which were provided by email and/or telephone for which they received £899,829.86 during the period 26.3.12 to 14.5.14.
It is important to understand the pedigree and psychology of Phillip Nunn and Patrick McCreesh to understand why they should never have been allowed to handle anybody's money. And why they would have been better off in prison rather than being left free to put what looks like over £65 million worth of victims' money at risk.
The Insolvency Service's own research established that the pair had been masquerading as trading legitimately from a non-trading company. This establishes their dishonesty.
"Pension reviews" have been a classic feature of many pension scams in the past ten years. They are a way of conning victims into handing over their pensions to bogus schemes such as Capita Oak and Henley – and placing them into the hands of serial scammers such as XXXX XXXX and Stephen Ward.
Nunn McCreesh was mainly interested in the lucrative business of commissions. This in itself is a dishonest and toxic practice since it is deliberately hidden from the investors – who have no idea that large portions of their hard-earned life savings are being handed over to the scammers.
Over a period of more than two years, Nunn McCreesh provided around 5,000 "leads" to the other firm of scammers involved: Jackson Francis. These leads would, inevitably, have been obtained illegally. As a result of this industrial-scale scamming, Nunn McCreesh gave potential victims' contact details to Jackson Francis. It is known that at least 1,200 of these resulted in the contacts losing their entire pensions.
During this two-year period, Nunn and McCreesh obviously learned a great deal from the other scammers. They also saw XXXX XXXX making a fortune out of this particular scam – and then watched him go on to make an even bigger fortune out of the Trafalgar Multi Asset Fund scam. Seeing XXXX XXXX boasting a magnificent country house, Ferrari and champagne lifestyle, they obviously realised they were only in the "little league" and needed to move up a gear. And thus Blackmore was born.
Nunn and McCreesh then teamed up with the scammers behind Aspinall Chase and Aktiva Wealth Management, later renamed Square Mile International, then Michalska Holding and now called Planet Pensions. The firm has just been wound up.
These scammers – Gus Ferguson, David Vilka and Charlie Goldsmith – then proceeded to scam many hundreds of victims into the Blackmore Global Fund. They duped UK residents into transferring their pensions into QROPS in the IoM, Malta and Hong Kong: Kreston, Optimus, Harbour and GFS. After all the scammers shared out the huge commissions, there would have been very little actual cash left – and what there was would have been invested in worthless rubbish which paid more commissions. These sub funds would have included Swan and GRRE – also run by known scammers.
Nunn and McCreesh claim on their website that they invest part of the Blackmore Global fund in commercial property. My worry is that some of this may be the same or similar commercial property to the worthless rubbish held in the Blackmore Bond. Of course, there have never been any audited accounts – despite many repeated assurances for the past four years they they are "working on it".
My biggest worry is: why was this allowed to happen? Why weren't Phillip Nunn and Patrick McCreesh prosecuted back in the days when they were under investigation by both the Insolvency Service and the Serious Fraud Office? Why weren't they put safely behind bars so they couldn't scam any more victims? And where was the FCA? Nunn and McCreesh were clearly running an unregulated collective investment scheme without permission. We know the FCA has the power to take action against firms they suspect of running such schemes because they've done so with Park First doggedly for the past three years.
The Blackmore Group website claims to be: "a Real Estate Investment House, built to be an institutional yet dynamic company capable of maximising market opportunities by combining a blend of investment management experience and real estate expertise". Yet Nunn and McCreesh only have a track record of miserable failure and scams. Their company, Nunn McCreesh, only operated for one year from 2012 to 2013. During this twelve month period it somehow managed to chalk up £351,000 worth of debts and loans. Neither Nunn nor McCreesh has ever demonstrated any investment management experience – other than what they may have gleaned about investment scams from XXXX XXXX. The Companies House accounts paint a bleak picture. The last published accounts – 2017 – show the company being barely solvent and with debts of over one million pounds. And no sign of the 2018 accounts.
The Blackmore Global website spouts similar disingenuous nonsense claiming: "expertise of specialists and regulated Investment Managers, along with a robust due diligence process". This is clearly downright lies. The Blackmore Global brochure claimed that a company in Barcelona – Meridan Capital – was the Investment Manager. And yet, when I spoke to Meridan Capital they said they most certainly were not. Had there been any due diligence done, the underlying assets would most certainly not have been accepted into the fund. These included Swan and GRRE – run by known scammers.
The Blackmore Bond website is full of similar lies and rubbish. It claims Blackmore is a property development company. It isn't. It claims to have: "a wealth of property insight and a proven track record in delivering quality developments". But according to the published accounts for 2017, it has £1.1 million worth of assets and £1.1 million worth of debts. And to have made £6,000 profit. I would say that is anything but a proven track record – and in fact shows that they have no experience or success in property development since they set the company up in 2016.
This whole episode shows the dangers of known scammers such as Phillip Nunn and Patrick McCreesh being left free to set up unregulated investment companies, bonds and funds with no professional qualifications or expertise. The only track record this pair has is a well-documented track record of success in selling illegally-obtained contact databases and of promoting bogus pension schemes which are under investigation by the Serious Fraud Office.