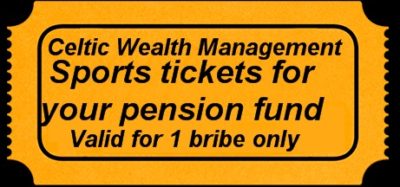 Just a few weeks ago we reported on Mike Pickett, the first British Steelworker – SIPPS pension scam victim.  But now there is more shocking news on Celtic Wealth Management – the culprits behind this toxic transfer which found victims' pension funds put in danger in February of this year.
It would seem Celtic "advisers" were so desperate to nab victims that they bribed them with sporting event tickets.
New Model Adviser revealed one victim showed them a text message that Celtic Wealth had sent him:
The text, which appears to be sent from Celtic Wealth representative Liam Powell and is dated 7 November 2017, states: 'Hope you're keeping well, wondering if you would like 2 complimentary tickets for Ospreys home match this Friday evening. If you'd be kind enough to let me know that would be great. Regards Liam Celtic.'
The victim then informed them that other colleagues had been offered tickets to see football team Swansea City play in the Premier League.
I guess Celtic Wealth was aiming at covering both sporting sides to ensure they had a wider range of victims to bribe.  This tactic may also have distracted victims from the fact that they were an unregulated company meaning they were not authorised to provide investment advice to anyone – ever. Even with free sporting tickets!
Active Wealth, which WAS an authorised company, was also involved in this SIPPS scandal with Celtic Wealth Management. Celtic acted as "introducers" and gave talks to the British Steelworkers – and the bribes – which I'm also informed included plates of sausage and chips. Active Wealth, an authorised firm, completed the pension transfers.
Active Wealth has now surrendered it's pension transfer permissions following FCA action in relation to the advice given to these steelworkers.
Malta has just announced that they will be changing their regulations surrounding pension advisers, stating that NO unauthorised advisory firms will be able to introduce investors to regulated trustee firms. Isn't it a shame that this is all a little too late for the victims of unregulated introducers.  Furthermore, this only applies to Malta – for the time being.  The British regulator would do well to bring in similar rules – as well as 28 further countries on HMRC's QROPS list. Firmer regulation like this would stop unregulated firms like Celtic Wealth Management from up-selling toxic pension advice.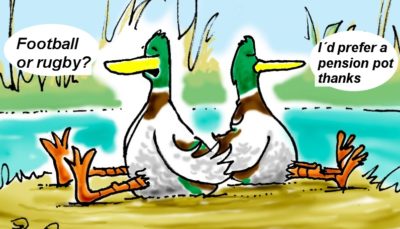 We will be waiting in the stands, wringing our hands anxiously, waiting for any more fall out from the British Steel case.  British Steelworkers were, sadly, sitting ducks for these unregulated foxes like Celtic Wealth.
**************************************************************
As always, Pension Life would like to remind you that if you are planning to transfer any pension funds, make sure that you are transferring into a legitimate scheme, get all the information in writing and get a third party to check the details.
If you have been the victim of a scam hear how Pension Life member Jessica M.J. who lost two thirds of her pension to Continental Wealth Management, talks about dealing with stress.