CHARLIE CHARLIE, SAUSAGE AND CHIPS – WATCH OUT BRITISH STEEL WORKERS!
What struck me about Henry's blog was that he has summarised a new version of the same old, same old situation we've seen many times before over the past few years.  A cosy and stinky relationship between the introducer, the adviser, the transfer administrator, and the fund manager.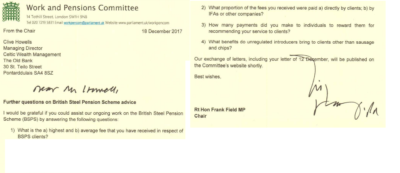 What then struck me about Frank Field's letter to Clive Howells of Celtic Wealth Management (the "introducer" who has been stalking the beleaguered British Steelworkers) was that Frank is a good sort – and I'd like to buy him lunch (although it won't be sausages and chips!).
It is clear from what Henry has written, that the British Steelworkers have been in danger of having their pensions invested in a load of complicated and expensive crap by advisory firm Active Wealth UK Ltd:
Vega Algorithms AWGO – Ultra-Conservative portfolio
5Alpha conservative UCITS managed by Newscape Capital Group
Gallium Fund Solutions Ltd
And, indeed, it looks like at least 100 victims have, sadly, already been successfully transferred into the scheme.
I don't like the look of Newscape Capital because it runs the risk of harbouring investment scammers.  An example of this is the Nascent Fund which facilitated James Hadley's Trafalgar Multi-Asset Fund investment scam.  Henry has eloquently outlined the inherent risks in these three entities as well as the introducer/adviser.  So, I won't add to his already detailed summary.
But let us have a closer look at Frank Field's letter to Clive Howells of Celtic Wealth Management:
I would be grateful if you could assist our ongoing work on the British Steel Pension Scheme by answering the following questions:
What is the a) highest and b) average fee that you have received in respect of BSPS clients?

What proportion of the fees you received were paid a) directly by clients; b) by IFAs or other companies?

How many payments did you make to individuals to reward them for recommending your service to clients?

What benefits do unregulated introducers bring to clients other than sausage and chips?
And herein lies the problem: the scourge of the "introducer".  The ordinary man in the street (or steelworks) doesn't know the difference between an introducer and an adviser.  We've seen many instances of individuals and firms acting as introducers for rogue advisers: Viva Costa International for Gerard Associates in Stephen Ward's London Quantum scam; Continental Wealth Management for Stephen Ward's Evergreen QROPS/Marazion loans scam; Jackson Francis in James Hadley's Trafalgar Multi-Asset scam; Phillip Nunn's Nunn McCreesh firm which lured thousands to financial ruin in the Capita Oak, Henley and multiple SIPPS scams.
History tells us that in many cases these individuals and firms are simply parasites and pimps who prey on vulnerable people.  Indeed, Clive Howells used to run Bespoke Pensions in a scheme that saw victims' pensions being invested in illiquid, speculative, high-risk crap such as The Resort Group's Cape Verde holiday properties.
Bespoke Pension Services was an unregulated firm and their address was a virtual office.  According to their published accounts the firm was insolvent at the time they were trying to get people to transfer their pensions into schemes which invested in unsuitable assets.  The two directors/shareholders – Mark Anthony Miserotti and Clive John Howells – had between them (reportedly) an impressive portfolio of investment, consultancy, property development, investment and financial planning companies – one of which was called "Fortaleza Investments" (suggesting something Brazilian).
The Royal London v Donna Marie Hughes case should ring alarm bells straight away with Clive Howells.  As should the accusations of sexual assault made against him in 2004.  A police officer testified that Howells had groped her bottom and breasts, as well as trying to force his tongue into her mouth.  Howells denied the charges – although he did, apparently, admit to snogging the young WPC.  At the time of the alleged attack, Howells was a Superintendent with the Welsh Police.  And married.
In the words of Lewis Carroll:
"Beware the Jabberwock, my son!
      The jaws that bite, the claws that catch!
Beware the Jubjub bird, and shun
      The frumious Bandersnatch!"
to which I will add a little verse of my own:
"Beware the introducer, my man
The silver tongue, the patter slick
Beware the likes of Howells if you can
The frumious, bandersnatch, jubjub dick!"
My sincere congratulations and thanks for the sterling work done by Henry Tapper, Darren Cooke and Al Rush to help protect the British steelworkers from the likes of Clive Howells.  And a merry xmas to all – especially Frank Field!