Today, 7th April 2020, was supposed to have been the second part of the Continental Wealth Management criminal trial. Obviously, due to Coronavirus, the hearing has been postponed. For now. As soon as the pandemic is under control and life in the courts (and elsewhere) gets back to "normal", the hearings will be rescheduled. This is obviously a disappointment to the victims who are waiting anxiously to see the outcome of the trial – but it is only a relatively minor setback in the grand scheme of things. We will get these defendants into court, and the judge will give directions as to how to deal with the crimes committed.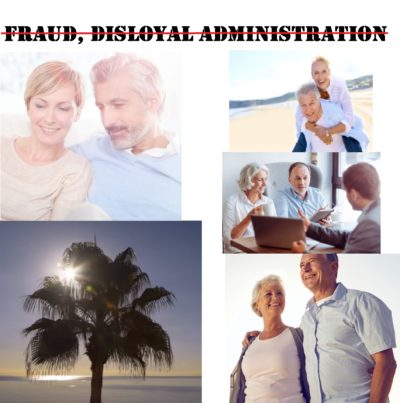 The crimes involved are:
Fraud
Disloyal administration
Falsification of commercial documentation
The second batch of defendants comprises:
Stephen Ward of Premier Pension Solutions and Premier Pension Transfers, IPTS (International Pension Transfer Specialists), AES International, Dorrixo Alliance and Marazion
Paul Clarke of Continental Wealth Management, AES International and Roebuck Wealth
Jody Smart (alias Jody Bell) of Continental Wealth Trust, Jody Bell Fashion, Grant A Wish charity and Mercurio Conpro
Darren Kirby (partner of Jody Bell) of Continental Wealth Management and Continental Wealth Trust
The first batch of defendants were cross examined in the week of 24th February 2020 and comprised:
Patrick Kirby (brother of Darren Kirby)
Anthony Downs
Dean Stogsdill
Neil Hathaway (all of Continental Wealth Management)
When we first set out this case, we weren't entirely sure the court would accept the charge of fraud – because it is difficult to prove as a complainant needs to establish intent. However, the court had no hesitation in accepting this charge, as well as the additional charges of disloyal administration and falsification of commercial documentation.
The evidence in the case is very clear and incontrovertible: seventeen lead complainants (out of more than 600) who all exhibit the exact same "symptoms":
Low to medium risk investors placed in inappropriate, high-risk investments
Insurance bonds sold illegally
Investments churned repeatedly
No license to provide insurance or investment advice
No qualifications to provide financial advice
No adjustment to financial strategy when serious losses began to appear
It is tempting to think that perhaps Continental Wealth Management (which later became Continental Wealth Trust but still kept the original name) was an isolated case. But, sadly, that is not so. I have seen many examples (in Spain and other jurisdictions) of clients being placed into inappropriate investments, by other so-called advisers, which paid large, hidden commissions over the past six years. Stephen Ward was routinely flogging the EEA Life Settlements fund – putting some investors' entire portfolios into this risky fund which paid up to 19% in commission. He was also flogging other high-risk funds such as Traded Life Policies, Axiom, Blackrock Gold and Aria – as well as selling bonds such as Skandia (OMI) illegally. And, naturally, Ward's clients suffered crippling losses.
The above method, show-cased by Stephen Ward, has – of course – been rife in offshore financial services for years. It has made the advisers rich and the investors poor. In short, this is disloyalty at its worst: the adviser putting his own interests above those of his clients.
And that, in Spain and other European countries, is a criminal offence.
But Ward wasn't alone: Paul Clarke did the same even after he left Continental Wealth Management and became an agent of AES International – exploiting the financial advisory market on the Costa Blanca as he decimated clients' savings with more illegally-sold insurance bonds, structured notes and expensive, high-commission funds. Clarke regularly featured in whole-page spreads in Euro Weekly – spouting "expertise" and masquerading as a qualified, experienced financial adviser.
There are few firms in Spain – or indeed the rest of Europe and beyond – which do not rely heavily on the notorious insurance bond. The offshore market is dominated by the usual suspects: OMI (previously Skandia and now Quilter); Generali, SEB, RL360 and Investors Trust. And all these insurance companies encourage unregulated, unqualified advisors to sell these bonds illegally. There are few, if any, benefits to the consumer – and no insurance bond should ever be used inside a QROPS (unless there's no lock-in and no commission).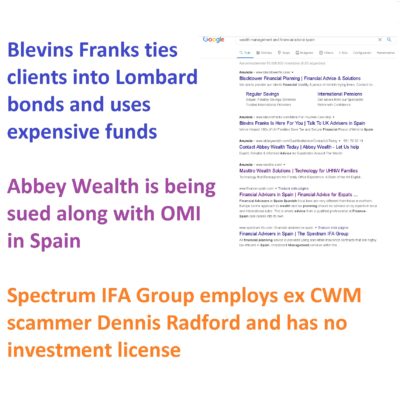 I just Googled: "wealth management and financial advice Spain". The top results came up as: Blacktower; Blevins Franks; Abbey Wealth; Masttro (a firm I'd never heard of before); Finance Spain (another firm I'd never heard of); Spectrum IFA Group; and Alexander Peter. I am not saying whether any of these firms are either good or bad – but I think it is safe to assume they are all selling insurance bonds illegally.
Of course, there's nothing inherently wrong with an insurance bond. It is, after all, just a wrapper – or container for funds and investments. There are, arguably, some tax advantages in some jurisdictions – although they should never be used inside a QROPS.
The problem with an insurance bond – whether from OMI, SEB, Generali or RL360 – is that an investor is going to get one whether he wants or needs one or can afford one or not. The investor will get locked in for up to ten years and he won't be aware that the adviser will get paid an 8% commission for selling the bond. This commission will get clawed back by the life office over the term of the bond.
Many investors are conned into believing that the bond provides some sort of protection. It doesn't. Many investors are also conned into to thinking that the investments offered by the bond providers are "safe". They aren't necessarily – there may be some decent investments but there are also an awful lot of rubbish, expensive ones. But the biggest con of all is that the investor isn't told that the annual bond charges (taken quarterly) will stay the same even if the portfolio value decreases. So, if the investor needs to withdraw some money from the bond, the charges will start to do some serious damage to the remaining fund. And if the investments fail – as many structured notes invariably do – and the portfolio value starts to decrease alarmingly – the bond charges will then erode what's left very rapidly.
Some victims of serious mis-selling actually end up having the entire fund destroyed by irresponsible, fraudulent or disloyal investment advice by rogue advisers – and can still be paying the bond charges even after the entire portfolio has been destroyed.
The other half of the disloyalty and fraud by Continental Wealth Management (as well as some of the other well-known names in "wealth management") is the practice of "churning". This means that the same chunk of money is invested repeatedly to generate as much commission as possible – in as short a space of time as possible. This is easy to spot when looking at the bond statements (whether OMI/Quilter or RL360 or whatever):
"Buy £100k worth of rubbish (earn 6% commission); sell £100k worth of rubbish; buy another £100k worth of rubbish (earn another 6% commission); sell £100k worth of rubbish; buy"….and so on. This exercise can be repeated over and over again in any period – say one year – to mince two or three lots of commission out of the same sum of money. The investor may not notice – as long as his fund value isn't falling too much – and, because the commissions are concealed, he may not realise he is being defrauded and that his adviser is committing a criminal offence by being "disloyal".
The Continental Wealth Management case – being heard in the criminal court in Denia, Alicante – may not cure the ills of the offshore financial services industry overnight. But it will certainly send out a clear message to all financial advice firms that Spain, at least, will not tolerate such conduct. While British regulators, courts and police authorities are happy to leave fraudsters and scammers free to keep on operating and promoting financial scams, Spain is in the process of sending out a very clear message: