Spain is, sadly, the World's capital of wealth scamming.  For more than a decade, wealth planning has been perverted and converted into a commission-laden fraud.  This financial crime has relieved thousands of victims of their pensions and life savings.
Originally a private Swiss bank, Julius Baer now wants to diversify into the Spanish wealth market.  Hopefully, this is very good news.  To date, Spain has been dominated by the dross of the commission churning machine.  Some genuine, professional, qualified, fee-based financial advice in Spain would be welcome and also essential to clean up this crime-ridden territory.
Julius Baer has created a new team which includes Claudio Beretta and Claudia Linares.  So just to give them a few friendly, helpful tips, here's my message to them – which I hope they will accept in the spirit in which it is given.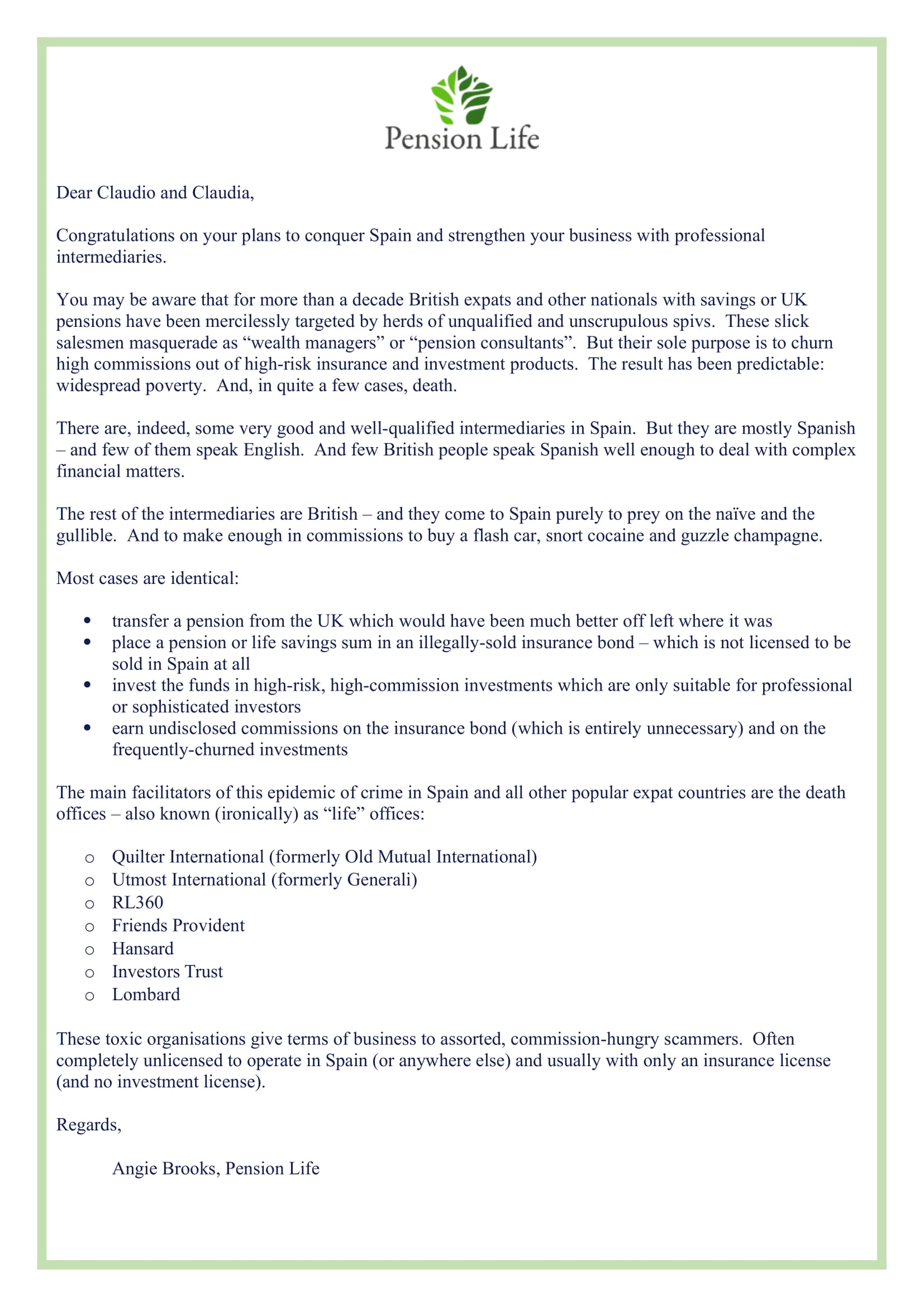 If this newcomer to the Spanish market can bring proper fee-based financial advice to British expats in Spain, Julius Baer could change financial services the World over. The absurdly-stupid EU regulator: ESMA allows firms with only an insurance-mediation license to provide investment advice on portfolios held within insurance bonds. This, of course, facilitates most of the financial crime in Spain and the rest of Europe.
This widespread fraud – encouraged and handsomely rewarded by the death offices – oils the wheels of the illegal commission machine. These freely-spinning wheels result in herds of unqualified "advisers" (including drug addicts, convicted killers, prostitutes and fraudsters) conning thousands of victims out of their pensions.
Julius Baer proudly reports that it has created a new team, headed by Claudio Beretta and Claudia Linares, which includes Jorge Saavedra Doménech and Carlos Navarro Sabán.
This team is looking to provide services in the fields of wealth planning and wealth management. Julius Baer reports this constitutes;
"the overall Bank's strategic conviction to further strengthen their presence in Western Europe and particularly in Spain."
Hopefully, Julius Baer will avoid death offices and unlicensed spivs. And, even more essential to the fraud-saturated Spanish market, Julius Baer must make it clear there will be no secret or half-secret commissions involved – and concentrate purely on proper fee-based advice which is qualified and truly independent.