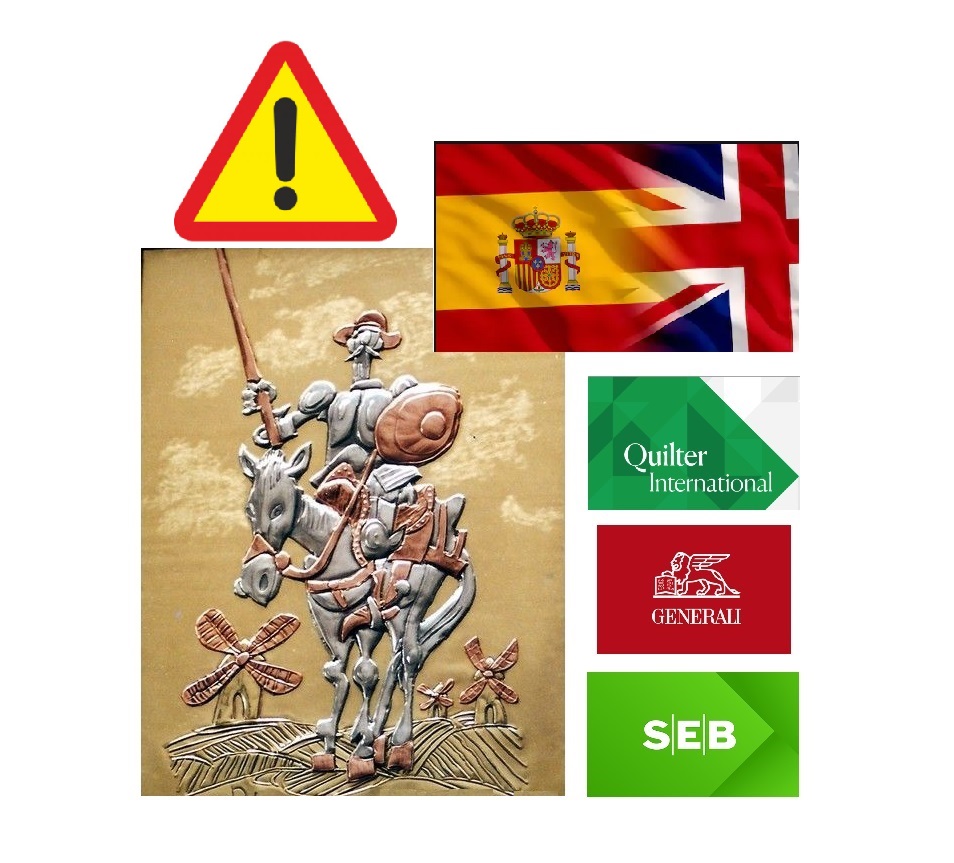 In the past decade, millions of pounds of pensions and life savings have been destroyed in Spain. Much of this has involved insurance bonds (OMI, SEB and Generali) – as well as all other popular expat countries. Only by benefitting from lessons learned so painfully by those who've already been scammed, can new potential victims arm themselves against the scammers.
Pension scams always start with a so-called "financial adviser" or "wealth manager" or "retirement consultant". Sadly, it is almost always British "advisers" which scam British expats.
Potential victims need to understand what to look out for – and avoid. Here are the essential "must haves" for proper, professional financial advisers (in other words people who sell advice, not products):
LICENCE – The firm must be licensed – both for insurance and for investment.
QUALIFICATIONS – The adviser must be qualified – and a link to proof of the qualification clearly visible on the firm's website.
LEGACY – There must be no legacy of previous scamming within the firm.
INSURANCE – There must be a professional indemnity insurance policy in place.
NETWORK – If the firm is an agent of a network, there must be an up to date copy of the agency agreement freely available.
INSURANCE BONDS – The firm must not sell insurance bonds illegally.
UNREGULATED FUNDS AND STRUCTURED NOTES – The firm must not invest clients' funds in unregulated or esoteric funds, or structured notes.
COMPLIANCE – There must be a proper compliance function in place.
MANAGEMENT AND TEAM – All members of the team must be clearly visible on the website – along with details of who is in charge and responsible for the firm's activities and compliance.
COMMISSION POLICY – The firm's policy on undisclosed commissions must be clearly visible.
When I Googled the term: "Financial Adviser Spain" just now, the top results that came up for me were:
Blacktower Wealth Management
Blevins Franks
Finance Spain – Patrick Macdonald
Spectrum IFA
Chorus Financial
Abbey Wealth
Alexander Peter
Axis Consultants
Logic Financial Consultants
Harrison Brook
Seagate Wealth
When I changed the search term to: "Pension Advisor Spain" or "Wealth Advisor Spain" I also got the following:
deVere Spain
Mathstone Financial Management
Pennick Blackwell
SJB Global
United Advisers Group
Indalo Partners
Trafalgar-International
Fiduciary Wealth Management
And one firm which won't come up at all, no matter how hard you search, is:
Roebuck Wealth – run by Paul Clarke
Plus one which only comes up if you know what to search for:
Callaghan Financial Services
And, of course, the two which have closed down:
Continental Wealth Trust – aka Continental Wealth Management
Premier Pension Solutions
So let's take a look at some of these firms to see what we can learn from their websites and see if there are any warning signs for potential victims:
Blacktower Wealth Management – Always look at the bottom of a firm's website to read the small print and see how the firm is licensed. Blacktower is licensed by the Gibraltar Financial services Commission for both insurance mediation and investment advice. Why Gibraltar? Why not Spain? Gibraltar has a long history of facilitating and licensing scams and scammers and the Commission even employs one itself. The website claims to have "Consultants throughout our offices in Europe" – and this worries me. What is a "consultant"? Why not talk about advice, not consultancy?
Looking at the directors and "international financial advisers" of the firm, there are quite a few. Associate Director Tim Govaerts claims to be qualified with the Chartered Institute of Insurers up to Level 3. But the CII register says they've never heard of him. Richard Mills claims to be qualified with both the CII and the CISI, but both registers say they've never heard of him. Quentin Sellar claims to be qualified with both the CII and the CISI, but only the latter has heard of him. Clifford Knezovich also claims to be qualified with the CISI but does not appear on the register. Lucia Melgarejo is another member of the team who also claims to be qualified. I met her a few years ago, when a colleague of hers had cold called me, and she told me that she was too busy selling to get qualified.
The member of the Blacktower team which worries me the most is Terry Tunmore – as he was one of the scammers at Stephen Ward's Premier Pension Solutions. Tunmore certainly soils the reputation of this firm, and should not be employed by any firm holding itself out to be professional and to have integrity.
Under the Licensing section of the website, the firm is immediately getting potential clients warmed up to insurance bonds and "wrappers" – and states that it has permission to recommend them and provide investment advice on the underlying portfolios. This should worry any potential client – and ring loud alarm bells – as this indicates a clear intention to use bond providers such as Quilter, SEB, Generali or RL360 – and earn hidden commissions. These products are deemed to be invalid under Spanish law, and are routinely sold illegally in Spain.
Blacktower's website makes no mention (that I can find) of compliance or their professional indemnity insurance policy. It also worries me that Blacktower has so many "agents" – and without hard evidence of a robust compliance function, I think there is a risk that some of these agents could well be acting as unsupervised "feral" salesmen, rather than bona fide financial advisers.
Blevins Franks – Well-known firm with offices in Spain, and other European countries. The team in Spain all have titles such as Partner, Private Client Manager or Regional Manager – and there is no mention of any of them being genuine financial advisers. In Spain, Partners Christopher McCann, Brett Hanson, Paul Montague, Andrew Southgate, Henry Rutherford and David Bowern all claim to be qualified with the London Institute of Banking & Finance, but none of them appears on the member register. Steven Langford claims to be CII qualified but does not appear on the register. With so many members of the team claiming – falsely – to be qualified, this should ring loud alarm bells with any potential victims. We know that Blevins Franks routinely puts all clients into a Lombard insurance bond – which means they are committing a criminal offence in Spain.
Insurance bonds are illegal and invalid for the purpose of holding investments in Spain, and the usual manner of selling them is also a criminal offence. An insurance bond provides no benefits or protection for investors – and should never ever be used inside a pension (QROPS). Blevins Franks also has a close tie with Russell funds – and routinely invests their clients' funds in Russell. There's nothing bad about Russell – but there's nothing good about them either. A portfolio should always be a well-spread mixture of funds from the whole market – not a narrow selection of investments from one provider. I can't see any information on the Blevins Franks website about their professional indemnity insurance, compliance or commission policy. All in all, I think there are too many risks with this firm and it should be avoided.
Finance Spain – Patrick Macdonald – This firm comes high up the Google rankings, so obviously spends a lot of money on SEO and/or Google Ads. The "Regulation" bit on the website states the firm is "part of a group who are regulated by the Financial Services Commission in Gibraltar". But which "group" is it talking about? There's a link to the GFSC website, but no evidence as to how the firm is licensed. The website also claims to consist of "qualified and regulated international wealth managers and members of the Chartered Institute for securities and Investment (CISI) in the UK". But who are these so-called wealth managers? The only one named on the website is Patrick Macdonald – and the CISI register shows him as being employed by Blacktower. But the firm Finance Spain does not appear on the GFSC register as being one of Blacktower's agents – so how is this firm licensed?
What worries me most about this website is that it is openly flogging insurance bonds. It promotes "Spanish Portfolio Bonds" – which are routinely sold illegally by the scammers. It claims these bonds are a "tax beneficial home for investments". But that isn't true in Spain, as the so-called tax benefits only work for UK residents. In the "Wealth" section of the website, you are met with a brazen offer of insurance bonds from Prudential, Old Mutual and SEB. The section on pension transfers is also very worrying as it gives misleading comparisons between UK pension providers and EU-based QROPS providers; it fails to provide warnings against transferring final salary pensions and – worst of all – states "There is greater investment choice". This so-called choice is what so many scammers in Spain (in the past ten years) have used to destroy victims' pensions with high-risk, high-commission, unregulated investments such as structured notes.
Ironically, the Finance Spain website has a section called "Top 5 Warnings" about pension scams. It recognises that the industry is rife with scammers and warns about cold calling, cashing in pensions, pension reviews and the promise of high returns. But it ignores the fact that Finance Spain is itself heavily promoting insurance bonds – which have been the biggest single cause of pension scams in Spain in the past decade. With no clear information about licensing, compliance, insurance or commission policy – and no idea who the firm is or by whom it is managed – I think it is safe to say this is one to avoid.
Spectrum IFA – Oh dear, where to begin! There are so many alarm bells here, it's like being inside a busy fire station. No investment license, but openly giving investment advice, and flogging insurance bonds: "efficient investing (using Insurance wrappers". And that's just the home page. The website openly boasts: "Our internationally qualified, professional advisers make certain you receive the best possible advice for the following areas: Investment Advice in Spain – Pension planning in Spain. That's a bold claim to make for a firm with no investment license.
The website goes on to boast: "All our advisers live in Spain, are experienced and qualified." But who are they? What are their qualifications? One "financial adviser" is Dennis Radford who claims to be qualified with the CISI – but does not appear on the register. Aside from lying about his qualifications, he is one of the former Continental Wealth Management scammers responsible for defrauding many victims out of their pensions and life savings. I have brought this to Spectrum's attention before, but they obviously don't care – as Radford brings in a lot of business and commission (on illegally-sold insurance bonds and high-risk, inappropriate investments).
There is one adviser who is qualified with the CII – John Hayward. I believe he is a decent bloke – so what on earth he is doing with Spectrum is beyond me. Spain may be full of inadequately licensed firms which do nothing but flog insurance bonds to victims who don't need them and can't afford them, but there are some (admittedly not many) decent firms he could join.
Abbey Wealth – This firm has been around a long time – flogging insurance bonds to unsuspecting victims. The firm was an agent of well-known scammers Inter Alliance – the "network" of which Continental Wealth Management was also a member. Abbey Wealth is now licensed by the Central Bank of Ireland. If you've ever wondered why so many firms like Ireland, it's because regulation there is as flaccid as a marshmallow. Another reason why Quilter International is so active there with its insurance bonds – so beloved of so many pension scammers. Abbey boasts a flock of "advisers" who claim to be passionate about financial services – including Ben Noifield who states he is CII qualified (the CII register says otherwise). The rest of the sorry team are an assortment of unqualified salesmen masquerading as advisers.
No mention of professional indemnity insurance, and no reference to their murky past as part of the Inter Alliance shambles.
Alexander Peter – No information about if or how the firm is licensed; who the advisers are and whether they are qualified; who is in charge, what professional indemnity insurance they hold.
Harrison Brook – This firm claims to be a member of the Nexus Global network. But there is no access to the agency agreement and no link to any professional indemnity insurance details or information about who is in charge and who the "advisers" are (and whether any of them are qualified). The question also has to be asked: why don't firms get their own license rather than joining a network? Ding dong!
Seagate Wealth – No information about how (or if) this firm is licensed. It states on the website: "We work in conjunction with fully regulated and authorised companies". So presumably that's an admittance that they are not regulated or authorised. There's no information about who controls and is responsible for the firm, and nothing to state how any of the team members are qualified. Perhaps one of the biggest alarm bells about this lot is that they are mostly ex AES International and stole the Spanish client book back in 2015.