Despite the 2017 demise of Continental Wealth Management – run by Darren Kirby and his partner Jody Smart (Bell/Kirby) – former CWM scammers have continued to ply their evil trade. Pension scammers don't just go away – they join or set up other firms and continue their profitable, illegal work. Just as leopards don't change their spots, scammers don't change their modus operandi. They use the same old same old dirty tricks as used by CWM for nearly ten years since the firm was set up by Darren Kirby and Paul Clarke: essentially an illegal insurance bond sales operation – followed up by toxic, high-risk investments paying the highest possible commissions to the scammers. They don't bother with regulations or qualifications and routinely forge signatures on investment dealing instructions.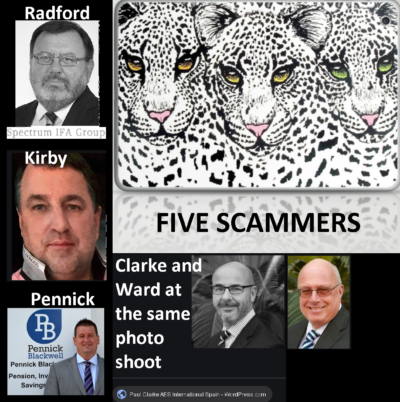 The CWM pension scam in Spain must be a lesson to all; phoenixes run by former CWM scammers must be exposed and closed down; firms with only an insurance license must not give illegal investment advice; insurance bonds must no longer be sold illegally in Spain and elsewhere; commissions must not be fraudulently concealed; advisers must be qualified; illegally-run offshore "networks" must be outlawed and disbanded.
Stephen Ward of Premier Pension Solutions S.L., Premier Pension Transfers Ltd., Dorrixo Alliance and Marazion, seems to have given up his scamming operation and is now re-developing his former office in Moraira into a luxury villa with pool. Having ruined thousands of victims with his various pension scams: Ark, Evergreen, Capita Oak, Westminster, London Quantum etc., he then went on to "advise" thousands more victims on the transfer of their DB pensions into the hands of more offshore sharks and scammers. All these victims will have been transferred into QROPS and then put in unnecessary, expensive insurance bonds such as OMI, and then invested in high-risk, high-commission rubbish which will have destroyed substantial amounts of money.
Stephen Ward had his own portfolio of clients as well. He ruined most of these by investing their life savings in high-risk, high-commission funds such as EEA Life Settlements, Axiom Legal Funding, Mansion Student Accommodation, Aria and Blackrock Gold.
Stephen Ward had been issuing all the transfer advice reports for the CWM victims, but then in or around 2015 he was replaced by CWM scammer Martyn Ryan of FCA-registered Global Financial Options who took over from Ward in facilitating the CWM scam which ruined up to 1,000 victims. Ryan now runs Infinity Claims – a claims management company which, ironically, purports to help victims of unsuitable pension transfers (you couldn't make it up!). Best (or worst) of all, Ryan's new firm is also FCA regulated. You can quite see how victims get scammed when regulators give the scammers the very tools they need to trick their victims into handing over their life savings.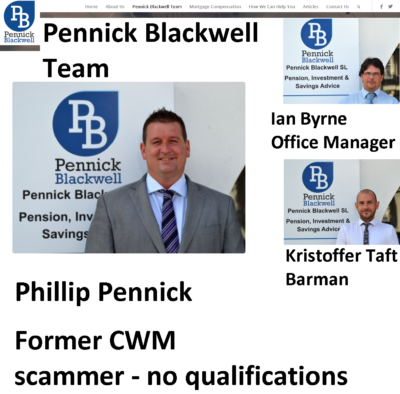 Another prolific CWM scammer was Phill Pennick. He, like all his colleagues at the unregulated Continental Wealth Management firm on the Costa Blanca, conned hundreds of victims into having their pensions and life savings placed into illegally-sold insurance bonds by OMI, SEB and Generali, and then invested in toxic structured notes provided by Royal Bank of Canada, Commerzbank, Nomura and Leonteq. Victims lost up to 100% of their funds while Pennick and the rest of Kirby's team of scammers earned fat, concealed commissions from the insurance bonds and structured notes.
Pennick went on to set up his own "IFA" practice – Pennick Blackwell – at two office addresses on the Costa Blanca: Albir and La Nucia. Former mortgage broker Pennick – and his associate Kristoffer Taft (former barman with no qualifications) proceeded to scam more victims and openly commit criminal offences by selling insurance bonds illegally in contravention of the Spanish insurance regulations. In the past few days, the Albir Pennick Blackwell office has closed down and been emptied of all furniture and light bulbs. It is not known whether Pennick (who had also been running an estate agency and a mis-sold mortgage claims management company) is now on the run or whether he has simply done a "phoenix" somewhere else. Certainly, the public should be wary and report any sightings of this serial scammer.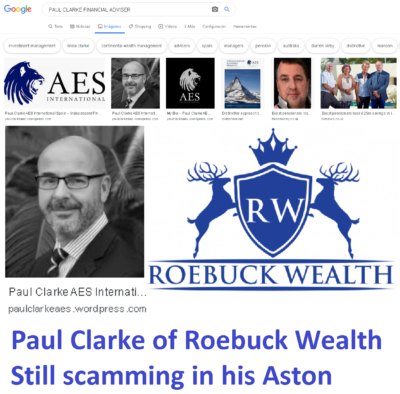 Another phoenix from an ex-CWM scammer is Roebuck Wealth run by Paul Clarke. Clarke was one of the original founders of Continental Wealth Management, along with head scammer Darren Kirby. The pair parted acrimoniously and Clarke went on to promote Stephen Ward's Ark scam and to build a successful business as an insurance bond and structured note salesmen – committing criminal offences by flogging both sets of products throughout Spain. Earning huge commissions from both bonds and toxic investments with illegally-concealed commissions, Clarke sought out some of his new victims on Facebook – using the name "Bella and Alfie" to hide his real identity.
Openly committing a series of criminal offences by putting clients into bonds and investments which were entirely unsuitable and risky, Clarke concealed his commissions and routinely destroyed his clients' funds. Interestingly, Clarke seems to have scrubbed the internet of all trace of his firm – Roebuck Wealth – and of himself. Openly prowling the Costa Blanca for more victims in his Aston Martin, Clarke now works closely with the local Masons which provides him with a large stock of further victims to keep him in his champagne lifestyle.
Some of the former CWM scammers managed to get jobs with other financial advisory firms when Continental Wealth Management collapsed in September 2017. Ethical firms who had inadvertently employed these scammers, without realising the extent of their crimes, immediately sacked them when they discovered the truth. One exception to this is the Spectrum IFA Group. This outfit – which purports to be a financial advisory firm – currently employs former CWM scammer Dennis Radford.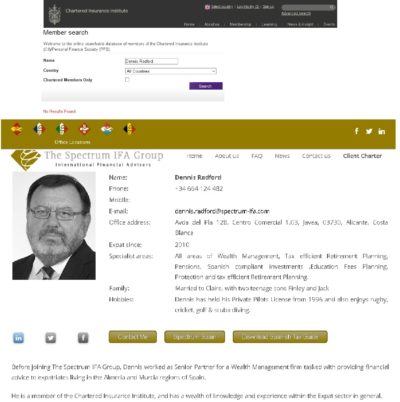 However, when warned that they were operating illegally by providing investment advice in Spain and other countries – as well as selling insurance bonds illegally in Spain – Spectrum's Michael Lodhi refused to sack Radford. Lodhi then went on to attempt to justify the firm's illegal activities and to defend Radford. Radford had acted as "Senior Partner" at CWM and had been heavily involved in the scamming activities of the firm for some years. The email exchange between Lodhi and me is reported below. This exchange reveals the extent of Spectrum's illegal activities – in which Radford now plays a key role.
Pension Scammers in Spain – CWM must be a lesson to all.
The Continental Wealth Management scam must be a lesson to all. The public must be made aware of the crimes which have already been committed by the former CWM scammers and must avoid them at all costs in the future. Quite a few of these vile predators are now in the process of being prosecuted and will hopefully serve long jail sentences. But in the meantime, while the Spanish justice process plays out, it is essential that the public should remain vigilant. The scammers are very much alive and active – especially on the Costa Blanca along the eastern coast of Spain (where there is a large concentration of British expats).
RESPONSE BY ANGIE BROOKS OF PENSION LIFE TO LETTER FROM MICHAEL LODHI OF SPECTRUM IFA GROUP
LODHI: We have examined your website and posts and would like to correct some details about our firm that you may have misunderstood.
ME: There is nothing I have misunderstood.
LODHI: Spectrum IFA Group is not a company. It is our brand, a pan-European registered trademark. This is clearly stated on our website and our literature: For Spain "The Spectrum IFA Group" is a registered trademark, exclusive rights to use in Spain granted to: Baskerville Advisers S.L. | CIF B-63/137.020 | Correduría de Seguros; No de registro RDGS J2306.
ME: And this does not authorise Baskerville Advisers S.L. to provide investment advice. Therefore, you are breaking the law by doing so.
LODHI: We provide financial planning services and advice using Insurance based Investment Products (IBIPs) which are both Spanish compliant and tax efficient in Spain.
ME: Your firm is authorised for insurance mediation and this does not cover investment advice. The products to which you are referring are insurance bonds (e.g. OMI, SEB, Generali etc) which are mostly sold illegally in Spain. These companies have facilitated widespread financial crime – including fraud – for many years. This has involved giving terms of business to unregulated firms such as CWM and allowing many millions of pounds' worth of life savings to be destroyed (by the use of high-risk, high-commission investments).
LODHI: Regulation of these products is covered in the Insurance Distribution Directive. More information is available here: https://ec.europa.eu/info/law/insurance-distribution-directive-2016-97-eu_en Article 2 – Definitions point (17) of DIRECTIVE (EU) 2016/97 OF THE EUROPEAN PARLIAMENT AND OF THE COUNCIL of 20 January 2016 on insurance distribution (recast) page 30 states: 'insurance-based investment product' means an insurance product which offers a maturity or surrender value and where that maturity or surrender value is wholly or partially exposed, directly or indirectly, to market fluctuations The appropriate regulator in Spain for such IBIPs is the DGSFP.
ME: The DGS does not regulate the products themselves – it regulates the way the products are sold (mediated). And most advisory firms in Spain do this illegally (in contravention of the DGS regulations). Also, the Spanish Supreme Court has deemed life assurance policies (such as OMI bonds) to be invalid for the purposes of holding investments.
LODHI: For your information another of our group companies is a licensed investment advisory firm (Mifid) however this licence is not required for our current activity in Spain.
ME: Which company? You are clearly giving investment advice, so how is your organisation authorised to do this – particularly in Spain?
LODHI: Our consultants are trained in accordance with Spanish rules laid down by our regulator, the DGSFP.
ME: I think you have to be clear what your "consultants" do. Are they advisers or just bond salesmen? If the Spanish rules say that consultants (or salesmen or advisers) don't have to be qualified, then you are right. Most of your salesmen have no qualifications (although some of them do lie about being qualified). The only ones with verifiable qualifications are Robin Beven, John Hayward, Chris Burke and Jonathan Goodman (as far as I can see). Perhaps you can update me on this so I can republish this blog with the latest information: https://pension-life.com/spectrum-ifa-group-qualified-and-registered/
LODHI: All of our financial planning advice is produced and signed off centrally via our technical and compliance department.
AB: That's a funny sort of "compliance" department if it signs off investment advice which is not licensed. Perhaps you ought to sack all your compliance people since they clearly don't understand that a firm cannot give investment advice (which many of your salesmen clearly claim to do on your own website) without being licensed to do so.
LODHI: In addition, our pension transfer advice (TVAS reports) are also provided centrally by a Fellow of the Chartered Insurance Institute who holds all the up to date UK pensions qualifications.
ME: Which one of your staff is this?
LODHI: Where appropriate, further pensions transfer advice is provided by an FCA authorised pension transfer specialist who holds all current UK pension advice permissions.
AB: Who? (as in – who is the allegedly FCA-authorised pension transfer specialist providing transfer advice to Spectrum?)
LODHI: It is not a requirement in Spain that our consultants hold UK financial planning qualifications, however many do hold these. For example John Hayward holds the following UK qualifications: Chartered Insurance Institute Financial Planning Certificate (3 parts 1. Financial Services and their regulation 2. Protection, savings and investment products 3. Identifying and satisfying client needs.) Chartered Insurance Institute G60 Pensions Institute of Financial Services Certificate in Mortgage Advice and Practice
AB: And hereby lies the problem, of course. Offshore firms such as yours concentrate on the expat market – which involves UK pensions. So of course a genuinely ethical and professional firm would ensure that advisers hold the relevant UK qualifications. This is one of the reasons why so many British firms offshore cause victims' losses – because the advisers are not qualified and only know how to be salesmen targeting maximum commissions rather than giving proper independent financial advice.
LODHI: Dennis (Radford) approached us whilst working with Continental Wealth Management (CWM) part of the Trafalgar International Gmbh network. He was neither an owner nor a Director of that firm.
AB: Radford was a "Senior Partner" (of Continental Wealth Management) – although neither a shareholder nor a director.  His title must have told you that he had held a senior position within the firm.  This should have given you a clue that he was an integral part of this scam.
LODHI: Having worked with CWM for some time he realised that the products sold inside life assurance policies were not in his client's best interests.
AB: It would be interesting to know how many minutes he took to realise this. He could easily have checked to see how insurance products are supposed to be sold – and had he done this he would have realised immediately that ALL the life bonds (OMI, SEB and Generali) were being sold illegally by CWM. With the structured notes, all the term sheets clearly bore the words: "for professional investors only" and "risk of loss of part or all of your capital". So he should have stopped immediately. But as you have confirmed, Radford continued selling these products "for some time". Perhaps you would be kind enough to disclose exactly how many people Radford scammed out of their life savings during the time he was "Senior Partner" at CWM?
LODHI: After investigating our working methods and procedures Dennis applied to join our firm.
AB: It was at this point that you should have told Radford in no uncertain terms that under no circumstances would you take on a bond salesman who had been working for a firm of scammers. But clearly you welcomed him with open arms.
LODHI: His main request was that we assist him with his existing clients by moving them (where possible) into funds from Spectrum's approved fund list – EU compliant, daily traded, from household name fund managers, without initial fees, initial commissions or exit penalties.
AB: But that would have involved giving investment advice – and Spectrum was not licensed to give investment advice.
LODHI: Dennis continues to assist his clients transferred to Spectrum from CWM along with other clients from other IFA firms with similar issues around QROPS and Fund selection inside IBIPs.
AB: Again, this involves investment advice. Radford is not qualified to do this, and Spectrum (or Baskerville) is not authorised to do this.
LODHI: We understand you are trying to help expatriates in Spain who may have been subject to mis- selling by IFAs.
AB: Correct. We are taking criminal action against the directors and shareholders of CWM for the fraud and disloyal administration (a criminal offence in Spain) committed by the director and shareholders of the company. Now that it has become clear that Radford held a senior position of responsibility and authority in the company, I will be taking legal advice as to whether he should be added to the list of defendants.
LODHI: It is important for your business' credibility that your posts are factually correct.
AB: My posts are factually correct. But this isn't about my business; it is about your business – and your credibility. And you are employing unqualified "advisers" and are giving unauthorised investment advice – along with employing Radford – a known ex-CWM scammer. Most decent, ethical firms immediately sack scammers when they realise their provenance and it is disappointing that you have not taken such proactive action and are still harbouring him.
LODHI: Several posts on your site imply that our firm is carrying out an activity that is illegal.
AB: Correct. You are giving investment advice without being authorised to do so. Further, the way your firm is selling insurance bonds is illegal. I don't know what the Spanish regulations say about employing ex scammers – perhaps you could enlighten me?
LODHI: This is clearly not the case.
AB: It is, indeed, clearly the case.
LODHI: We ask that you remove these posts immediately in order that we avoid having to take action.
AB: Hopefully, the action you will take will be to sack Dennis Radford without further prevarication. I will be happy to update the qualifications on the post about your staff if you provide me with links to evidence on each one. 
LODHI: Like you, we have tried to assist people who have been subject to bad advice in Spain and we continue to do so.
AB: If this is true, it is such a shame that you have employed one of the very people who was giving "bad" advice and who had been a "Senior Partner" at CWM – the very firm which scammed 1,000 victims out of their life savings.
LODHI: We understand that financial services regulation within the EU is complex.
AB: It is not complex at all. In Spain you have to comply with Spanish regulations – irrespective of where or how you are regulated.
LODHI: We are ready to assist you in understanding the facts and procedures should this be of use to you.
AB: If I ever find myself in a position where I feel I require assistance from a firm which is employing a known scammer and is providing investment advice without being authorised to do so, you will be the first to know. (However, I wouldn't hold my breath if I were you).
LODHI: Brexit. Be aware that in the event the UK leaves the EU without a deal or with Mr Johnson's current deal, then, as it stands, IFAs licensed and regulated in the UK or Gibraltar will be unable to advise or service clients from the date of leaving. A Spanish licensed brokerage like ours will have no such issues.
AB: Brexit or no Brexit, your firm is not licensed to provide investment advice. Further, it is obliged to conform to Spanish regulations. That will not change.
LODHI: We look forward to hearing that your erroneous posts have been removed.
AB: There are no erroneous posts – unless you would care to help me update the qualifications on last year's post?
Clearly, Lodhi is happy to continue to employ one of the CWM pension scammers. He has no intention of learning any lessons and the public must be extremely wary of Spectrum IFA Group as it is breaking the law in Spain.