Happy Halloween – but do watch out for scary monsters. ESPECIALLY PENSION SCAMMERS!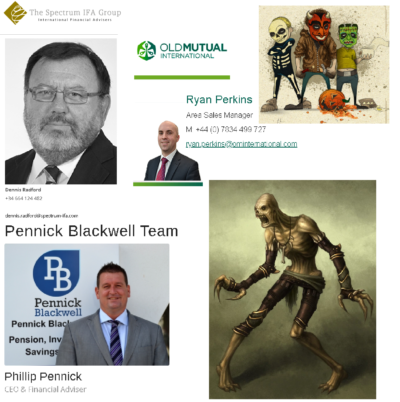 The scariest monsters at Halloween (or, indeed, at any time of the year) are the bad guys in financial services.  As my dear old Mum used to say: "It's not the dead you should be afraid of – it's the living".

Never mind ghouls, ghosts and monsters; beware the death bond salesmen who will try to destroy your life savings.  
Death bonds – be they from OMI, SEB, Generali, Lombard, Prudential International or Friends Provident – all do the same job: nothing.  Except pay huge commissions to the scammers who flog them.
First ghoul to watch out for is Dennis Radford of The Spectrum IFA Group. The firm itself is not regulated at all: not for insurance; not for investment; not for trimming a witch's cat's nails. It seems to have an association with a Spanish insurance firm called Baskerville Advisers S.L. which claims to have an insurance license. But this does not mean that either Baskerville or Spectrum can provide investment advice legally. If Spectrum does provide investment advice, it is committing a criminal offence.
Dennis Radford – quoted on the Spectrum IFA Group website as being a specialist in "All areas of Wealth Management" – claims to provide tax-efficient retirement planning and Spanish-compliant investments. This means he is breaking the law as he cannot advise on investments as the firm is not licensed. It is also clear that by mentioning "tax-efficient" and "Spanish-compliant" he is referring to death bonds. Ergo, he is merely a bond salesman flogging expensive, pointless bonds to victims who don't need them and can't afford them.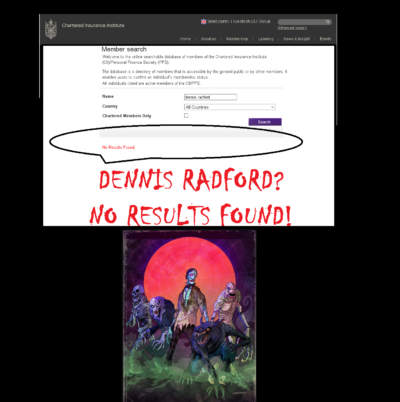 Radford has another problem: he purports to be a member of the Chartered Insurance Institute. It is possible that he might have passed an exam in the past, but that he has now let his membership lapse. Either way, he is NOT qualified.
But, Radford's biggest problem of all is that he is an ex Continental Wealth Management scammer. Along with all the other unqualified, unscrupulous scammers – such as Darren Kirby, Dean Stogsdill, Anthony Downs, Neil Hathaway, Richard Peasley and Marco Floreale – Radford was flogging death bonds from OMI, SEB and Generali and putting his victims into toxic structured notes.
Evidence strongly suggests that Dennis Radford is vigorously selling insurance bonds. The DGS has already ruled that the way pointless, expensive insurance bonds are sold is illegal. ILLEGAL as in a criminal offence. The Spanish Supreme Court has ruled that life assurance policies used to hold investments are INVALID.
Of course, Dennis Radford is not alone. Another ex Continental Wealth Management scammer is Phill Pennick. He now runs a firm called Pennick Blackwell and continues to flog death bonds. Pennick claims to be a qualified mortgage broker, but quotes no qualifications as a financial adviser. He is not listed either on the CII or CISI register. Which means he is not qualified to provide financial advice. In fact, he is just another death bond salesman.
Pennick put one of his victims recently into an Old Mutual International bond (which was a pointless exercise – other than to pay Pennick a fat commission) and then invested the whole pension into one single fund. This was undoubtedly for a further fat (undisclosed) commission.
Pennick Blackwell (well-known for cold calling) is an amusing firm – it seems to consist of three unqualified idiots: ex CWM scammer Phill Pennick himself; an ex-barman called Kris Taft (who obviously can neither spell Chris not Daft) who claims to have a "genuine desire to help people". If this were true, Taft (or Daft – or whatever his real name is) wouldn't be aiding and abetting Pennick in flogging death bonds.
The worst of the Halloween ghouls are, undoubtedly, the death bond providers themselves. Firms such as Old Mutual International, SEB, Generali, RL360, Hansard, Lombard, Friends Provident and Prudential International, give terms of business to unregulated scammers (such as Continental Wealth Management).
Just after Halloween, there's a "Finance Tour" roadshow on the Costa Blanca. Old Mutual International's Ryan Perkins – Area Sales Manager responsible for flogging these toxic products throughout Europe – had been due to attend. This would have been good as he could have apologised personally to some of the many hundreds of victims of OMI whose life savings have been destroyed. OMI's business model is to give terms of business to unlicensed firms, known scammers and unqualified "advisers" who are only after the fat commissions. OMI knows perfectly well that the victims who get put into these bonds will be conned into investing in expensive, risky assets which pay even more commissions to the scammers.
However, it seems Perkins has pulled out of the roadshow. Perhaps he was worried about how many CWM victims would be attending and demanding to know what OMI intends to do about their losses. Clearly a coward, Perkins will have to find other ways of meeting his sales targets by taking the scammers out to lunch – away from the glare of existing victims.
Perkins – and lily-livered CEO of OMI Peter Kenny – could have perhaps promised to make a donation to CWM-victim Mark Davison's family at the roadshow. Mark – whose pension was placed in an OMI death bond – died a miserable death after his entire pension was destroyed after being invested in toxic structured notes offered by OMI such as Commerzbank, Royal Bank of Canada, Nomura and Leonteq.
Anyone who is interested in this event (advertised in last week's Euro Weekly News – once so beloved of serial scammer CWM joint-founder Paul Clarke) will be able to attend in Camposol, Los Alcazares, Orihuela Costa, Quesada, Calpe and Javea.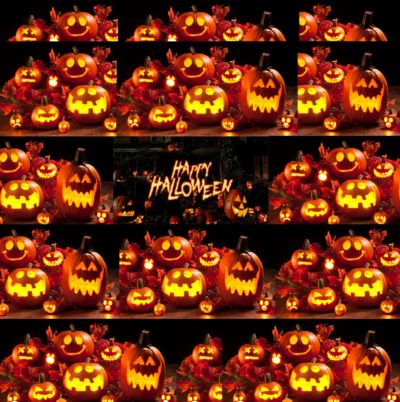 I hope that some of the victims of the CWM (and other) scams will go along to this event. That way they can help educate the industry, clean up the dross of financial services and get back to proper, regulated, qualified, fee-based, death-bond-free financial advice.
Happy Halloween!
(forget the ghouls – just watch out for the scammers!)