Protect your pension fund at all costs.  Pension "vampires" disguised as friendly and legitimate pension advisers are still out there – prowling the land trying to find victims. Ever evolving and changing their strategies to seduce you into transferring your pension fund, often into a high-risk, toxic investment that rewards them with high commission but leaves your pension fund and your health frazzled.
Pension vampires are very good at wearing disguises AND their credible eloquence and charming manner are sure to get your attention. This is why here at Pension Life we want to raise public awareness to discourage individuals from being drawn in by the vampires' compelling sales techniques.  We want victims to learn how to protect your pension fund.
Con artists and pension scammers love to cold call and give the impression they are official government representatives or fully qualified and regulated advisers.  They are very clever at worming their way into victims' homes and setting these vulnerable people up to get scammed out of their pensions.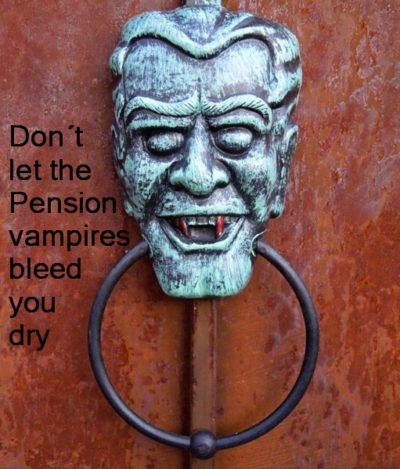 THIS SHOULD NEVER HAPPEN
If you are cold called – please just hang up.
Much like a vampire, once you have invited them into your life,  it is very difficult to get rid of them. They will trick you into transferring you pension fund into their care – often with promises of high returns and low risk. In reality, they will bleed you dry.
What these pension vampires leave out of their convincing sales pitch is the high commission charges they will add every time they put your fund into a new or different investment. Often the commission charges heavily outweigh the interest that will be applied to the investment should it be successful.
Pension vampires hunt in packs and the first one you meet will NOT be the last. Often the first pension vampire will introduce you to several others. Each one will want to have a suck on your fund. This type of pension scam is called fractional scamming its happening more and more. Please have a look at our previous blog on fractional scammers for more information on how this type of scam works.
Pension vampires not only use cold calling techniques, they also send emails and use the postal system. The content is usually the same – they offer you a free pension review.
Nothing in life comes for free – the review may seem to be free but what comes after will be devastating to your pension fund and your health.
Pete and Val fell victim to pension vampires using a pension liberation scam –  here's the tragic story of how their pension fund was left decimated by a firm of unlicensed so-called advisers: Continental Wealth Management.
Subscribe to our YouTube channel to keep up to date on new Pension Life videos.
So here's a check list from Pension Life to ensure you protect your pension fund and avoid being the next victim of a pension vampire:
Cold called? Hang up
Offered a "free" pension review?  Remember, nothing in life comes for free
Too goo to be true?  It probably is!
Interested in transferring your pension fund?  Do your own research and get a second opinion
Protect your pension – swot up on pensions rules and regulations – your pension is your life's saving – make sure you protect it!
Check that the financial adviser you use is in fact authorised to give financial advice – investment advice and not just insurance advice
Use companies you have heard of and be wary of any companies offering investments in eco friendly investment schemes. Link Pension liberation scammers of Successful Pensions JAILED
Make sure you have read all the necessary paperwork and check the progress of your fund regularly
And, lastly, as Pete says in the video –
"Assume nothing with these people.  If you do you're doomed."
**************************************************************
As always, Pension Life would like to remind you that if you are planning to transfer any pension funds, make sure that you are transferring into a legitimate scheme. To find out how to avoid being scammed, please see our blog: