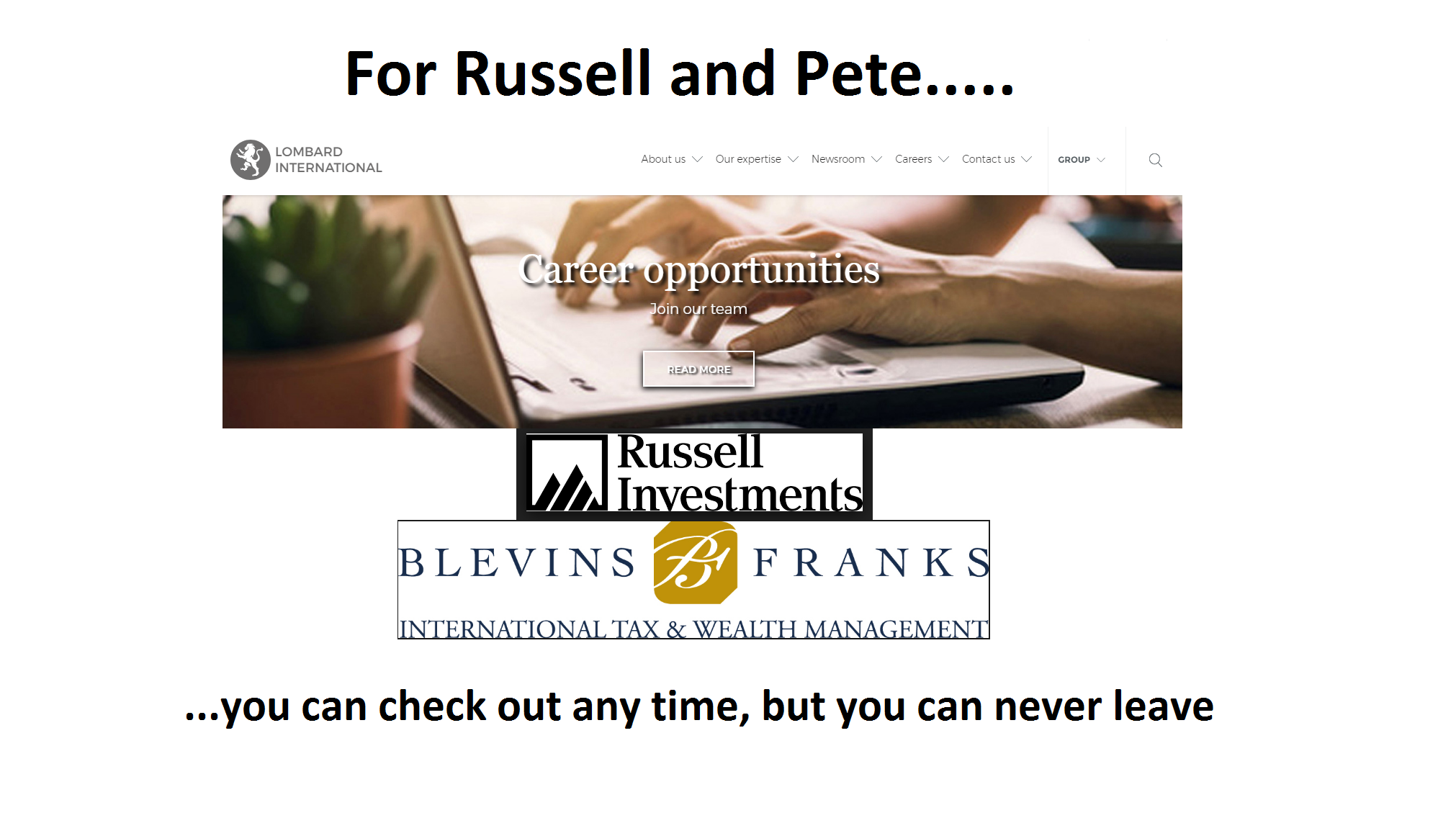 Blevins Franks – a so-called financial advisory firm in Spain and other places around the Med – might (hopefully) offer me a job.  I quite fancy trying my hand at being a financial adviser, so I'm practicing cheesy smiles and earnest but friendly poses.  Over the weekend I'm going to rehearse some elevator pitches and killer closing offers for my interview with Blevins Franks:
"Any fund you like – as long as its a Russell fund"
"Shall I Russell up some coffee while you browse through our catalog of funds (it won't take you long – we only sell one fund!)"
"Autumn is my favourite time of year – I just love the Russell of fallen leaves"
"I adore your Jack Russell (the one that slobbered on my new trousers) – I might just Russell him on my way out"
While I'm on a roll, I might try a real joke or two:
"What do you call a man under a pile of leaves?  Russell!  What do you call a man under a pile of leaves for a thousand years?  Pete!"
(I just hope my prospective clients aren't called Russell and Pete).
I'm sure I'll be able to think up plenty more jolly quips, and I reckon I'll soon have dozens of potential clients eating out of my hand and desperate for the chance to invest their life savings in Russell funds.  The only thing I'm not sure of, is how to sell them on the concept of going into a Lombard bond.  What do I say the benefits are?  Of course, I know what the benefits are to me: I will earn 8% commission  – but what line do I spin the client?
* It will give you capital protection (by protecting your capital from growing too fat)
* It will give you the best and widest selection of funds (as long as they start with a Rus and end with a Sell)
* It will help reduce the appearance of wrinkles and fine lines (and growth)
* It will pay me lots of commission (oops – better not say that!)
I'm going to do some homework before my interview so I know the Russell funds inside out – so over to good ol' Morningstar.
Let's start with the Russell Real Assets Fund.  I won't mention that it is down 3.8% this year (2018) or that it is performing way below the benchmark, but I will stress that this fund is a bargain at just 3% to buy into and a mere 2.01% a year ongoing.  (Probably best not to mention that if somebody bought it direct they could get it for free and pay only 1.26% a year).
Then I'll move on to the Russell Openworld Global High Dividend Equity Fund (better stay sober to get that one right) – a steal at only 5% to buy into and 2.02% a year once you're in.  Then, just to show I know what I'm talking about, I'll give 'em the killer Russell Asia Pacific Ex Japan Fund – another steal at 5% to get in, and 2.8 a year to stay in.  I won't mention that both these funds are half the price if you buy them direct – because this is after all about my commission and not about trying to sell them something cheap or suitable.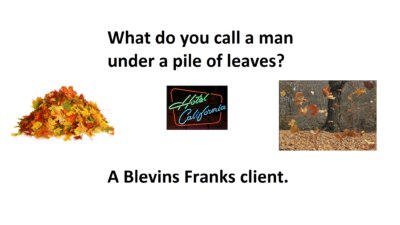 If I really want to impress my prospective victims, I could go on and on: "Russell Emerging Markets Equity Fund, Russel US Equity Fund, Russell Global Real Estate Securities Fund….".  I could even invent some of my own: "Russell Falling Leaves Fund, Russell Falling Value Fund, Russell Falling For It Fund…"
The best thing about working for Blevins Franks, of course, is that you get paid twice: once for flogging the Lombard bond, and then again for flogging the Russell fund – a "double hussle"  (or even a "Russell hussle"!).  I can't wait.
But what, you may ask, if Russell and Pete suss out that I've conned them after they see their funds stuck in this useless, pointless, expensive bond and realise they could have bought the Russell funds way cheaper elsewhere – or could have just bought better funds to start with?  The answer is simple – just listen to my favourite song: Hotel California by The Eagles: "You can check out any time, but you can never leave".
You see, clients in Spain don't realise that when they get conned into a Lombard Insurance Bond they have to stay with Blevins Franks no matter how badly the funds inside the bond perform? No other IFA in Spain is allowed to take over managing the funds if an investor is not satisfied with Blevins Franks.  So Russell and Pete will be stuck with me forever – unless they fancy paying a huge exit penalty (so it will cost them a fortune to get rid of me!).
Never mind treating customers fairly – we'll lock them into a cripplingly-expensive insurance bond which is illegal in Spain and fleece them with expensive, poor-performing funds they could buy way cheaper anywhere else.  And Russell and Pete can do nothing about it.
In the words of the best band in the world: "On a dark desert highway, cool wind in my hair, I was thinking to myself this could be heaven and this could be hell, such a lovely place to listen to the Russell of crumpled pound notes…."
Just goes to show, even with a load of qualified advisers, victims can still get scammed.