SALMON ENTERPRISES TAX TRIBUNAL VERDICT:
The Salmon Enterprises victims will have to wait until after Easter for the verdict on the Salmon Enterprises Tax Tribunal appeal.  This will be a very anxious time for the victims of James Lau – currently under criminal investigation – and the directors of Tudor Capital Management currently serving eight-year jail sentences for cheating the Public Revenue and money laundering offences.
The anxiety will inevitably be shared by the Ark victims – as HMRC now want to push ahead with the Tax Tribunal appeals as well (after seven years of dithering).  The Salmon Enterprises determination may well have an impact on the Ark appeal so there will be hundreds of people desperate for news after Easter.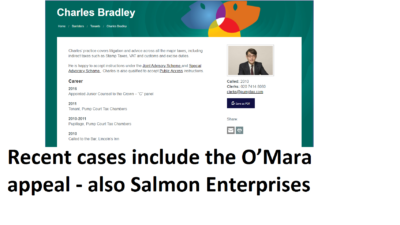 In the Salmon Enterprises appeal heard in London on Tuesday 20th March, HMRC was represented by Charles Bradley of Pump Court Tax Chambers.  A distinguished and gentlemanly young barrister with a double first in history at Cambridge, it remains to be seen whether his arguments for HMRC's case based on interpretation of legislation and authorities will outweigh our arguments for justice and morality.  Perhaps history will surprise us all after Easter.
I would like to pay tribute to the dignity and courage of the appellants at the Salmon Enterprises hearing.  Having traveled down from the north of England, and spent many days preparing themselves mentally and intellectually for the ordeal before them, my heart went out to them both.  A teacher and an IT analyst, both victims had worked hard all their lives and led exemplary lives before falling victim to this scam at the hands of criminals.
These two appellants – like the Ark victims – have endured years of worry and damage to their health since they were scammed in 2011.  I was immensely proud of them as they stood in the witness box and represented, effectively, all victims of the Salmon Enterprises and Ark cases.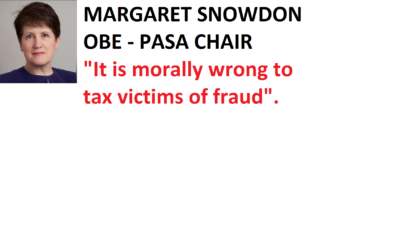 As I listened to the case put forward by HMRC, and the testimony of their witness, the words of Margaret Snowdon (speaking at the Transparency Task Force Symposium in November 2017) kept ringing in my ears:
"It is morally wrong to impose tax penalties on victims of fraud".
Margaret was appointed an OBE in 2010 and has, uniquely, for six years running been named as one of the Top 50 Influential People in Pensions and was awarded for her outstanding contribution to the pensions industry by the PMI in 2012.
**********************************************************************
As always, Pension Life would like to remind you that if you are planning to transfer any pension funds, make sure that you are transferring into a legitimate scheme. To find out how to avoid being scammed, please see our blog: