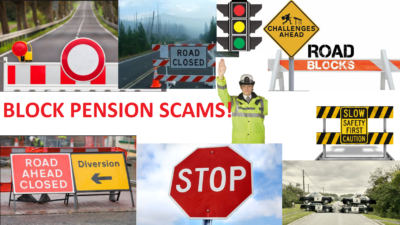 Trustees have the power to block pension transfers if they suspect a scam – they must use it!  Now the Ombudsman has upheld a complaint against the Police trustee, there is hope for further justice against negligent pension trustees.
In the Royal London v Hughes case, Royal London suspected an attempted transfer was destined to go into a scam and blocked it.  The member, Ms Hughes, complained to the Pensions Ombudsman – but he did not uphold her complaint.  He said that Royal London was quite right to block the transfer.  But Ms Hughes appealed the matter to the High Court and the judge overturned the Ombudsman's determination.
The industry was, naturally, appalled.  But this matter left many questions unanswered:
Why was a singing teacher so desperate to transfer her £8,000 pension and have it invested in Cape Verde property? (Had she developed a passion for collapsible flats?)
Where did she get the many thousands of pounds it must have cost her to have a barrister represent her in the High Court?  (Considerably more than eight thousand quid I reckon).
How come the mighty Fenner Moeran QC (for Royal London) got so soundly defeated by a public access barrister?  (Was his sharp stick a bit blunt that day?)
What happened to the several hundred people queuing up behind Ms Hughes to have their pensions invested in Cape Verde flats?  ("Flat" being the operative word).
I could ask loads more pertinent and searching questions – like why did Ms Hughes' public access barrister, Frances Ratcliffe of Radcliffe Chambers, think it was a good use of her considerable skills to defend an obvious pension scam?  How drunk was the judge on the day?  How many more people got scammed out of their pensions because of this abomination – and proof the law is not just an ass but a whole donkey farm?
Anyway, enough already.  The damage was done in the Royal London v Hughes case.  And now, hopefully, the door to justice has been opened in the Police Authority v Mr N case – as eloquently reported by Henry Tapper in his blog on 2.8.18.  But there is a great deal more work to be done on this now: the scammers who organised and promoted the London Quantum scam need to be prosecuted and jailed; and the FCA-regulated firm – Gerard Associates – which gave the advice to the police officer (Mr N) needs to be sanctioned by the FCA.  Gerard Associates – run by Stephen Ward's associate Gary Barlow – also needs to refund the £5k they charged Mr N – and indeed all of the £220k they charged the 98 London Quantum victims.
Now is the time to bring to justice not only the pension scammers, but also the negligent ceding pension trustees who allowed the scammers to succeed – and facilitated financial crime.
At the time Mr N was scammed by Stephen Ward; Viva Costa International (the "introducers"); and FCA-regulated advisers Gerard Associates, the Pensions Regulator's "Scorpion" campaign was in full flow.  But it was unbelievably inept.  It only really talked about liberation and ignored the many other kinds of fraud being perpetrated at the time – i.e. investment fraud.
The London Quantum pension scam came hard on the heels of the Capita Oak and Henley scams – which straddled the Scorpion watershed of February 2013.  The transfer administration for Capita Oak was done by Stephen Ward of Premier Pension Solutions (Spain) and Premier Pension Transfers (Worsley, Manchester).  Ward knew from first-hand experience how ceding trustees were starting – albeit agonisingly slowly and gradually – to resist transfer requests.
Here is evidence of the first tentative – and very inconsistent – moves to do some long-overdue diligence on pension transfer requests – as reported by Stephen Ward's team of transfer administration scammers:
24.4.2013 – ReAssure Pensions – "The scheme now want the client's application and new-dated screenshot emailed to Alan (Fowler – Ward's pension lawyer chum) – on hold at Tom's (Biggar – James Hadley's mate) request".
11.4.2013 – Prudential – "Transfer canceled as per Ceri (James Hadley's wife)"
26.4.2013 – Zurich – "Unwilling to process – not sure why – need to cancel"
11.7.2013 – Zurich – "On hold as there may be an issue with Scorpion"
26.4.2013 – Friends Life – "Awaiting trust scheme rules – with Anthony (Salih – Ward's mate) – need to cancel"
30.5.2013 – Aviva, NHS, Co-op, Friends Life – "Schemes are refusing to transfer"
11.6.2013 – Scottish Life – "Scheme contacting client – believed not transferring"
However, during this same period, there were plenty of transfers being made in defiance or ignorance of Scorpion.  These included ceding schemes NHS (£43k), Scottish Widows (£25k), LGPS Newham (£47k), Aviva (£54k), Xerox £92k, Zurich (£21k), Prudential (£25k) and Standard Life (£53k).
But the most worrying was the Firefighters Pension Scheme: £69K after the following notes were made:
"Advised that the trustees committee are meeting to discuss cases and we are awaiting a call back next week.  Transfer sent today 2.7.13 and paid on 16.8.13.  Statement sent to Ceri (Hadley) and Tom (Biggar)". 
So the Firefighters were no better than the Police Authority in terms of ignoring the Scorpion warning.
And here is what the Scorpion warning was saying from 2013 onwards – and, indeed, was still saying in 2016 when the last couple of hundred Continental Wealth Management victims were in the process of being scammed:
Predators Stalk Your Pension
Companies are singling out savers like you and claiming that they can help you cash in your pension early.  If you agree to this you could face a tax bill of more than half your pension savings.
Don't let your pension become prey.
Pension loans or cash incentives are being used alongside misleading information to entice savers as the number of pension scams increases.  This activity is known as 'pension liberation fraud' and it's on the increase in the UK.
In rare cases – such as terminal illness – it is possible to access funds before age 55 from your current pension scheme.  But for the majority, promises of early cash will be bogus and are likely to result in serious tax consequences.
What to watch out for?
Being approached out of the blue, over the phone or via text message

Pushy advisers or 'introducers' who offer upfront cash incentives

Companies that offer a 'loan', 'savings advance' or cash back' from your pension

Not being informed about the potential tax consequences
Five steps to avoid becoming a victim
Never give out financial or personal information to a cold caller

Find out about the company's background through information online. Any financial advisers should be registered with the FCA

Ask for a statement showing how your pension will be paid at retirement and question who will look after your money until then

Speak to an adviser that is not associated with the proposal you've received, for unbiased advice

Never be rushed into agreeing to a pension transfer
If you think you may have been made an offer, contact Action Fraud.
But, the Scorpion warning failed tragically in so many different ways:
The warning only talked about liberation.  Many victims thought this warning didn't apply to them as they had no intention of liberating their pension fund

No information was given on how to find out about a company's background – and how to establish whether it was regulated

The warning talked about advisers being FCA regulated – but ignored the question of offshore advisers who obviously wouldn't be FCA regulated

The public was advised to contact Action Fraud – but did not disclose that Action Fraud would do absolutely nothing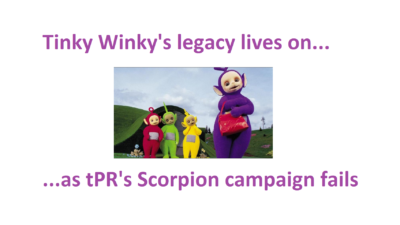 In 2015, we went to see the Pensions Regulator to talk about the failings of the Scorpion campaign – as well as the failings of the Regulator.  Two Ark victims and I met the then Executive Director for Regulatory Policy – Tinky Winky.  Our intention was to explain to him how the Scorpion campaign had failed and how it needed to be made more robust and comprehensive.
Tinky Winky, flanked by two lawyers and a paralegal, told us to "hop it" – and warned us that if we tried to interfere with the authority of the powers of the regulator, our arse would be grass and he'd be a lawnmower.  A year later the Scorpion warning had still not been updated or improved and hundreds more victims lost their life savings.
The Pensions Ombudsman is, naturally, the hero of the hour in the Mr N v Police Authority case.  And hopefully, he will find for the rest of the victims if they all now bring complaints against their negligent ceding trustees in the London Quantum case.  But we must remember that, contrary to what the Ombudsman's service has said for the past few years, the industry did know about pension scams long before the Scorpion Campaign in February 2013.
In fact, a clear warning had been given in 2010.  The Pensions Regulator had been fully aware that since 1999 pension scams were on the increase, and yet did not make it clear to ceding pension trustees what their statutory obligations were in respect of transferring victims into scams. On 13.7.2010, tPR Chair David Norgrove stated that: "Any administrator who simply ticks a box and allows the transfer, post July 2010, is failing in their duty as a trustee and as such are liable to compensate the beneficiary." 
But pension trustees claim they never read that message (let alone heeded it) and that it was neither publicised nor distributed.  Further, in the same year Tony King, the Pensions Ombudsman, reported that he had "found that pension trustees failed in carrying out serious fiduciary responsibilities to others in circumstances in which the law specifically states that they should not be protected from liability."  And still tPR did nothing.  And the Pension Schemes Act 1993 was not amended to reflect the urgent need to protect the public.
The Pensions Regulator's predecessor – OPRA (Occupational Pensions Regulatory Authority) had warned about the dangers of pension scams years before 2013 – as had HMRC.  The last thing I want to do is criticise the Ombudsman – as this must be his hour of glory and we must all be hugely grateful to him.  Especially Mr N and his fellow London Quantum victims.  But we must remember that the industry in general, and pension trustees in particular, should have been alert to pension scams long before Scorpion.
Now is the time to bring to justice not only the pension scammers, but also the negligent ceding pension trustees who allowed the scammers to succeed – and facilitated financial crime.