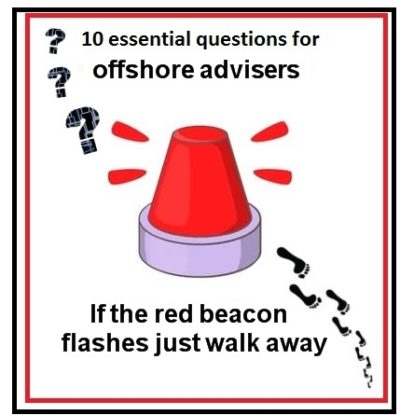 Pension Life is working towards making offshore financial advisers more transparent. We have created a list of 10 essential questions for offshore advisers and their preferred answers. For too long precious pension funds been left in the hands of unqualified, unregistered advisers and unregulated financial advisory firms.
Offshore advisers need to follow a strict set of rules just as UK-based ones do. Being offshore doesn't mean you can invent your own set of rules for financial advice. However, it seems more and more people are being poorly and illegally advised in the transfer of their pension funds.
Offshore advisers often use unnecessary insurance bonds to skim extra commissions without disclosing these commissions prior to the pension transfer. It is clear more information needs to be available to the clients of these ill-advised pension transfers. With greater transparency, pension holders would be able to make better informed decisions about advisers to whom they entrust their transfers. Also, they will have better knowledge of how to spot a pension scammer.
With so many advisory firms out there, it is hard to know when your inner beacon should be flashing a bright red warning light telling you to just walk away. Pension Life has put together this list of 10 essential questions to ask your offshore adviser.
If their answer points to the red warning light walk away – FAST!
What are your qualifications – are you qualified to give advice on pension transfers? and what CPD have you done recently?

 Advisers giving advice on pensions must be qualified to a certain level. Click on the link above to read what these requirements are. Simply having a qualification isn´t enough. Advisers must be qualified to the correct level and they must have made an effort to complete the relevant continued professional development (CPD). In addition they must pay their membership fees to the institute with which they qualified. 

Is the company you work for regulated for insurance and investments?

If the answer to this question is NO – walk away – DO NOT take any financial advice from them. All companies who give financial advice on pension MUST be licenced to do this by being regulated for both. An insurance licence is not sufficient.

Compliance. 

Is there a robust compliance department staffed by qualified personnel?

If the answer is no walk away. 
Do you use insurance bonds? 

If the answer to this is YES – walk away. If your pension goes into a SIPPS or a QROPS, it does not need two wrappers and therefore an insurance bond is just another way of the adviser making more money out of your fund though commissions – hence draining the value of your pension fund.

Do you use structured notes, UCIS funds or in-house funds? If the answer to this is YES – walk away. Structured notes are for ´professional investors only´; they are high-risk and not suitable for a pension which is classed as a retail investment that should be placed into a low-medium risk investment.                         
Do you use a reputable firm for DB transfers?

If the answer is NO walk away.

Do you carry out a detailed fact-find to establish a client´s risk profile?

If the answer is NO walk away.

Do you disclose all the fees and commissions at the start?

Often we hear of pension scam victims who have been told by their adviser that their pension review is free and no other fees or commissions are mentioned during the transfer process.  Once that transfer has completed the clients look at the pension fund value and find that a large chunk has been taken to cover various ´costs´. Every pension fund transfer will have some reasonable charges. However, many scammers apply extra charges and fees that are far above what is reasonable and proportionate. These are often undisclosed. Make sure that your adviser is able to provide – in writing – all of the costs.  Once you have these details, you will be able to make an informed decision as to whether you are happy for the transfer to proceed. 

Do your clients get regular updates on the progress of their funds and have full access to check this for themselves?

You should be able to check the progress of your pension whenever you want. However, a good adviser should provide you with a quarterly update. This should include any charges or fees incurred and any profit/loss made. A yearly review should also be carried out to ensure your pension fund is steadily growing with the right investments.

How do you deal with customer complaints?
If your offshore adviser refuses to answer the questions or skims around an answer – just walk away. Anyone offering pension advice should adhere to certain criteria and he must be ready and willing to provide you with all the information you ask for. He should be fully transparent about all the details involved with your pension transfer.
Once you have ensured that your adviser is fully qualified and regulated, and operates in a manner that is within your pension fund´s best interests, we would advise you to check out our other blog:
This blog covers pension options in a bit more detail.