Covid 19 is having a terrible effect on millions of people across the globe. All walks of life are being affected. One important aspect of life in general is that of investments – life savings and pensions in particular.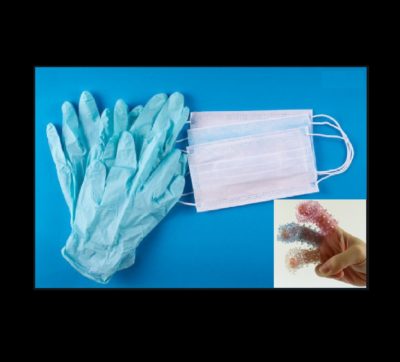 Fraudsters are now using the Covid 19 pandemic as a weapon to encourage investors to fall for investment scams. The tactics used are similar to those deployed as scare tactics over Brexit:
"get your pensions out of the UK so you have more investment choice and control"
(What the scammers meant by this, of course, was that they would have choice and control – and fat commissions. The victims would just have less money).
There are many lessons to be learned from the pandemic – including the way different countries have dealt with lockdown procedures. But the lesson I want to examine, in parallel, is how governments deal with pension and investment fraud.
We've now seen that laws can be changed swiftly when there is an international crisis threatening millions of lives. Yet, for more than a decade, pension and investment scams have threatened even more lives, while laws and regulations have barely budged. Police can jump into action when a couple of people take a stroll in the park without observing social distancing laws, yet armies of scammers steal of millions of pounds from thousands of victims, and nobody in a police uniform lifts a finger.
The Covid 19 crisis will inevitably contribute to the effects of inappropriate investments – which teeter on the narrow verge between mis-selling and fraud. Where commission is king and investments have been chosen purely for the hidden (from the consumer) introduction revenue, the effects of this will now be felt acutely by many victims.
It has long been deeply frustrating that so many scammers can offend repeatedly – often for years on end – without any sanction. Victims of pension scams such as Ark, Capita Oak, Henley, Westminster, Evergreen, London Quantum, Fast Pensions and Continental Wealth Management have lost their pensions to the same scammers over a seven-year period.
Regulators, police and government ministers have taken not a bit of notice other than sometimes handing the pension schemes over to Dalriada Trustees – who also fail to report the blindingly-obvious frauds to the police authorities.
Mind you, I have some (limited) sympathy with Dalriada. They obviously know it is a complete waste of their precious (and very expensive) time reporting the scammers. Dalriada clearly knows full well that the Police, Insolvency Service and Serious Fraud Office are worse than useless.
Behind this failed law-enforcement network lies an even bigger scam: Action Fraud. This is a cynical effort to fool scam victims into believing that some action will be taken when fraud takes place. However, the reality is that Action Fraud is just a call centre which deliberately ignores the desperate pleas for help by fraud victims. In fact, the Action Fraud call centres are no different in nature than the boiler-room cold calling centres used by the scammers – the purpose is the same: to deceive victims.
We have now seen the hard evidence that whole continents can jump into radical action when necessary. So there is no longer any excuse for allowing the pension and investment scam pandemic to continue unchallenged.
Every country – especially ones where lots of British expats live – needs to recognise that pension and investment scams are – and always have been – a global pandemic. The apathy and laziness of regulators, law enforcement agencies and governments need to cease. And Britain's shameful, embarrassing track record of ignoring – and even facilitating – scams needs to be reformed.
The early signs of a wind of change in the pension and investment scamming world are there. Spain and New Zealand are now actively progressing criminal proceedings against scammers. There are early signs that other jurisdictions are starting to wake up as well.
The scammers at Premier Pension Solutions and Continental Wealth Management are facing fraud and falsification charges in Spain.
The SFO in New Zealand is investigating the scammers in the $100m Penrich Macro Global investment fraud which was also linked to the Evergreen QROPS scam (run by Stephen Ward and promoted by Continental Wealth Management).
STM Fidecs in Gibraltar has issued a claim against thirteen defendants for the return of "misappropriated" money in the Trafalgar Multi Asset Fund case (also under investigation by the British SFO).
Police in the Cayman Islands are investigating a fraudulent investment company – and has warned potential investors into any companies in Cayman to carry out proper research and due diligence
The Isle of Man courts are preparing for a raft of civil proceedings against leading life offices which have facilitated financial crime on a massive scale internationally.
The Hong Kong fraud squad is taking a keen interest in the GFS Blackmore Global pension/investment scam.
Back home in the UK, there are serious complaints being filed against HMRC and the Pensions Regulator for facilitating pension scams and failing to warn the public. And a growing body of victims and professionals is looking at bringing the FCA to justice for their multiple failures.
Even if the tide is beginning to turn, it is – of course – way too late for thousands of victims whose lives have already been ruined by the scammers. Just as Covid 19 has killed hundreds of thousands of victims in just a few months, pension and investment scams have ruined hundreds of thousands of hard-working victims' lives in the past decade.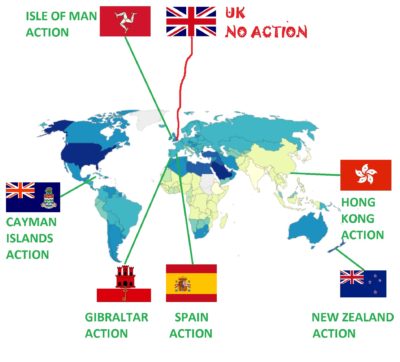 While more than 200 countries are fighting against the spread of Coronavirus and trying to save the 300,000+ people who are sick, we now need key financial services jurisdictions to take the pension and investment scam pandemic seriously.
Renowned English Author James Hadley Chase once famously wrote:
"It's better to be sick of life than not have a life".
Pension and scam victims are not just sick of life, but they are also sick of the lack of action by authorities internationally – but above all in Britain. Let's hope that current actions in place in Spain, Gibraltar, Cayman Islands, Isle of Man, Hong Kong and New Zealand will be replicated as swiftly and effectively as the Covid 19 protection measures.