Life offices who caused the death of victims and their life savings/pensions, will now face proceedings in the Spanish civil courts. Pension Life's proceedings against the defendants are due to be launched before Christmas 2020. The defendants will be Quilter International (Ireland), SEB and Generali (which has changed its name to Utmost Wealth).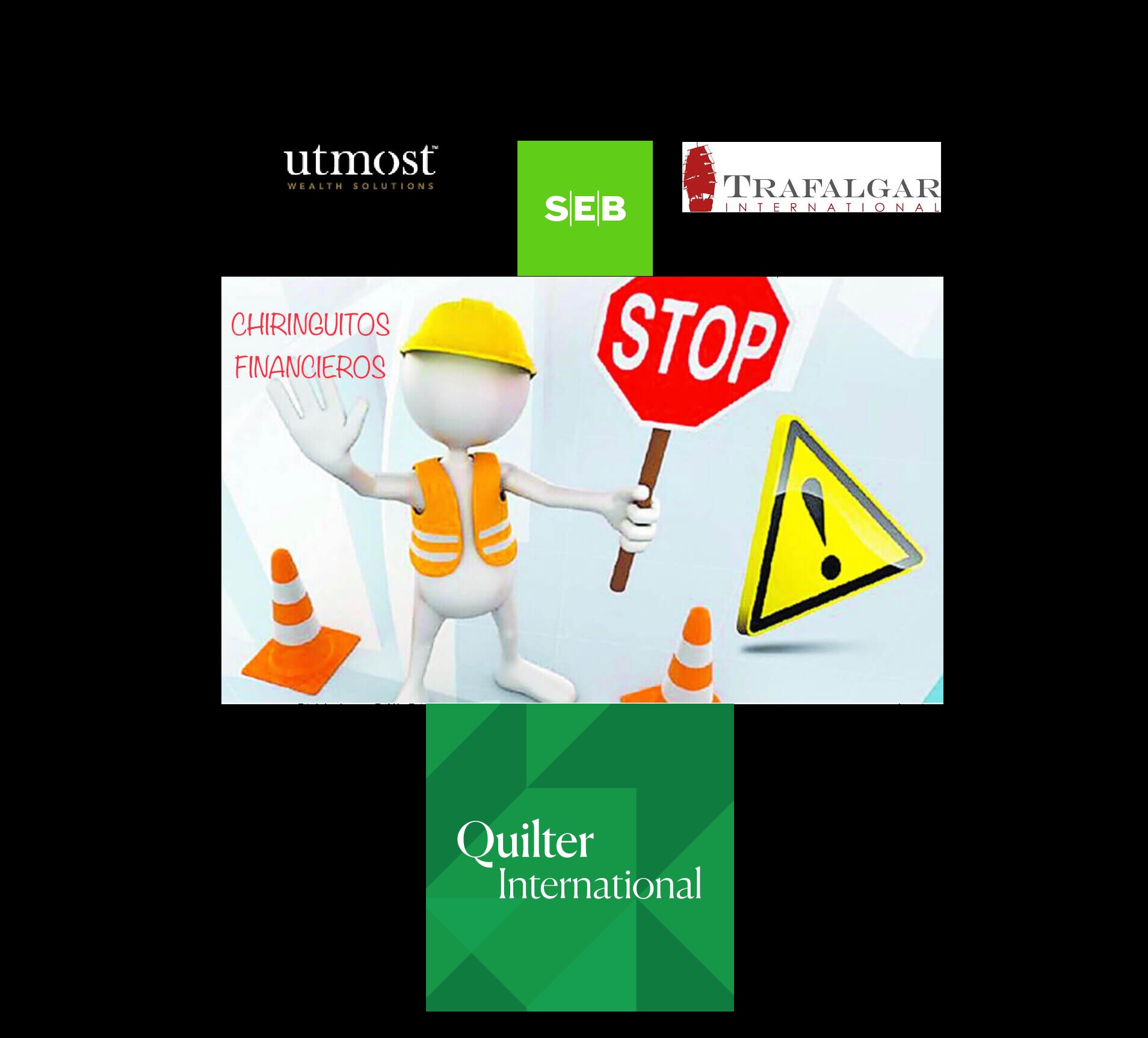 In the past ten years or so, the life offices – Quilter, SEB and Generali (shamefully promoted by International Adviser) – have freely given terms of business to unlicensed, unqualified, unscupulous "chiringuitos financieros". These scammers – some with no license at all, and some with only a restricted insurance license – have put thousands of victims into pointless, expensive insurance bonds. The scammers' sole motivation for the use of these insurance products is the commission paid by the providers: somewhere between 5% and 8% (depending on the term of the bond).
A bond is merely a "wrapper" (or container) and serves no purpose – other than a purported possible tax "efficiency" loophole. However, the so-called tax advantages are dubious at best outside the UK – and non-existent within a pension. In reality, any tax saved would be far outweighed by the high cost of the insurance bond.
The real problem with these insurance bonds has been the high-risk investments offered by the bond providers on their "platforms". Many of the investments are highly toxic, only suitable for professional or sophisticated (or reckless) investors, and are chosen purely for the commissions they pay to the scammers.
Chiringuitos – such as the notorious Spanish firm Continental Wealth Management (which collapsed in 2017) – love insurance bonds; esoteric, unregulated investment funds; and structured notes. This passion comes not from any benefit provided to the victims, but from the huge commissions they (the scammers) can earn if their high-pressure sales techniques are effective.
One group of scammers – including Stephen Ward of Premier Pension Solutions, Paul Clarke of AES International (now Roebuck Wealth), Darren Kirby and Jody Bell/Smart/Kirby/Pearson of Continental Wealth Management – is currently facing fraud charges in the Denia criminal court.
The fraud behind the insurance bond scams is, of course, facilitated and encouraged by the insurance companies themselves. One group of victims – who have lost hundreds of millions in risky, unsuitable investments such as LM, Axiom and Premier New Earth – has already issued proceedings in the Isle of Man civil court. Pension Life is preparing to issue another for the losses caused by other toxic funds and structured notes – also in the Isle of Man civil court.
Many of the culpable life offices base themselves on the tiny, dreary Isle of Man. It is a well-known tax haven for companies and individuals who are not prepared to pay their fair share of tax – and it also routinely harbours scams and scammers (due to limp regulation and ineffective governance). The failures of the IoM's legal system – as part neither of the UK nor Europe – are well known and heavily exploited by institutions with nefarious intentions. Known, serial scammers such as Phillip Nunn and Patrick McCreesh of Blackmore Group based their Blackmore Bond (promoted by Surge Group – which also promoted the collapsed London Capital & Finance "mini bond") and their Blackmore Global fund there.
And – of course – Quilter, Friends Provident International and RL360 are all based on the Isle of Man (referred to by many as the "Isle of Scam").
In Spain, virtually every insurance bond ever provided has been sold to the victims illegally (in contravention of the Spanish insurance regulations). Few victims are ever made aware of the serious drawbacks of these products:
inflexibility of the fixed terms of up to ten years
annual fees are based on the original premium (amount invested) – which means that when investment losses occur, the fees have an ever-increasing damaging effect on the remaining funds
bond providers will accept investment instructions from unqualified, unlicensed, known scammers
obviously low-risk, retail investors (such as those in a pension) will be invested in high-risk funds
when losses start to appear, the bond providers do nothing to challenge the reckless, irresponsible conduct of the scammers with whom they have terms of business
some victims, whose entire portfolio has been wiped out by the investment fraud facilitated by the bond providers, continue to be charged annual bond fees
victims' signatures on investment dealing instructions are frequently forged or copied
The Isle of Scam courts will be watched with intense interest by thousands of Quilter, FPI and RL360 victims (whose life savings have been wiped out) over the coming year. But, meanwhile, the Spanish courts will get to hear the cases against providers based in Ireland. All victims of Continental Wealth Management have been asked to obtain their documents for the litigation from Trafalgar International. Any who have not received an email from Pension Life can contact Trafalgar's Tony Barnett direct on:
The letter of authority which needs to be sent to Mr. Barnett in order to participate in the Spanish civil proceedings against Quilter International, SEB and Generali (Utmost Wealth) is as follows (victims can copy and paste this text into a document if necessary):
URGENT Letter of authority to Antony Barnett of Trafalgar International GmbH
Mainzer Landstrasse 49, 60329 Frankfurt am Main Germany
Dear Mr. Barnett
Letter of Authority to provide documents relating to pension, insurance bond and investments/losses
Please accept this as my letter of authority for you to discuss, communicate and deal with Angela Brooks of Pension Life who is acting as my Representative on the subject of my affairs in respect of my pension, investments and losses arising as a result of Continental Wealth Management S.L./Continental Wealth Trust S.L.
Name: …………………………………………………………………………Signature: …………………………………………………………
Address: ……………………………………………………………………………………………………………………………………………….
……………………………………………………………………………………Passport Number: ……………………………………………..
Please provide the below copy documentation/information to Angela Brooks by return. These documents are required immediately for litigation in the Spanish Civil Court due to be issued next month. I intend to be a claimant in these proceedings against the life offices Quilter International Ireland, SEB and Generali (Utmost).
Pension transfer advice (Premier Pension Solutions or Global Financial Options)
Client contract, agreement and confirmation with CWM and Inter Alliance (For when CWM was with Inter Alliance)
Client contract, agreement and confirmation with CWM and Trafalgar (For when CWM was with Trafalgar International)
Fact find and risk profile
Insurance bond fees schedule
Insurance bond advisor transfer letter (from Inter Alliance to Trafalgar)
Insurance bond application
Insurance policy document
Latest valuation statement
Latest full transaction history from inception to date (or point of redemption)
Latest estimated bond surrender value
Copies of all investment dealing instructions since inception
Closing insurance bond statement (where bond has been surrendered)
Closing pension statement showing all charges and amount remitted (where pension has been redeemed)
Confirmation and full details as to how CWM's insurance mediation/investment advice was licensed
Details of all fees and commissions charged by CWM, Inter Alliance, Globalnet and Trafalgar
Any correspondence relating to queries or complaints
Trafalgar's professional indemnity insurance policy and schedule
In the case of a Quilter bond, confirmation as to whether it is Isle of Man or Ireland