BLACKMORE GLOBAL; NUNN McCREESH; SLATER & GORDON; PENSION SCAMS
Blackmore Global is a UCIS (unregulated collective investment scheme) which is illegal to be promoted to retail, UK investors.  The fund is run by Philip Nunn and Patrick McCreesh (formerly of Nunn McCreesh – the lead generation and cold calling firm which introduced around 8,000 victims to the scammers who were running the Capita Oak and Henley pension scams in 2012/13).
It is perhaps more than a little ironic that a pair of cold-callers who were facilitating hundreds of victims being transferred into schemes 100% invested in Store First store pods are now running their own investment fund – Blackmore Global.
Slater and Gordon is a very large firm of no-win-no-fee solicitors with an office in Manchester.  I met their National Practice Group Leader and specialist in financial litigation and pension mis-selling in April 2015. His name is Craig McAdam.  After going through the various scams I was handling at the time, and the appalling damage done by the scammers to thousands of victims, Craig was thoroughly up to speed on how the scams worked.  He was also deeply committed to helping the Ark Class Action and other group actions.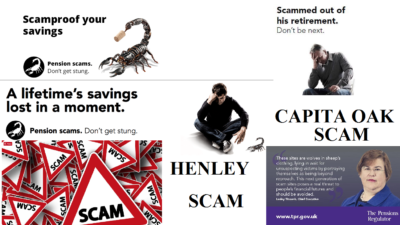 Craig McAdam confirmed by email on 16.4.15 that he was looking forward to working with me.  A week later he sent a draft engagement letter and confirmed that Slater & Gordon's success fee would be 15% – although he did revise this up to 18% a couple of days later.
The following month Craig McAdam confirmed he would be attending a meeting with Dalriada Trustees and Pinsent Masons with members of the Ark Class Action.  He also confirmed he would be talking to one of Stephen Ward's many victims: a member of the London Quantum scheme whose trustee was Ward's firm Dorrixo Alliance.
A month later, Craig McAdam was examining the Capita Oak pension scam run by XXXX XXXX and administered by Stephen Ward, and asked me to put forward one of the victims as a creditor.  The Insolvency Service had wound up the trustee of Capita Oak: Imperial Trustees Ltd.  Craig then asked me if I was happy for Grant Thornton to be appointed as the insolvency practitioner and I confirmed that indeed I was.  I felt that Grant Thornton was a competent and ethical firm and could finally unscramble the mess created by the scammers behind Capita Oak and bring some form of resolution to the victims who were all introduced and/or cold called by Nunn McCreesh.
I was delighted that the same day, one of the Capita Oak victims put herself forward willingly and eagerly as a creditor and Craig McAdam confirmed this to Grant Thornton the following day.  At the same time, Craig confirmed that one of the London Quantum victims was a client of Slater and Gordon and made a complaint to FCA-regulated Gerard Associates who had acted as the adviser in that case.
Later in June 2015, Craig McAdam confirmed that Slater and Gordon was instructed by the Capita Oak victim who had volunteered to be the creditor in the liquidation of the trustee of the Capita Oak scam.  Craig also sent out letters of engagement to other victims.
In July 2015 I sent a copy of the Insolvency Service's Capita Oak/Imperial Trustee Services witness statement to Craig McAdam.  This statement confirmed that Philip Nunn and Patrick McCreesh's firm Nunn McCreesh had supplied up to 300 leads a month (for 28 months) to the scammers who promoted and operated the Capita Oak scam: Jackson Francis, Sycamore Crown, Sanderson Clarke, Barncroft Associates, Nationwide Benefits Consultants, Speke Admin, Timoran Capital.
The Insolvency Service witness statement mentioned Nunn McCreesh several times:
"Members of Capita Oak indicated they were initially contacted by Patrick McCreesh of Nunn McCreesh and referred to Jackson Francis or Sycamore for the transfer of their pension to Capita Oak.  I wrote to Mr. McCreesh to request a copy of any sales and marketing agreement with Jackson Francis or Sycamore and details of commission received."  Nunn McCreesh and their solicitors admitted they had been involved with the scammers and also Transeuro Worldwide Holdings – one of the main operators of the Capita Oak and Henley scams.  
However, Nunn McCreesh was unable to produce copies of invoices or sales ledgers for the money received for their part in these scams.  Their solicitors also confirmed that Nunn McCreesh received a commission of 8% of sales and the Insolvency Service stated that there was a "lack of transparency" by Nunn McCreesh.
The Insolvency Service also confirmed that some of the victims had been cold called directly by Nunn McCreesh.
Being in possession of the Insolvency Service's witness statement clearly galvanised Craig McAdam into an enthusiastic confidence to take on the Capita Oak case and asked me to send him through contact details of all the members.  He obviously realised that now the scam was clearly documented and the promoters – including Nunn McCreesh – were now identified without any question of doubt.  It was also documented in the witness statement that Nunn McCreesh had earned £900k out of providing at least 8,000 leads for the scam – 300+ of which ended up in Capita Oak and 200+ of which ended up in Henley.  It is not clear whether the 8% sales commission was on top of this.  8% of £10.8 million would have been a handsome sum indeed.
I provided Craig McAdam with contact details for the Capita Oak Class Action members and on 21.7.15 he confirmed that cases were "being opened up smoothly".  At the end of 2015, Craig attended a meeting of Class Action members and got to meet a group of victims in person.  There can be no doubt that Craig, by now, thoroughly understood the wickedness of the scammers and the profound distress and impending financial ruin of the victims.
So for most of 2015, it looked like Slater and Gordon was going to represent the Capita Oak members – all of whom were initially introduced by Nunn McCreesh.  And it looked like Grant Thornton was going to be appointed as insolvency practitioner to Capita Oak's trustee – Imperial Trustee Services Ltd.
In the event, neither happened. But Capita Oak is now in the hands of Dalriada Trustees – appointed by the Pensions Regulator.  And the organisers, promoters and administrators of Capita Oak are all under investigation by the Serious Fraud Office.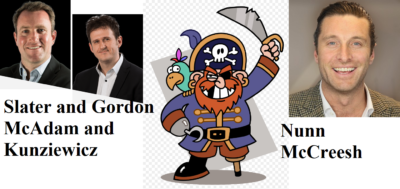 In a very curious twist, Philip Nunn and Patrick McCreesh are now running the Blackmore Global UCIS.  They are doing the cold calling and the pension administration, as well as running the fund.  And you will never guess who their solicitor is: Steve Kunziewicz of Slater and Gordon (Manchester office).  And you will never guess who their auditor is: Grant Thornton.  You really couldn't make it up.
Victims of Blackmore Global are indeed extremely distressed.  They have either managed to redeem out of the fund at a loss after a protracted struggle, or they are stuck in the fund with no prospect of getting out of it any time soon (if ever).
A year ago, the underlying assets of the fund were confirmed to one victim by Optimus Fiduciaries Ltd, an IoM domiciled company managing the Optimus Retirement Benefits #1 QROPS. Further research discovered these underlying assets were a load of toxic, illiquid, high-risk crap.
Neither Slater and Gordon nor Grant Thornton will confirm what the assets are or how much they are worth – despite Nunn and McCreesh claiming the fund has "£17m under management".  However, £17m is nothing more than a meaningless figure on a piece of paper until such time as the assets are independently verified and audited. Nunn & McCreesh have promised to publish audited accounts for over 12 months now, but failed to do so. One can only assume that to do so would instantly crystallise a true value far below the imaginary £17m and result in a sudden collapse of the fund.
I have asked Steve Kunziewicz of Slater and Gordon on numerous occasions this past couple of months to tell me what the assets are, but presumably Nunn and McCreesh won't tell their own solicitor – any more than they will tell their own auditors.  Perhaps they told the Blackmore Global investment manager, Meriden Capital Partners in Barcelona?  The trouble is that Meriden Capital Partners deny that they were ever investment manager to the fund and that Nunn and McCreesh are lying.
I hope the irony of this situation is not lost on the gentle reader: Slater and Gordon solicitors and Grant Thornton being "gamekeepers turned poachers".  My suggestion to both firms is that they should choose their clients carefully and protect their public image diligently. Both firms should decide whether they want to be like Bark and Co who openly represent fraudsters, murderers, insider dealers, hackers, race fixers and other criminals.  Or whether they want to be on the side of justice for victims of pension and investment scammers.  Because they can't do both.