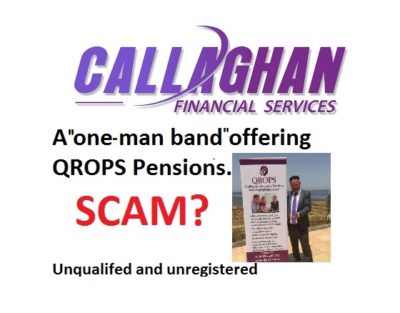 If you have been following Pension Life´s blogs, you will know that we have been conducting a series of investigations into qualified and registered financial advisers in various firms. Today is the turn of Callaghan QROPS Spain – qualified and registered?
IFAs and their clients are invited to add to it, correct it, improve it. Here's a link to the three registers if you want to double check:
http://www.cii.co.uk/web/app/membersearch/MemberSearch.aspx
https://www.cisi.org/cisiweb2/cisi-website/join-us/cisi-member-directory
https://www.libf.ac.uk/members-and-alumni/sps-and-cpd-register – Claim to a DipFA
Please note that this data is correct as at today, 11/07/2018
**********
What Callaghan QROPS Spain say about themselves:
"Located in Cabo Roig, Alicante, GC QROPS has a long history of assisting UK Expats with their pension transfers. Our pensions advisors are all UK Qualified and Registered IFAs and give up-to-date informed evaluations with a no obligation policy running throughout the company.
Graeme Callaghan Pension Services has been successfully assisting UK expats in Spain with UK pension transfers for 9 years since 2006. We have assisted in over 500 successful UK pension transfers for UK Pensioners."
Callaghan QROPS Spain claim they have been advising UK expats on their pension transfers for nine years – with this claim, let's hope Callaghan QROPS Spain has advisers which are qualified and registered? Can this firm score a better percentage than some of the other companies of the past weeks?
Callaghan QROPS Spain – advisers qualified and registered?
Upon clicking on the ´Our Advisers´ tab on Graeme Callaghan´s website, I was presented with this statement:
´All our advisers are U.K qualified. We offer a free no obligation assessment on all your existing plans. Including your U.K pensions, your existing QROPS and ISA's.
In some circumstances our advisers will travel to your country of residence. We can also arrange for your travelling requirements to one of our offices in Spain.´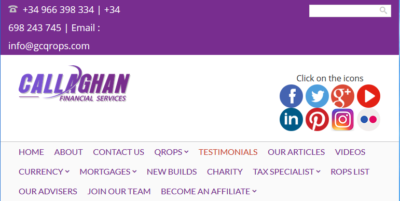 With no links to any real person to represent this Callaghan QROPS Spain firm, it is very hard to make a judgement on who you are entrusting you valuable pension fund to. Callaghan QROPS Spain do little to give a true representation of their firm with no transparency about their staff or their qualifications – I was unable to even find a picture of Graeme Callaghan himself. They do however mention that they are looking for UK qualified financial advisers.
What I did find was a host of testimonials from Hollywood movie stars and professional sports persons etc etc assuring me that Callaghan QROPS Spain had supplied, ´Top Service´, and were ´Highly recommended´.
What I find hard to grasp is that Callaghan QROPS Spain managed to go to all the effort of giving a long list of testimonials, but were unable to take the time to put anyone in their ´Our Advisers´ tab. Surely a reputable financial advisory company would be proud to show their qualified and registered IFAs who give ´top service´ to pension holders?
As shown in the image above there were lots of links to social media, so I chose to follow the Facebook one first. Here I was able to find an image of Graeme Callaghan of  Callaghan QROPS Spain (and I also found out they were Callaghan QROPS Portugal too).
On his facebook page dated 06/07/2018 he states: ´Find us ranked on page one by Google with an "Evergreen QROPS" search. We are assisting multiple members of this scheme with transfering to a scheme recognised on the HMRC website. Contact us for a free no obligation assessment on your existing QROPS or UK pension´.
Those of you who are familiar with the CWM pension scam debacle and the Evergreen QROPS liberation scheme will know that this pension scam was hustled by unregulated and unqualified advisers and resulted in members losing massive percentages of their pension funds when CWM collapsed. Furthermore, the victims of this scam face large tax bills from HMRC after they received Stephen Ward's Marazion "loans" on their pension transfers.
How the Evergreen QROPS and Marazion Loans pension scam worked.
Graeme Callaghan is also using the threat of Brexit as a compelling reason for expats to move their pension fund into a QROPS.  It is questionable whether Brexit will have any effect at all on expats' pensions and many firms are using this as a "scare tactic" to get people to transfer into a QROPS – often entirely unnecessarily.
As I have no other staff to go on for Callaghan QROPS Spain, I am going to check the registers for Graeme Callaghan himself. Interestingly on his Facebook profile he states he studied at City University London, but he fails to mention what subject he studied there.
Graham Callaghan – Director? Sole financial adviser? Position unclear – however he seems to be the owner of Callaghan QROPS Spain – IS NOT LISTED ON ANY OF THE REGISTERS FOR FINANCIAL ADVISERS.
Callaghan QROPS Spain – qualified and registered? 0/1 – 0% 
EDIT: a search through Linkedin of Callaghan QROPS Spain revealed that there is in fact another employee, Dylan Callaghan. Listed job role of UK Pension Adviser at Graeme Callaghan Pension Services, he too went to went to University of London where he apparently studied for an MBA. 
Despite stating that he is a UK pension adviser for the company, he lists no financial qualifications and does not appear on any of the three registers. Therefore, Callaghan QROPS Spain – qualified and registered? 0/2 employees 0%.
Other claims by Callaghan QROPS Spain: Callaghan Financial Services can advise on the whole of the QROPS market and we are not tied to one jurisdiction. Really?  And how do you manage that? You are an unregulated company, with zero qualifications.
"We believe part of our success is due to offering a free no obligation assessment on all your existing plans." Here at Pension Life we are always supicious of the word ´free´.
If I was looking to swap my pension plan I would steer clear of Callaghan QROPS Spain.
Unqualified, unregistered, unregulated and non-transparent – this company is no place for your pension fund – even if Eric Roberts (Hollywood Actor) states they are an excellent company!