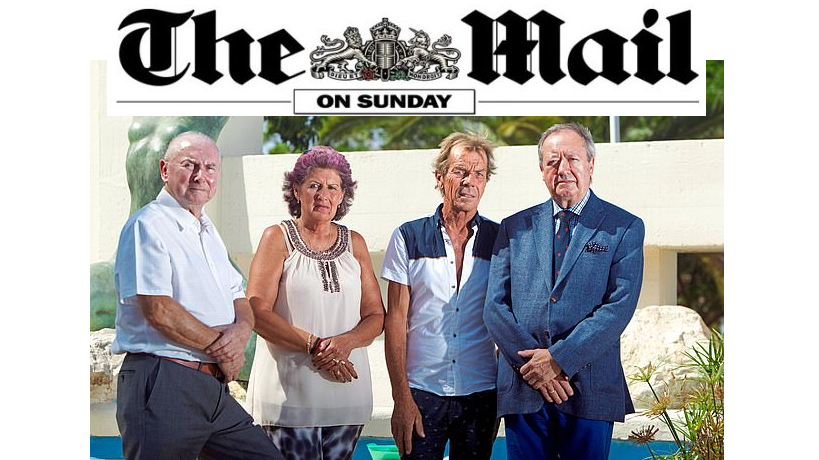 Mail on Sunday's Laura Shannon met a group of victims of the Continental Wealth Management scam in Denia in July 2019.
Here is a link to her excellent article Continental Wealth Management – "Plunder in paradise": MAIL ON SUNDAY ARTICLE
All power to her, this young lady put all other would-be investigative journalists to shame. Laura jumped on a plane on 24th July 2019 when she and her editor heard about the Continental Wealth Management scandal. After a long, hot bus journey from Alicante airport, she got straight down to business. She spent all afternoon interviewing a large group of distressed investors. She then attended the memorial service for one victim who had been killed by the stress he suffered when he lost his pension – thanks to Continental Wealth Management's Darren Kirby.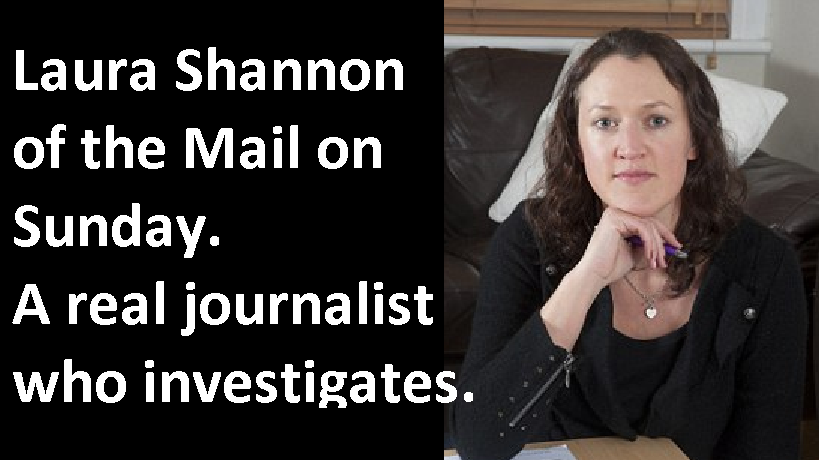 No other British journalist has bothered to do this. No other national newspaper has taken such an interest in this important story – about how British people have been scammed by British advisers in Europe's leading expat destination.
Clearly shaken by the extent of the Continental Wealth Management scam, and the plight of the victims, Laura was deeply moved by the memorial service for victim Mark Davison who had died two weeks earlier. After a very long and tiring day, Laura retired to her hotel to write up her notes – ahead of another full day of meeting more victims.
So where had all the other so-called newspapers been all this time? Where were The Sun, The Times, The Telegraph, The Mirror, The Guardian, The Express? Too lazy – and clearly not concerned with this very British problem. These newspapers do indeed have some very fine journalists – but this widespread financial crime was too low on their priority list.
The financial press – such as International Adviser – is too conflicted with its promotion of the very company behind this scam: Old Mutual International.
On the second day of her visit, Laura Shannon met another group of Continental Wealth's victims and also spoke to a couple in France by Skype. Her final interview with an elderly lady (who had tried to commit suicide when she lost most of her life savings to the Continental Wealth Management scammers) left her in tears.
At lunch time, Laura headed back to Alicante airport. Four and a half months pregnant, this energetic and passionate young woman returned to her office in Birmingham to write and file her story. She left little out and covered most of the basic points. Her article left the reader in no doubt: financial crime has flourished in Spain for years.
There are both criminal and civil actions ongoing now – on the Costa Blanca and the Costa del Sol. The days of unqualified "chiringuitos" and unlicensed firms are hopefully over. While Britain's feeble excuse for a regulator – the FCA run by lazy loser Andrew Bailey – fails to take any meaningful action, the Spanish regulator has at least ruled that failing to comply with Spanish regulations is a criminal offence.
The Malta regulator has tightened up rules to help stop firms operating similar scams from abusing QROPS, and deploying inappropriate investment policies. Multiple class actions in various jurisdictions are taking legal action against rogue insurance companies – such as Old Mutual International – who have encouraged and profited from widespread financial crime.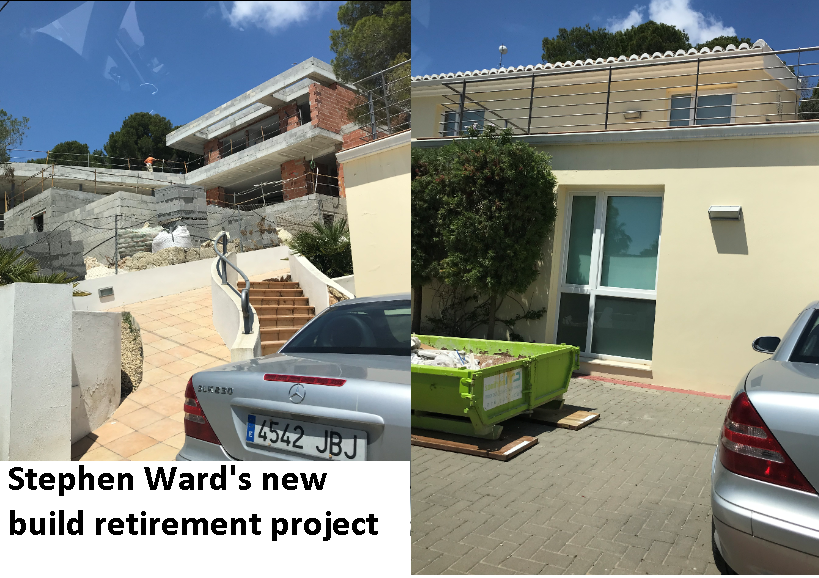 And this is the problem: crime pays. Stephen Ward of Premier Pension Solutions in Moraira is now adding to his ten mortgage-free luxury villa property portfolio in Florida by building a huge luxury villa next to his former office in Calle Haya in Moraira.
Paul Clarke – Darren Kirby's former business partner (when Continental Wealth Management was first set up) has for years been seen zooming around the Costa Blanca in his Aston Martin. And Jody Smart (or Bell or Kirby) – Darren Kirby's former girlfriend has boasted of the £13 million she earned as director of Continental Wealth Management.
Jody now runs a swish ocean-front restaurant in Calpe with fiance Franco Pearson – seemingly untroubled by the appalling trail of devastation left behind her in the wake of the Continental Wealth Management tragedy.
But the millions made by the scammers at Continental Wealth Management pale into insignificance when compared to the fortunes made by life offices Old Mutual International, SEB and Generali.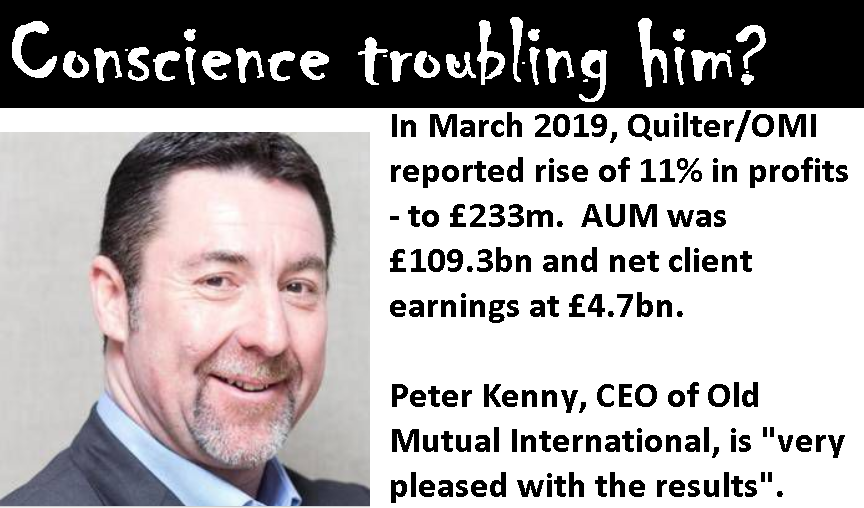 Peter Kenny did promise to pay compensation to OMI's victims. But this was just a ruse to get me to take down my blogs about OMI so that the IPO would earn him and his accomplices more £ millions.
The Spanish regulator has made it clear it is a criminal offence to sell insurance "bonds".
No firm with a conscience or any professional ethics should ever use OMI, SEB or Generali. Anyone caught mis-selling such insurance bonds in Spain is committing a criminal offence and can face jail. As most advisory firms in Spain are still doing so vigorously and unashamedly (with the same old lame excuse that such bonds are "tax efficient"), the Spanish jails are likely to get pretty crowded in the not-too-distant future.
Spain is highly motivated to protect British expats who retire on Spanish soil – and is now learning how deeply dishonest and disloyal British "chiringuitos financieros" (the Spanish regulator's term for financial scammers) are.
But how do people avoid getting scammed from now on?
Part of the problem is knowing what questions to ask – and then being able to understand the answers. Unfortunately, Stephen Ward was the exception to the rule – since he was highly qualified and his firm – Premier Pension Solutions – was authorised to provide investment advice.
1. Check that the firm is authorised (regulated; licensed). If investment advice is given, make sure the firm has an investment license: don't be fooled into believing that an insurance license is enough. It isn't.

2. Check that the adviser is qualified to give financial advice. He or she must provide evidence of any qualifications claimed. If the relevant institute does not show the qualification, then the adviser is not qualified – no matter what exams may have been passed previously.

3. Don't get talked into an insurance bond (aka "life bond" or portfolio bond). They are expensive and unnecessary – and only serve to pay the adviser a fat commission.

4. Don't let an adviser invest your funds into expensive, risky assets which are only there to pay fat, undisclosed commissions FROM YOUR MONEY.

Lastly, make sure you get everything – all costs, fees, charges and commissions – in writing. DON'T GET SCAMMED LIKE THE CONTINENTAL WEALTH MANAGEMENT VICTIMS. They will all give you exactly the same advice.